Huskers prepare for Texas with 21-3 victory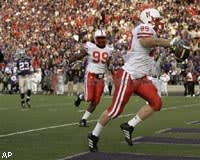 MANHATTAN, Kan. — Nebraska is now a member of an elite club.
Zac Taylor threw for 134 yards and a touchdown, and Marlon Lucky ran for 83 yards and a score as the 21st-ranked Cornhuskers prepared for next week's showdown with Big 12 Conference South leader Texas with a 21-3 victory over Kansas State.
By posting its first win in Manhattan since 1996, Nebraska (6-1, 3-0 Big 12 North) joined Michigan, Notre Dame and Texas as the only Division I-A programs to have at least 800 victories.
It did not take long for the Cornhuskers, who snapped a four-game losing streak in Manhattan, to take control of the contest.
They jumped ahead for good on their opening drive when holder Jake Wesch hooked up with Hunter Teafatiller on a fake field goal for a 17-yard score 3:54 into the contest.
Taylor made it 14-0 by throwing a three-yard strike to Josh Mueller with 11:02 left before halftime. In the third, Lucky found a hole in the middle and broke away for a 40-yard TD run for a 21-point advantage.
Nebraska's defense had four sacks and two interceptions while allowing just 22 rushing yards.
Josh Freeman completed 23-of-47 attempts for 272 yards, and Jeff Snodgrass kicked a 53-yard field goal for the Wildcats (4-3, 1-2 North), who had their three-game winning streak ended.
Nebraska plays host to Texas next Saturday. Kickoff is set for 11 a.m., with the game televised by ABC.