Hawkeyes roll over Huskers 40-10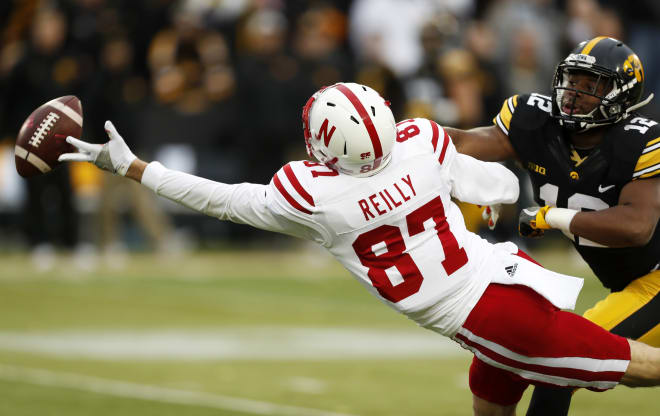 IOWA CITY, Iowa - Nebraska traveled to Iowa City with one last chance to keep its Big Ten West Division title hopes alive and also reach 10 wins on the year for the first time since 2012.
But with starting quarterback Tommy Armstrong's injured hamstring clearly far from 100 percent and a flurry of mistakes across the board, that opportunity quickly came to an end.
The Hawkeyes reeled off several big plays early and the Huskers couldn't come up with nearly enough answers in what ended in a 40-10 loss on Friday.
The first quarter started out dominated by defense, but Iowa quickly changed that over a span of just two plays.
Running back Akrum Wadley took a handoff to the left then cut back up the middle and scampered untouched for a 75-yard touchdown with 4:55 left in the opening quarter. Joshua Kalu was able to block the ensuing extra point to keep at 6-0.
After a quick three-and-out by NU's offense, the Hawkeyes came right back out and on their first play C.J. Beathard hit Riley McCarron on a slant over the middle, and the senior took it 77 yards for a score to make it 13-0.
Those consecutive touchdowns marked Iowa's longest rush and pass play of the season. The Hawkeyes also had 196 total yards in the first quarter yards. In its past four home games, Iowa had 231, 283, 236, and 230 yards over four quarters.
Nebraska finally got on the board with a 35-yard field goal by Drew Brown with 9:57 to go in the second quarter to cap off a 10-play drive and cut the deficit to 13-3.
Iowa came up with another big play on its next drive when LeShun Daniels ripped off a 56-yard run down to the NU 8-yard line. Daniels punched it in from four yards out two plays later to push the lead up to 20-3 with 7:49 left in the half.
That score would hold on into halftime, as the Hawkeyes ended the first half with 289 yards of total offense and 181 yards on the ground. The rushing total was more than the Huskers had allowed in eight of their 11 previous games.
Things didn't get much better to open the third quarter, as Nebraska went three-and-out on its opening drive and then Desmond King returned the punt 44 yards with a late hit tacked on to start Iowa at the NU 13.
Beathard hit tight end George Kittle for a one-yard touchdown pass three plays later, and a failed two-point conversion run made it 27-3.
Nebraska finally got back on the board when it marched 75 yards on 14 plays and converted a fourth-and-10 with a 13-yard touchdown pass to Stanley Morgan with 7:47 left in the third.
The Huskers got two big defensive stops they needed to get the ball back, but the offense could do nothing with it and were forced to punt twice.
The Hawkeyes would later convert a fourth-and-10 on a pass to Omaha native Noah Fant to open the fourth quarter, and though the Blackshirts were able to hold Iowa to a field goal, Nathan Gerry ran into the kicker to give UI a first and goal at the nine.
Beathard would put the game away from there with a six-yard touchdown pass to Kittle to increase the lead to 33-10 with 11:13 remaining.
Daniels would cap off a big day for the Hawkeyes with a 1-yard touchdown run with 1:55 remaining in the game.