Frost would like to see Jurgens throw shot and disc at Nebraska too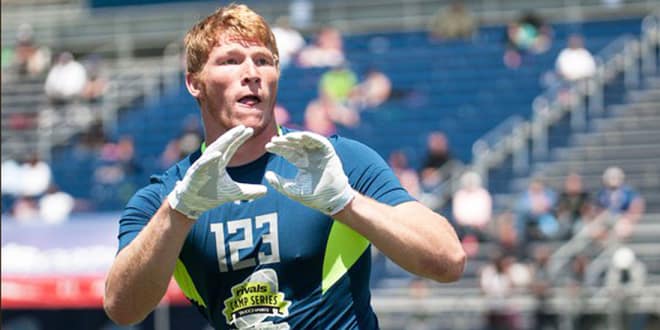 2018 recruit Cameron Jurgens will have a pretty big fan this weekend in his future head coach Scott Frost supporting him behind the scenes at the state track meet in Omaha.
Jurgens made a surprise return to the ring last Thursday in Fairbury, where he captured the shot and discus titles in the Class B-3 district. It was his first time back in competition since breaking his left leg and dislocating his left ankle on Oct. 20 in a football game vs. Norris.
When Frost looks at Jurgens, the similarities between them are pretty startling. Both grew up in small-town Nebraska settings, and both were all-state multi-sport athletes. However, maybe the biggest similarity is their mothers.
Like Frost's mother Carol, Jurgens mom Beth was a high-level shot put and discus thrower that eventually went on to coach. Carol Frost was the first Nebraska woman to take part in the Olympics, while Beth Jurgens was an All-American thrower at Nebraska-Kearney.
Carol Frost went on to coach her son Scott into a state champion thrower. Beth Jurgens did the same with her son Cameron.
"That kid is a special athlete. He's got athletic ability and power that's rare," Frost told HuskerOnline when asked about Jurgens. "(My mom) actually knows his mother. They threw against each other and have actually continued to throw against each other at some senior events.
"They know each other real well, and I relate to Cam real well. He's a small-town kid with unbelievable athletic ability, and we are excited about what he's going to be able to do."

As for his future at Nebraska, Frost said he would like to see Jurgens keep throwing the shot and discus at NU.
He was also all for him coming back to throw at state this weekend and hopes to see him continue to throw in the future for the Huskers.
"I am encouraging him to do it, and I'm glad to see him out there," Frost said. "He's really talented, and it would be a shame not to use that.
"In fact, I'll probably try to encourage him to go out and throw in the spring and try to help (Nebraska track) coach (Gary) Pepin too. We have the Davis twins both throwing right now too, and they both qualified for regionals in the disc. It would be great to have some football players apart of the track program."