Final take: Roller coaster ride continues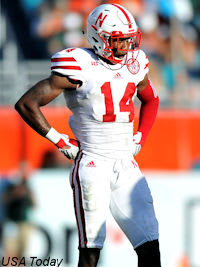 [rl]MIAMI GARDENS, Fla. - Saturday's 36-33 overtime loss at Miami (3-0) for Nebraska (1-2) is one of those game's that's hard to even summarize.
If you take the first three quarters and break them down the Huskers were down right awful. NU fell behind 30-10 and they were being out-gained 404 to 239 by the Hurricanes after three quarters. Then Miami kicked a field goal to make it 33-10 with 11:14 left in the fourth quarter. This thing was over right? Pull quarterback
Tommy Armstrong
and don't risk a possible injury late - wrong.
I'm still trying to figure out what happened, but somehow, some way the Huskers managed to scored 23 points in the fourth quarter and nearly win in overtime. NU had 223 yards of offense in the fourth quarter alone on 18 plays in the comeback attempt.
It just wasn't meant to be though. The football Gods weren't going to let it happen. Nebraska made too many mistakes on Saturday finishing with three interceptions and 98 yards in penalties. Saturday's game at Miami will go down as a 36-33 overtime loss, but we sure learned a lot about this team after watching them battle it out in a near 4 ½ hour marathon in Sun Life Stadium.
"That's football…but with that being said I really like this team," head coach
Mike Riley
said. "You can't help but appreciate what happened in that second half today. But there's always going to be something that gnaws at you because you know it doesn't have to be like that. We'll just go back to work and the good thing is these guys will go back to work."
It's the 33 yards of penalties committed by senior offensive linemen and captain
Alex Lewis
that probably gnaws at Riley. Or maybe the four dropped passes by NU's receivers who had just two drops on the season going into Saturday's game.
On three of those penalties by NU it erased pass completions of 19, 21 and 10 yards early in the game when the Huskers were desperate to get something going. Its plays like this that lost the game for Nebraska on Saturday and not the interception Armstrong threw in overtime. Its mistakes like the late hit personal foul by Lewis that put the ball on the 12 yard line in overtime for Miami that hurt NU more than that interception.
"I just thought at halftime we were our own worst enemies," head coach
Mike Riley
said. "We couldn't do anything without doing something wrong. It was just very sloppy. We waited a long time to start playing. That was my message at halftime - this is all our fault the way this is going down. We can change it."
What's probably most frustrating about Saturday's game was the fact NU didn't come to play early. This is Nebraska vs. Miami. The focus level out of the gates sure didn't feel like it and there's no reason why it should've taken nearly 50 minutes of football for the Huskers to get going.
"It shouldn't have taken us this long," junior linebacker
Michael Rose-Ivey
said. "This was a big time opponent on a big time stage and we came out flat offensively, defensively and special teams too. It hurt us in the end. We couldn't get out of our own way. It's frustrating because that seems to be our nemesis at times - ourselves. I know Coach Riley and our staff will have something prepared for us next week to take care of that."
Now on to the post game breakdown….
What I saw on Saturday
***If not for Armstrong's efforts on the ground, Nebraska's running numbers would've been very pedestrian. If you take away the 22 yard sack Armstrong took on third down, he had 72 yards on his other 10 rushing attempts. His ability to run played a big part in the comeback attempt.
***Nebraska benched senior cornerback
Daniel Davie
in favor of
Jonathan Rose
after his early struggles in coverage. Right now it's just as much mental with Davie as it is physical.
***The lack of pass rush up front, along with NU's inability to get their hands up and alter the quarterback's throws are just as big of an issue right now in my opinion as the pass coverage. To run this scheme properly there needs to be more disruption with the defensive line otherwise the corners are going to continue to be put in tough situations.
***Once Miami safety
Deon Bush
got ejected for a targeting play the Hurricane's pass defense fell apart CaneSport.com's Gary Ferman told me. Bush was the quarterback of their defense and his ejection changed their defense late in that game.
***Both linebackers
Josh Banderas
and
Michael Rose-Ivey
are battling groin injuries now. This is where that early October bye week would come in handy.
***Punter
Sam Foltz
apologized for his performance on Saturday and said his early struggles really put the team in the hole on defense giving Miami the short field.
The final grades
Rushing offense: C-
The Huskers finished with 153 yards rushing, but realistically they needed to be over 200 if they wanted a chance to win this game. NU got only 93 yards of production from their running back position on 18 carries
Passing offense: C
Yes Armstrong finished with 309 yards and four touchdowns, but the four drops and three interceptions are hard to look past, along with the three costly penalties that took away 50 passing yards. Armstrong gets an A- for the fourth quarter, but the rest of the game NU was more a D or D-.
Rushing defense: C+
For whatever reason Miami kind of ditched their ground game, despite the fact they got 125 yards from running back
Joseph Yearby
. It was a bend but don't break type of effort by the rushing defense on Saturday. That played a big part in holding Miami to five field goals vs. touchdowns when they got inside the 30 yard line.
Passing defense: F
Brad Kaaya
torched the Husker secondary for the tune of 379 yards. Kaaya averaged 15.2 yards completion and his early success set the tone for the game and put NU in a 33-10 hole. The Husker corners also continue to get beat on the 50-50 balls in coverage.
Special teams: B-
The only thing you can really be critical about are Foltz's punting struggles.
Drew Brown
made a career-long 49-yard field goal and the Huskers got some great returns out of Westerkamp and Morgan Jr. They also kept the Hurricane return game in check.
Sean Callahan can be reached at sean@huskeronline.com and he can be heard each day at 6:50 am and 5:05 pm on Big Red Radio 1110 KFAB in Omaha during the football season. He can also be seen on KETV Channel 7 TV in Omaha during the fall and each week he appears on NET's Big Red Wrap Tuesday's at 7 pm.