Final take: Optimism hard to find after Saturday's loss to NIU
As Nebraska marched 65 yards down the field on their first 6 plays Saturday, I think most of us thought this had the makings of being a "cruise control" Saturday in Memorial Stadium.
The Huskers got down to the 10-yard line on their opening play script, and it appeared they where a play or two away from making the score 7-0 out of the gates. It was the kind of start to a game Husker fans have wanted to see all season. Then as quarterback Tanner Lee dropped back to pass on a second-and-3 from the 10, Northern Illinois jumped the route and returned it for an 87-yard touchdown.
From that very moment, you knew this was going to be far from a "cruise control" Saturday. Nebraska went three-and-out on their next two possessions, followed by another pick six by Lee on their fourth possession in the quarter. So, four possessions in the offense sat with two three-and-outs and two interceptions that led to touchdowns. The offensive line couldn't protect, Lee was making poor decisions while being hurried and NU's receivers couldn't get open. All of this set the tone for Northern Illinois's 21-17 upset victory on Saturday.
For me, this home loss ranks right up there with some of the worst in modern day history. I put it right up there with 2004 Southern Miss, 2007 Oklahoma State and 2009 Iowa State. It was a game that just sucked the life out of Husker fans, and left them wondering why this thing is not looking like it's supposed to.
The mood was so bad after Saturday's loss that NU Athletic Director Shawn Eichorst even felt like he had to address reporters. This is the same Eichorst that once had a policy where he never commented on a team or coach during the regular season.
"I think it's important for everybody to understand when you have tough days like today, you have to stand up and show strong leadership," Eichorst said. "I'm going to do that and I'm going to continue to do that. I don't think I've hid from any of that stuff. It is what it is. We've got to get better and we've got to find a way to get better and I'm confident that we will."
I think what's hard to put your finger on is nobody expected the offense to be this inconsistent through the first three games in year three under Mike Riley.
Nobody thought the offense and their overall level of execution was going to be an issue. The Tanner Lee we've seen through the first three games is the not Tanner Lee we've seen in practice.
Guys are pressing, and it's clear this team has had a hard time dealing with the pressure.
"As captains, we have a job to keep everyone together," Lee said. "We've got a lot of the season left. It can go one of two ways, good or bad. We're not going to get deterred with what we are trying to do, and we're going to stay on track."
With 9 games remaining now, it's going to take a 5-4 or better record in league play to even qualify for a bowl game at this point.
When ESPN's FPI preseason rankings predicted Nebraska as a 6-win team in 2017, most Husker fans where in disbelief. With games against three top 10 teams left on the schedule, along with several other tough challenges ahead, saying this season is on shaky ground would be an understatement. Losing to a team like Northern Illinois will be the final straw for a lot of people. It's going to take a lot down the stretch to get them back.
"There's no excuses to be made and they won't make them," Eichorst said. "Whether it's changed schemes or quarterbacks, or any of that sort of stuff. Everybody has their challenges. We have everything we need to be successful and we are moving forward."
Now on to the breakdown…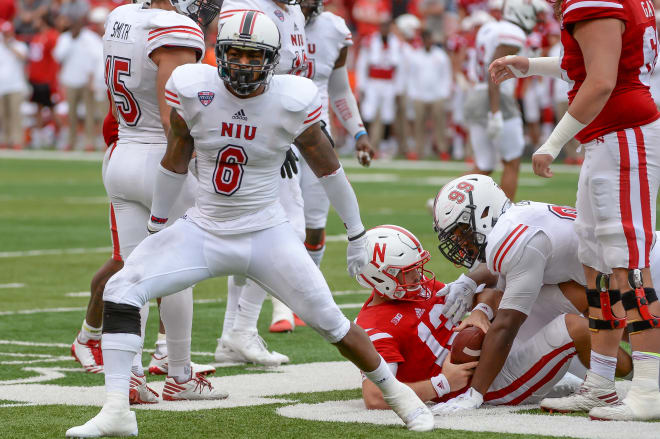 What I saw on Saturday 
***Tanner Lee has obviously not been the quarterback we thought he'd be the last two weeks, but to be fair it's been more than just him. The protection, running game inconsistencies and play of the receivers have also struggled the last two weeks.
***Is has not been a great week for Athletic Director Shawn Eichorst. After Saturday's loss to Northern Illinois, the Black Friday mess he dealt with on Thursday looks like nothing. Things are only going to get turned up more as we enter conference play.
***On the third down pass that was dropped by Bryan Reimers, I noticed that De'Mornay Pierson-El was upset he wasn't in the game for that play. I don't blame him either. There shouldn't be a key play where Pierson-El and Stanley Morgan are not in the game.
***During the second half Nebraska started blocking their play signals with black sheets so Northern Illinois could not see what they where calling. Makes you wonder if in the first half they felt the Huskies had too good of a read on what they were doing on offense.
***After a great first start at Oregon, right tackle Matt Farniok looked more like a redshirt freshman on Saturday. He had a very tough time with his match-up on the edge.

***Lamar Jackson's personal foul penalty in the last two minutes was the final nail in the coffin. The Huskers just stopped NIU on first down and with two timeouts remaining it was set up for the Huskers to possibly get the ball back with about 45 seconds left. That penalty gave the Huskies another first down and essentially ended the game. That was a very disappointing way to end a disappointing day.
The final grade out
Rushing offense: D
Without Tre Bryant, Nebraska only got 98 yards of production on 26 carries from running backs Mikale Wilbon and Devine Ozigbo. The ground game was nowhere near where it needed to be to win. Nothing was easy for the ground game.
Passing offense: F
Quarterback Tanner Lee threw three interceptions, two of which led to touchdowns. He was sacked three times, and there where major protection issues up front and the receivers had a hard time getting open in coverage. Very little went right today for the passing offense.
Rushing defense: B-
NIU running back Jordan Huff presented some problems at times today for Nebraska, as he rushed for 105 yards on 16 carries, and he scored their only offensive touchdown on the day.
Passing defense: A-
The Huskers got good pressure on Northern Illinois, and only allowed one play longer than 15 yards through the air. They did a better job of tackling in space, but just couldn't come up with that key interception they needed.
Special teams: C+
The punt return woes early continued for De'Mornay Pierson-El as he fielded one punt on the 7 and let another one bounce that should've been fielded, and put the Huskers on the 2. Those plays had an impact on the slow start for the offense, as the field position was not ideal. Drew Brown also had a field goal blocked in the first half. The positive is Caleb Lightbourn had another big day, averaging 47.3 yards on five punts and JD Spielman had a 50 yard kickoff return.
Sean Callahan can be reached at sean@huskeronline.com and he can be heard each day at 6:45 am and 5:05 pm on Big Red Radio 1110 KFAB in Omaha during the football season. He can also be seen on KETV Channel 7 in Omaha during the fall and each week he appears on NET's Big Red Wrap-Up Tuesday's at 7 pm.