Final take: New season, same mistakes haunt Huskers in 30-22 loss
CHAMPAIGN, Ill. - When new Athletic Director Trev Alberts spoke to the media last month at Lucas Oil Stadium in Indianapolis, he talked about wanting to see Nebraska football fix "the details." The things you can control.
Seemingly that's been the problem with Husker football the last few years. There hasn't necessarily been a big talent disparity on the field over these four straight losing seasons, but more an issue with "the details."
Once again we saw those same things show up in NU's 30-22 loss at Illinois on a nationally televised Week 0 contest.
In a game where the Big Red jumped out to a 9-2 lead and forced an interception in the middle of the second quarter, a late hit followed by a taunting penalty gave the Illini 30 yards of penalties and the ball back. It led to a 28 point scoring run that made the game 30-9 by the 4:01 mark of the third quarter.
It was a disaster. Everything that we expected to be fixed in 2021 showed back up again. Bad special teams play, costly turnovers and game-changing penalties. It was all there.
"It looked like the same movie," Nebraska head coach Scott Frost said. "I just got done telling the guys we can't have this season be the same movie, because this game looked like the same movie today."
The difference is the stakes are much higher in this critical year four. Frost has a new boss and his most experienced roster. This wasn't supposed to happen against a team playing their first game under Bret Bielema, especially after sixth-year senior quarterback Brandon Peters left and was replaced by former Rutgers back-up QB Artur Stikowski.
Think about this for a moment: A guy that couldn't beat out Noah Vedral who left Nebraska for Rutgers transferred to Illinois and beat the Big Red. How did he do it? He played smart, sound football.
"I believe in my heart this team can still have a special season," Frost said. "We just have better players than we have had and we have a better team than we've had. I expected today to be a lot different. It just didn't go our way early on. We have got to play better an entire 60 minutes."
Following the loss, NU's players did not back down from post-game interviews. The players got in front of this one.
Everybody in that locker room understood what happened on Saturday. They understand what they are walking into this week in Lincoln.
Regaining the trust back from Husker will not be an overnight thing. It's going to take some time, and we all know the schedule will not get any easier for Frost and his team.
"We want to flip the script," sophomore offensive lineman Cameron Jurgens said. "We don't want to have that (explicative) happen over and over again. We are tired of it. We want to win some games. When we have these catastrophic errors and (explicative) goes wrong we need to flip something in our head. We need fighters on this team.
"The more you fight and the more effort you have, then (explicative), maybe the ball goes your way once in a while and you get a little luck. You just have to find that will."
Now on to the breakdown...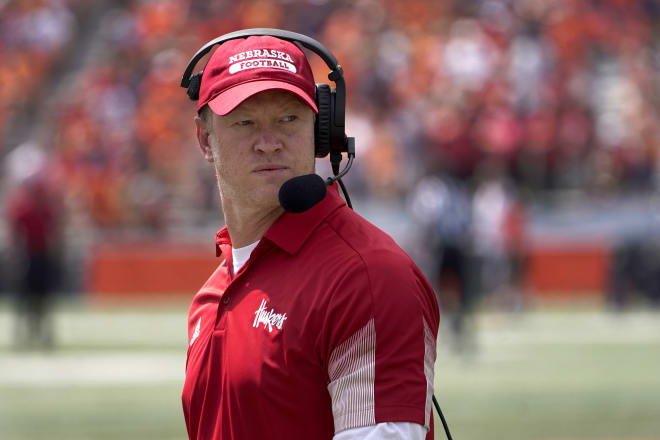 What I saw on Saturday 
***Cam Taylor-Britt's punt he fielded inside the end zone that led to a safety was simply an inexcusable play. It's a guy that really wanted to make a play, but you have to understand the situation and what's at stake.
***Adrian Martinez not only was running around for his life at times on Saturday, but he also missed quite a few open guys in early situations. The miss on Liewer in the end zone was a big moment in the game.
***Brant Banks got the start at left tackle for Nebraska but Turner Corcoran rotated in and out.
***Samori Toure, Wyatt Liewer and Oliver Martin got the start for NU at wide receiver. We did see Omar Manning quite a bit as well in this game.
I was surprised how much Toure became a non-factor after being billed the top wide-out coming out of camp. Martin played like NU's No. 1 wide-out on Saturday.
***It's hard to understand why tight end Austin Allen didn't have more of a role in this game.
***On Nebraska's first missed extra point by Connor Culp, it appeared the execution of the play was rushed when the play clock nearly ran down to zero. Special teams cost NU four points on Saturday between the two missed extra points and the safety.
***You have to give Bielema credit. He knows how to coach in this league and his team played for him and executed the identity he is trying to develop in Champaign. It by no means was flashy football, but they did their job and won. To an extent, I think this is all Nebraska fans are asking. Go out and execute and just win. We are at a point where style points no longer matter.
***True freshman running back Gabe Ervin Jr. made his first career start. Ervin Jr. is the first Nebraska true freshman running back to start a season opener in the modern era. Ervin Jr. is just the seventh position player to start a season opener as a true freshman joining Ralph Brown (CB, 1996), Terrence Nunn (WR, 2004), Tyler Moore (OT, 2011), Dedrick Young (LB, 2015), Adrian Martinez (QB, 2018), Wan'dale Robinson (WR, 2019).
***One guy we didn't see play on Saturday was freshman running back Sevion Morrison. Frost said Morrison was available to play, but didn't get on the field. We did see plenty of Markese Stepp though, and Rahmir Johnson took several of the reps late in the game as well.
Final grade out 
Rushing offense: F
The early down running was a non-factor. The offensive line had a hard time adjusting to the even-man front look the Illini threw at them. NU's running backs got just 54 yards on 19 carries. They nearly went two quarters without getting a single carry. That's not going to win many games in the Big Ten Conference. It's hard to give any of Martinez's runs a grade as part of the rushing offense because they were not called runs. They were more desperation scrambles that turned into yards. His 75-yard run though did get them back into the game, but it was more a scramble and not a called run play.
Passing offense: F
Martinez was sacked five times and hurried another four times. He was running for his life and had a hard time seeing people downfield. I also felt a lot of the passing plays took a long time to develop and the pocket would collapse as Martinez was waiting for things to open up. Martinez was 16-of-32 for 232 yards and one touchdown. He also had a fumble on a pass play that was returned for a touchdown and changed the entire game.
Rushing defense: B-
Illinois had 184 sack-adjusted rush yards. Mike Epstein had a 45-yard pop, as that was the only run NU gave up longer than 15 yards on Saturday. The problem was the Illini was content with short 3 to 4 yard runs, and that chewed the clock in the second half. As a defense NU had nine tackles for loss against the run.
Passing defense: C
It almost felt like things got better for Illinois's passing offense once Peters went out and was replaced by Stikowski. They didn't ask Stikowski to do much, but what they did ask him to do he executed. They drew up short, controlled passes and he converted nearly all of them. The game is probably different though if the Cam Taylor-Britt interception on Stikowski stands. Instead of a chance to go up 10 to 14 points at halftime, the Huskers found themselves down by 7 and Illinois got the ball back to start the third quarter.
Special teams: F
A fielded punt in the end zone that led to a safety, two bad kickoff returns, two missed extra points by Connor Culp, a 13-yard punt by Daniel Cerni - it was a collective effort to earn this F. The most disappointing thing is we thought this was going to be an area of improvement, but it was again a liability that played a big factor in the outcome of this game. Illinois soundly won the special teams battle in this one.
Sean Callahan can be reached at sean@huskeronline.com and he can be heard each day at 6:45 am and 5:05 pm on Big Red Radio 1110 KFAB in Omaha during the football season. He can also be seen on KETV Channel 7 in Omaha during the fall and each week he appears on NET's Big Red Wrap-Tuesday's at 7 pm.