Final take: Despite loss, this team grew on Saturday
EUGENE, Ore. - I don't know if I've ever seen a game where Nebraska statistically played one of their worst halves of football in history, but still somehow had a chance to tie the game in the final 2 minutes.
Saturday's 42-35 loss at Oregon on Saturday was the ultimate tale of two halves. The Ducks had 42 points, 409 yards and a commanding 28 point lead at halftime. Bob Diaco's defense looked like they were trying to win a gun fight with a knife. It was a "sequential mess" as Diaco said.
Then something happened. I don't know if we'll ever be able to put our finger on the exact adjustments that were made, but the Huskers found a way to fight.
They held Oregon scoreless in the second half, they forced two turnovers and the Ducks had just 157 yards of total offense, completing only four passes for 52 yards over the final two quarters. They were one play away from completing the biggest second half comeback in school history.
"I'm just proud of them and we love them," Diaco said. "We are disappointed in the results, but you can't start a game like that. We have a lot we can build on. A lot to coach and a lot we can build up."
The other thing that was important on Saturday was this team didn't quit. If they came out helpless in the second half and gave up over 70 points and 700 yards I don't know if you necessarily recover from that.
The fan reaction would've been toxic if it played out that way all four quarters. They found a way to turn things around, when it didn't look possible in the first half. That says something about Mike Riley and Diaco.
"You are going to have to rely on the character of your team to keep playing," Riley said. "That's all I mentioned to them. It was going to be up to them how they go out and play, and they aren't going to get it back right away.
"They were just going to have to play hard the whole rest of the game and try to get back with a chance to win. You say that often over your career, but they almost made it happen today."
The question now is how can Nebraska take their second half performance on defense and build on it going forward?
They have three manageable games in front of them against Northern Illinois, Rutgers and Illinois to get things figured out before they see Wisconsin and Ohio State in October. The goal next week should be to put four clean quarters of football together. They haven't done that yet this season. It needs to start next Saturday.
"Our whole motto was to just go out there and fight and don't quit," sophomore cornerback Lamar Jackson said. "We came out there to play for our pride, so we made a few adjustments and it benefited us in the long run, and we shut them out and made it close."
Now on to the post game breakdown....
What I saw on Saturday 
***Quarterback Tanner Lee is obviously very talented, but when you make Nebraska one-dimensional he's a different player. Oregon knew NU was forced to throw nearly every down late, and that made it very tough for Lee to find very many openings down field.
***I was very impressed with how Diaco addressed reporters following Saturday's loss. He was poised, and confident with his message, but called their first half play a "sequential mess." What's amazing is they nearly got that mess cleaned up.
***As a defensive coordinator at Notre Dame, Diaco's defenses only gave up more than 35 points three times in 51 games. One came against Alabama in the BCS title game, one against a Stanford led Andrew Luck squad and the other Michigan.
***You have to give Oregon and head coach Willie Taggart a lot of credit. For game 2 of a new coaching staff, the Ducks look well on their way under Taggart, and their improved play on defense was very noticeable on Saturday.
***Despite not having right tackle David Knevel, I thought redshirt freshman Matt Farniok more than held his own Saturday. Physically there was not a drop off at all for the Huskers.
***The knee injury to Tre Bryant doesn't feel like something that's going away any time soon. Riley said it didn't look as bad as they initially thought Saturday, but they still don't have a full report on the injury.
***Nebraska fans are amazing. You have to figure about 15,000 fans were in attendance on Saturday. I estimate that on average each fan probably had to spend at least $1,000 to be in Eugene this weekend (hotel, flight, ticket, transportation and food). If that's the case, Husker fans shelled out around $15 million to support the Huskers in Autzen Stadium. That's unbelievable.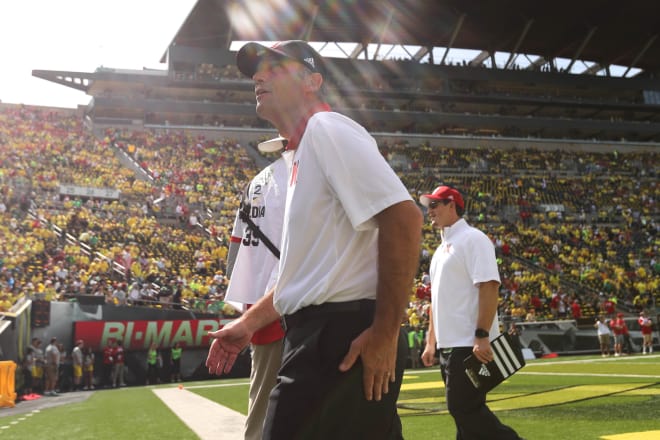 The final grade out
Rushing offense: C
Nebraska finished with just 125 yards rushing on 23 carries from running backs Tre Bryant and Mikale Wilbon. If they where going to have a chance to win this game, that number really had to be closer to the 200 mark, but the nature of the game didn't allow for that to happen. The offense constantly had a gun to their head every time they took the field.
Passing offense: D
This will not be a game Tanner Lee will want to watch much going forward. Lee was 19-of-41 with four interceptions and three touchdown passes. He started the day with an interception on his first throw after a ball deflected off Stanley Morgan Jr. It was an uphill climb from that point. Oregon also got after him quite a bit, which put a lot of duress on him in the pocket.
Rushing defense: C
Oregon went into an offensive shell in the second half, as they did a lot of inside runs to keep the clock moving. I thought Nebraska did a good job of stopping those plays late, but their first half play is hard to look past. Still, they did an impressive job of bouncing back and forcing a key turnover that got the game to 42-35.
Passing defense: D-
Most of Justin Herbert's damage came in the first half, as he finished 25-of-33 for 365 yards and three touchdowns. Herbert was on a first half pace to have one of the biggest offensive games ever against Nebraska, but the Blackshirts did adjust to get the Ducks offense off the field. Still, you can't look past how bad the first half was for this unit.There were way too many coverage busts and missed assignment/tackles and that has to get shored up going forward.
Special teams: B
Following the game, senior De'Mornay Pierson-El said he was upset that he didn't try to return the final punt that came his way. Special teams in general didn't play a huge factor in this game. Neither team had a kickoff return longer than 15 yards, and probably the highlight of the day was Caleb Lightbourn's punting. He put three of his seven punts inside the 20 yard line. Oregon missed the only field goal attempt in the game. Drew Brown put four of his six kickoffs through the end zone for touchbacks.
Sean Callahan can be reached at sean@huskeronline.com and he can be heard each day at 6:45 am and 5:05 pm on Big Red Radio 1110 KFAB in Omaha during the football season. He can also be seen on KETV Channel 7 in Omaha during the fall and each week he appears on NET's Big Red Wrap-Up Tuesday's at 7 pm.