Final take: Huskers leave Iowa City with an empty feeling
IOWA CITY, Iowa - As No. 16 Nebraska left the Kinnick Stadium on Friday with a 40-10 loss at Iowa, there was an empty feeling to this 2016 season.
After starting out with a 7-0 record for the first time since 2001 and garnering a top 10 ranking for 4 weeks, the Huskers (9-3, 6-3) sputtered to a 2-3 finish that ended with a blowout 40-10 loss at Iowa (8-4, 6-3) on Black Friday.
There's that old saying "people remember how you finish," and for this 2016 Nebraska team that's how this season will be defined as the Huskers go into bowl month. There was so much opportunity out there for Nebraska to take, but after 12 games they are seemingly back in the 9-3 spot they were at when they last left Iowa City in 2014. They are now losers of 3 of their last 4 games to the Hawkeyes.
It's a tough pill to swallow, knowing how close Nebraska was this season to turning the corner.
"It's hard to assess the whole season after that performance," head coach Mike Riley said after Friday's loss at Iowa. "We'll get on with it. We'll get a bowl game and we'll feel good about that, but there's not a great feeling about a summary from this season at this point."
In some ways this team finished better record wise than a lot of national experts predicted, but really on par where most local experts thought they'd be.
What stings about this loss to Iowa is the way it was administered. The Hawkeyes gave the Huskers an old fashioned back ally whooping. I heard several Iowa fans proudly saying after the game 'Nebraska thought they'd just walk into this league and win it,' but 'we sure showed them.'
That's what probably hurts Nebraska fans the most after Friday. They so badly want to be a physical line of scrimmage program like Iowa and Wisconsin, but they still aren't there. It doesn't matter how highly ranked Nebraska's recruiting classes are if they can't win the line of scrimmage and teams like Iowa and Wisconsin have made that point pretty clear in divisional losses the last few seasons.
"They had a couple big plays that we just didn't have and we didn't answer for them," sophomore offensive lineman Jerald Foster said. "I felt like we did play a good football team and we were playing as a good football team, breaks just didn't come for us. That's how it goes."
Now the Huskers seemingly will have over a month to chew on this 2-3 finish to the 2016 season.
They will get an opportunity to salvage this rough finish most likely against a quality SEC opponent in January, but for now there will be a lot of questions about why this season took a turn for the worse when it mattered most.
"We still have things that we are going to do and we still have things that we are striving for," Foster said. "Again, 10 wins is something this team really wants. All I'll say is don't count us out. We have a good team – definitely."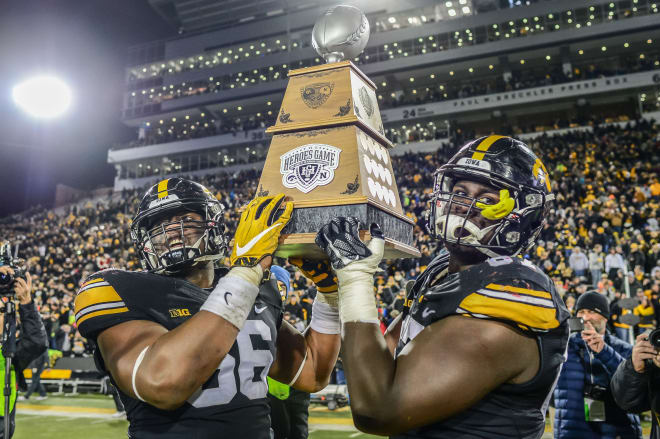 What I saw on Friday
***Quarterback Tommy Armstrong obviously took nearly every snap, but things never felt right. He was out of rhythm on nearly all of his big passing play opportunities.
***Talking to former Husker offensive lineman Brenden Stai before the game, I could sense he was nervous how Nebraska's defense would do against Iowa's offensive line because how "fundamentally sound" they are. They really make you pay for your mistakes.
***There was only a small window in the second half where Nebraska had a chance to make it a game, but allowing Iowa to convert a first down after they faced a third-and-17 was the straw that broke the camel's back. To make matter's worse, it was Omaha South product Noah Fant that made the key fourth down catch to make it happen.
***One Iowa writer made the comment to me on Friday that if Nebraska tight end Cethan Carter played in Iowa's offense he'd be a superstar. He said "Carter is a stud."
***Walk-on wide receiver Conor Young made the travel roster for the injured Bryan Reimers. Young has looked really good during the Sunday scrimmages and was reward with a late season travel roster spot.

***As long as both Wisconsin and Penn State win on Saturday, I still feel pretty good about Nebraska's chances going to Tampa for the Outback Bowl. Iowa is probably a lock at this point to head to the Holiday Bowl in San Diego. To me, it's most likely down to the Outback Bowl or the Music City Bowl in Nashville for Nebraska. Both bowls play against SEC opponents.
The final grade out
Rushing offense: F
The Huskers finished with 90 yards rushing, as they got just 41 yards from Tre Bryant and 39 yards from Terrell Newby. Nebraska is not going to win very many games with numbers like that. The long run of the day was just 11 yards.
Passing offense: D-
Armstrong finished 13-of-35 for only 125 yards. He delivered a couple nice strikes, but missed more often than not.
Rushing defense: F
Just like last year Iowa found the big play on a pair of 75 and 56 yard runs, and then they sprinkled in several quality 4 to 6 yard type runs on first down. This was a big step back for the rush defense after the last two weeks. The Hawkeyes finished with 264 rushing yards on 47 attempts. Iowa wins 95 percent of the time when Ferentz teams run it 95 percent of the time.
Passing defense: F
You knew Iowa wasn't trying to throw for 200 yards, as they've lost two of three games game this season when they have. C.J. Beathard was 10-of-15 for 144 yards and three touchdowns. He was efficient and deadly when he had to be. His 77 yard TD pass to Riley McCarron was a game changer, as were his two touchdown passes to tight end George Kittle.
Special teams: D-
The only thing preventing an F was a blocked PAT by Nebraska, but other than that it was another disappointing game for Bruce Read and NU's special teams units. The Hawkeyes got quality field position as they had 82 yards in the punt return game and really controlled this phase of the game. The Huskers also got a running into the kicker penalty that allowed Iowa to exchange a field goal for a touchdown.
Sean Callahan can be reached at sean@huskeronline.com and he can be heard each day at 6:45 am and 5:05 pm on Big Red Radio 1110 KFAB in Omaha during the football season. He can also be seen on KETV Channel 7 in Omaha during the fall and each week he appears on NET's Big Red Wrap-Up Tuesday's at 7 pm.