Final take: Back to square one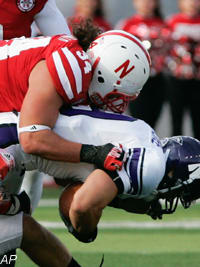 Just when you thought things were figured out, it's back to square one for Nebraska after a disappointing 28-25 loss to Northwestern on Saturday.
Going into today's match-up the Huskers had won three games in a row since their embarrassing loss at Wisconsin. The offense was starting to look consistent each week and the defense was finally starting to play to
Bo Pelini
's standards.
On Saturday none of those things happened. Northwestern came into Memorial Stadium and out executed and outplayed the Huskers in nearly every phase of the game.
If Nebraska wants to take that next step as a program these are the obvious games they have to win.
The other thing you can still say though is the divisional race is far from over. Yes Michigan State is in the driver's seat, but they could very easily lose to either Northwestern or Iowa down the stretch.
Here are just a few other takes and observations I had form Saturday.
***I thought running back
Rex Burkhead
was a step slow. His body clearly wasn't 100 percent after the 35 carry game he had a week ago against Michigan State. He confirmed that to me after the game, but doesn't want that to be an excuse with the way he played.
"(My body) was (beat up) a little bit, but it's no excuse," Burkhead said. "I still need to go out there and play like I always have and not worry about that. I need to go out there and play no matter if I'm banged up or not."
***It's a shame such a good performance by quarterback
Taylor Martinez
had to be wasted today. Martinez threw the ball as well as you could've asked, but the bottom line is Nebraska never got that big play they needed on offense to spark things.
***Northwestern was daring NU to throw the ball by loading the box with eight and nine defenders. I thought offensive coordinator
Tim Beck
should've called more man beaters with NU's wide receivers to take what the Wildcats were giving him.
***Boy does Nebraska really miss
Jared Crick
and
Thaddeus Randle
up front on defense. On top of that
Chase Rome
was unavailable with a muscle injury, which meant NU had to play with just two defensive tackles for the entire game. Northwestern tired Nebraska down up front by holding the ball for 18:41 in the second half for 308 yards.
***Anytime you see defensive back
Lance Thorell
lead Nebraska with 15 tackles, that's probably not a good thing. Northwestern clearly targeted both Thorell and
Ciante Evans
, as they had trouble with Northwestern's crossing routes in space.
The final grades
Rushing offense: D
Nebraska had just 122 yards rushing on 35 carries, by far their worst output of the season. Northwestern stacked the box and brought more defenders to play the run than NU could block. Credit
Pat Fitzgerald
for having a very sound game plan to slow down the Huskers running game.
Passing offense: B
Martinez had his best passing game of the season going 28-of-37 for 289 yards and two touchdowns. Martinez looked poised in the pocket and was doing a great job of going through his progressions. I would've liked to see Beck pass the ball more in the first half to loosen up Northwestern's defense.
Rushing defense: D-
Northwestern use their spread offense to get Nebraska's defense in space and NU could not find an answer to slow down their running game. The Wildcats rushed for 207 yards on 54 carries controlling the tempo of the game with consistent runs of 4 to 6 yards. They also did a good job of adjusting their plays at the line of scrimmage.
Passing defense: D+
Northwestern threw for 261 yards and found the big play when they needed it on third down and they were perfect on fourth down conversions. Northwestern also found the match-ups they wanted, as Thorell, Evans and
Daimion Stafford
struggled with one-on-one coverage situations. NU did create two key interceptions, but it wasn't enough.
Special teams: C
Brett Maher
handled the wind about as well as you could've asked. He placed his punts where they needed to be, but the coverage teams weren't able to take advantage of them to pin Northwestern. Nebraska also gave up a 41 yard kick return that gave the Wildcats some good field position. Overall it wasn't good day or a bad day for NU's special teams.
Sean Callahan can be reached at sean@huskeronline.com and he can be heard each day at 6:50 am and 4:50 pm on Big Red Radio 1110 KFAB in Omaha during the football season. He can also be seen on KETV Channel 7 TV in Omaha during the fall and each week he appears on NET's Big Red Wrap Tuesday's at 7 pm.