DiCaprio pulls trigger becomes Husker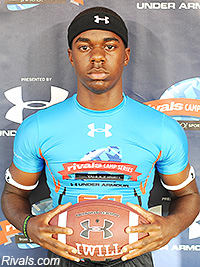 Miami (Fla.) Southridge High cornerback recruit
DiCaprio Bootle
is currently in Lincoln with his parents and little brother on an unofficial visit.
They arrived in
Nebraska
Wednesday evening and will be staying through Saturday, but after less than one day on campus Bootle thought he had seen enough to end his recruiting process, pull the trigger and commit to become a Cornhusker.
"Yes, I did," Bootle to confirmed about committing to Nebraska when reached by HuskerOnline.com. "It was just too much to walk away from. The different things I saw in the program and the different things they do in the community made me want to commit."
As much as he was impressed with the facilities, Bootle said that his choice to attend Nebraska was more about the people he encountered while in Lincoln.
"They took me through everything, from the stadium, the facilities and everything around it," the 5-foot-11, 170-pound three-star relayed. "Basically, I got to see it all.
"But really, I wanted to go somewhere where I would be surrounded by great people like they have here."
Bootle said that his parents, who are with him in Nebraska, supported his decision 100 percent.
DiCaprio added that he and his family were at a Nebraska sports store loading up on Husker team gear before returning to campus this evening to continue his visit.
At last month's Nebraska satellite camp in Miami, DiCaprio Bootle stood out from the couple hundred prospects in attendance and received his Husker scholarship offer shortly thereafter.
"I've definitely been spending the most time with Coach
Brian Stewart
while I've been in Nebraska," Bootle shared. "He was the one giving me my tour and telling me about what it's like around town. I know that I will be playing cornerback here at Nebraska."
Summing up the rationale for his quick decision, Bootle said that a lot of things caught his eye over the past 20 hours or so that makes him comfortable knowing he made the right college decision.
"When I was touring around and seeing where I will be practicing and playing," Bootle stated, "as I was just standing in the stadium on the game field everything felt so right to me."
Bootle's verbal commitment brings Nebraska's Class of 2016 total pledges up to 13, with their 14th commitment possibly coming later this evening from Missouri offensive lineman
Boe Wilson
.