Balanced Huskers take control in Big 12 North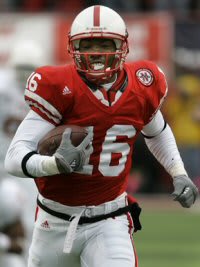 Junior wide receiver Maurice Purify threw a touchdown pass and caught a touchdown pass as Nebraska built up a 27-3 lead and held on for a 34-20 victory over Missouri to take over sole possession of the lead in the Big 12 North.
The Huskers rushed for 183 yards and passed for 236 without allowing a sack in the balanced offensive effort and forced three turnovers in the key conference victory.
"It's a big win for our program," NU coach Bill Callahan said. "I'm so happy for our kids. They've worked hard. They've practiced hard. I knew we were on the verge of doing some good things."
For the second week in a row, the Huskers took a commanding lead in the first half. But this time they held on after the Tigers cut the margin to 34-20 with possession in NU territory midway through the fourth quarter.
A review of a key third down play went Nebraska's way, and Chase Daniel's fourth-and-23 pass fell incomplete to all but end Missouri's hopes with 4:50 remaining.
The Huskers, rebounding from back-to-back losses to Texas and Oklahoma State, took control in the first quarter before a record crowd of 85,197 on Homecoming Saturday.
After Jordan Congdon's 40-yard field goal gave NU the early lead with 4:53 left in the opening quarter, Purify became the fifth Husker to throw a touchdown pass this season, when he took a reverse pitch from quarterback Zac Taylor and hit Terrence Nunn with a 28-yard scoring pass with 1:30 left in the first period.
On NU's next possession, Purify was on the receiving end of a 7-yard touchdown pass from Taylor. That score was set up by defensive end Adam Carriker's interception of a tipped pass and made the lead 17-0 with 13:44 left in the half.
Taylor's second touchdown pass, a 17-yarder to tight end Hunter Teafatiller, and Congdon's 33-yard field goal offset a pair of field goals by Mizzou's Jeff Wolfert that left the score 27-6 at halftime.
The only score of the third quarter was a 6-yard touchdown pass from Daniel to tight end Martin Rucker that made it 27-13 entering the fourth quarter.
Nebraska regained the momentum on Brandon Jackson's 2-yard touchdown run on the third play of the fourth quarter. Jackson, coming off a career-best 182-yard rushing effort against Oklahoma State, finished with 32 carries for 111 yards. He also caught three passes for 61 yards. The Husker junior did lose a pair of fumbles.
Chase Coffman's caught a 19-yard touchdown pass from Daniel with 8:10 remaining to cut the margin to 14, but the Tigers could come no closer.
Nebraska, now 4-2 in the Big 12 and 7-3 overall, can clinch a spot in the Big 12 Championship game by winning at least one of its two remaining games — next Saturday at Texas A&M or Nov. 24 against Colorado in Lincoln. Missouri fell to 3-3 and 7-3.
"We put ourselves in pretty good position," Callahan said. "We still have to take it one at a time and focus on (Texas) A&M."