After rocky start, Jurgens coming into his own at center
After every bad snap or offensive line breakdown caused by pre-snap miscommunication, Cam Jurgens' move from tight end to center was increasingly criticized through the first half of last season.
But as the redshirt freshman gradually started to settle into his role, Jurgens closed the year by displaying some of the potential that Nebraska's coaching staff had anticipated all along.
The snaps got more accurate by the week, and NU's offensive line ended up playing some of its best football of the year over the final few games. Much of that, offensive line coach Greg Austin said, had to do with Jurgens coming into his own as the man in the middle.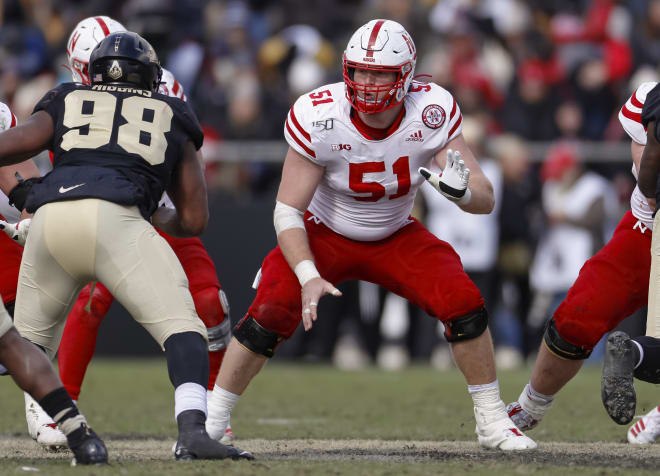 "Comfort," Austin said. "There was a confidence and comfort level. Even with the snaps – it's not like we never practiced snaps. When you get out there, and you've got live bullets, there's so much thinking that goes on.

"What happened with Cam was the game slowed down for the guy. He'd come to the sideline, and he actually gave good feedback. Game 1, Game 2, Game 3, Game 4, it was like, 'Cam, what'd you see?' 'Uhhhhhh…' Looking at me with those confused eyes… Then, 'Well, Cam, first thing's first, we've got to get the ball down. What did you call?' And we had guys next to him like, 'Man, I didn't hear sh*t.' It was kind of like one of those therapy sessions in the middle of 90,000 people in Memorial Stadium.
"But then slowly but surely, as things continued to drag along, his attitude was just, keep coaching, keep playing. He's one of those kids where things don't faze him, and one of the things you like about him is he does not make the same mistakes twice. When I say mistakes, I'm talking more about lack of calls, lack of information. Certainly, as things calmed down for him, he was able to be more efficient with his snaps and efficient with his get-offs, and efficient with his whole game."
While Austin and head coach Scott Frost were high on the redshirt sophomore's potential at center from the start, Austin said Jurgens' development at the position was delayed for a handful of reasons. First, an injury kept the Beatrice, Neb., native out of the majority of fall camp, and he didn't finally return to full-time work until the week before the season opener.
Austin said missing those "critical reps" in August put a young player in a new role even further behind.
"I think he probably would have been where he was Game 6 by Game 3 had he received those reps," Austin said.
Then there was the issue of being able to maintain all of the added weight he put on while transitioning from tight end to center. After arriving on campus as a true freshman in 2018 at around 250 pounds, Jurgens bulked up to around 280 by the start of last season.
However, once the grind of the season got underway, Austin said Jurgens steadily dropped pounds and ended the year well below his target weight. By adjusting his diet, though, Austin said Jurgens was back up to 290 pounds going into the spring and was in a much better position to maintain that weight this season and beyond.
Now healthy and more physically prepared to be a Big Ten center, Jurgens has also made big strides in being the vocal leader required at the position. Austin said Jurgens now had "a command presence" on the field, and his teammates like senior Matt Farniok said that had changed the entire offensive line.
"You could tell as he got more confident in his calls and what he was doing, it makes play a lot easier because, at the end of the day, he's going to be commanding us on what we're doing," Farniok said. "As long as he's loud and confident, it makes our jobs a lot easier because we know exactly where we're supposed to go. As he became more sure of himself, you could see us all start to play better."
Austin noted that Jurgens' connection with junior quarterback Adrian Martinez seemed stronger than ever both on and off the field, an imperative aspect to any center/quarterback dynamic.
"There's a relationship you have with a center or an offensive line and a quarterback," Austin said. "I saw some things (on Day 1 of spring ball) that I had never seen in the past with those two."
Like any other player on the team, Austin reiterated that Jurgens was far from a finished product going into his second full season at center. But at the rate he's improved every day since making the move, Austin has little doubt that Jurgens will be every bit of the player Nebraska's staff had hoped.
"It's like teaching a baby how to walk, right?" Austin said. "You're going to fall a couple of times. Hopefully you don't bust your head open, but you'll eventually get it."