Wisconsin postgame nuggets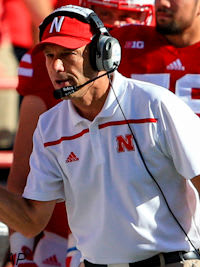 Here are some quick notes to pass along from Nebraska's post-game press conference following Saturday's 23-21 loss to Wisconsin…
***Head coach
Mike Riley
said he's sounding like a broken record now after four close losses, but his message to the team was to continue to do what they have been doing and fight through the though times. He said he "can't be anything but impressed" with how the players have handled themselves all season, and he expects the leadership to once again "answer the bell" and get the team ready to go for Minnesota next week.
***Riley said there was really no "common thread" in Nebraska's four losses this season, saying there have been unique variables in each of them that have played factors in the final outcome.
***Riley said the biggest issue today was not sustaining offensive production, especially in the third quarter after getting some big momentum with 14 points right before halftime. On defense, as always he said it was NU's inability to defend the big pass.
***Riley said he was torn between using his final timeout just before Wisconsin's missed field goal late in the fourth quarter, but he decided he wanted to keep time on the clock for his offense and burned his third timeout.
***Riley said he never thought about throwing the ball on NU's final offensive drive, as the goal was to make Wisconsin burn its timeouts and run clock.
***Riley said tackle
Nick Gates
"might be" out for an extended period of time with an ankle sprain, but they would wait to evaluate him later next week. Riley said defensive end
Jack Gangwish
hit his injuries elbow but didn't re-injure it, and they're hoping defensive tackle
Vincent Valentine
didn't suffer any setbacks with his injured ankle. Linebacker
Marcus Newby
was just dealing with cramping late in the game.
***Riley said he didn't swear when he was flagged for unsportsmanlike conduct, but said it wasn't necessary on his part to agree the pass interference call on NU like he did. However, Riley came about as close as he'll get to calling out the referees' consistency in calling defensive pass interference.
***Riley said Nebraska's defense was getting better every week "for sure", and that Saturday was the best overall game they've played this year. He said the same was not the case for the offense.
***Gangwish said the defense was tired at end of the game, but it was a "good thing our guys are tougher than hell" and pushed through. He said fatigue was not a factor in their play down the stretch.
***Gangwish said he and the rest of the captains haven't had a message to the team yet, but said Riley did "an excellent job" addressing the players in the locker room after the loss. Gangwish said NU still has goals for this season, and they're determined to come out firing on all cylinders next week at Minnesota.
***Gangwish said his elbow was still not 100 percent, but it wasn't going to stop him from playing.
***Quarterback
Tommy Armstrong
said some of the passing game struggles were on him and just a matter of him not making good throws when passes were there.
***Armstrong said not capitalizing on the momentum in the third quarter was a big swing in the game, but the wind didn't have much to do with that. He said the wind, which got up to gusts of around 26 mph, died down in the second half and changed directions so it was blowing in from the west instead of from he south.
***Armstrong said penalties played a big role in Nebraska's offensive problems. He said the Huskers couldn't continue to shoot themselves in the foot with their own mistakes and expect to turn their season around.
***Armstrong said the team was a family and that they have to have to stick together no matter what happens on the field. He said he obviously didn't expect this kind of start to the season, and said it's been "heartbreaking" to go through, but the only thing that can do is try to get better and improve next week.
Here are some additional notes from NU Media relations
***Armstrong passed for 129 yards in today's game to increase his career passing total to 5,161. Armstrong moved up two spots to No. 3 on the NU career passing list in today's game, surpassing Dave Humm (5,035 yards) and Joe Ganz (5,125 yards) on the career chart.
***The 55-yard touchdown run by
Andy Janovich
was Nebraska's longest scoring play of the 2015 season. It's also the longest touchdown run by a Nebraska fullback since Tom Rathman scored on an 84-yard run against Colorado on Oct. 26, 1985. Rathman's run is the 10th-longest touchdown run in school history.
***The Huskers' previous long scoring play this season was earlier in today's game, a 41-yard second-quarter touchdown pass from Tommy Armstrong Jr. to Alonzo Moore. Prior to today's game, Nebraska's longest scoring play of the season was a 22-yard pass from Armstrong to Moore against BYU.
***Linebacker
Marcus Newby
recorded four pass breakups in today's game, tying the Nebraska record for most breakups by a linebacker. Scott Shanle previously had four breakups at Missouri in 2011.
***Nebraska has allowed just seven first-half points in its past three games combined, after a Wisconsin second-quarter touchdown. Nebraska has also allowed a combined total of seven first-half points in its past three home games.
***Nebraska's loss marked the Huskers' first loss in five Big Ten Conference home openers. Wisconsin improved their series advantage to 6-4 with today's win, including a 4-1 edge in games since Nebraska joined the Big Ten Conference.
***Nebraska dropped to 2-4 with today's loss. The Huskers' four losses have come by a total of 11 points and all four losses have come on the opponent's final offensive play of the game.
Other Notes...
* Defensive end Ross Dzuris made his first career start in today's game. With Dzuris earning a starting nod, Nebraska has had 20 different players start on defense through six games this season.
***
Alonzo Moore
's 41-yard touchdown catch in the second quarter marked the second-longest catch of his career, trailing only a 43-yard reception at Michigan State in 2014.
***Nebraska has allowed a combined 27 first-quarter rushing yards in four games at Memorial Stadium this season.
***Nebraska broke up a season-high 12 passes in today's game, including four each by Newby and
Joshua Kalu
. Nebraska's previous high was five PBU at Miami.
***Punter
Sam Foltz
averaged 43.8 yards on nine punts and had two punts of better than 50 yards. Foltz has seven punts of 50 yards or more the past two games. He also pinned Wisconsin at its own 1-yard line in the third quarter of today's game and has had four punts downed inside the 10-yard line the past two games.
***
Jordan Westerkamp
caught two passes, pushing his career total to 93, moving him into a tie with Matt Davison for ninth place on the NU career receptions list. In today's game he broke a tie with Maurice Purify.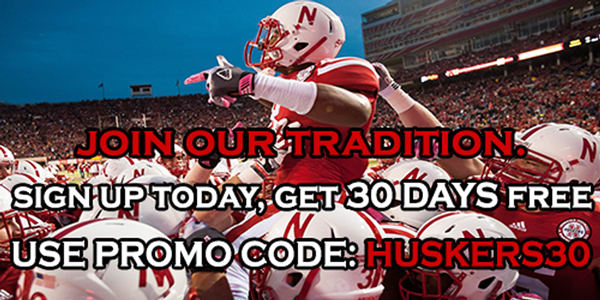 Click
Here
to view this Link.