Wisconsin keys to victory and HOL score predictions
Nebraska (3-2, 2-0) has a chance to completely turn their season around when No. 9 ranked Wisconsin (4-0, 1-0) comes to Lincoln.
The Badgers come to town as the king of the Big Ten West, but the Huskers have lost in overtime and by a last second field goal each of the last two years.
As things get closer to kickoff, here are today's keys to a Nebraska victory over Wisconsin, and our HOL expert score predictions for Saturday. NU enters today's game as an 11.5 point underdog against Wisconsin.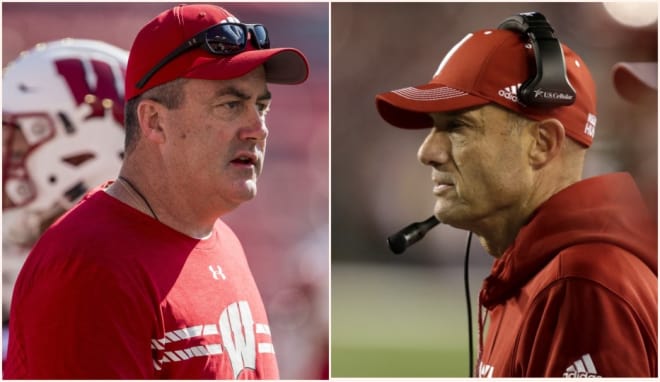 KEYS TO VICTORY: Wisconsin at Nebraska 
KEY 1: Generate a consistent ground game
The key for Nebraska's offense to have success is balance. The Huskers have to generate a respectable ground game today if they want to have a chance. They need to be able to find 3 to 4 yards on early downs and be able to convert short yardage situations to give their offense a chance.
KEY 2: Defensive physicality
I'm very intrigued to see how Nebraska's front seven matches up against Wisconsin's offense. This has been the strength of this football team thus far, and it needs to show up in a big way today.
KEY 3: Discipline against the play action
One of the keys to Wisconsin's offensive success is the ability to mix in the play action. The Badgers will try to bore your defense with basic run plays before using that same look and formation to mix in a play action for a big play. NU's safeties and corners need to limit the Badgers and their play action game. Don't be surprised if you see NU take a 15 yard penalty to prevent a big play from happening.
KEY 4: Give Tanner Lee a chance
We saw what quarterback Tanner Lee looked like last week when the Huskers gave him a chance to make reads in the pocket. Nebraska's offensive line needs to show up, and the blitz pick-up has to be on point for Lee to have a chance and avoid potential turnover situations.
KEY 5: Make the night game atmosphere count
We all know the numbers. The Huskers have won 20 home night games in a row and hold a 46-5 record in night games at Memorial Stadium. The Huskers have to take advantage of that tonight and use the home field for everything it's worth.
EXPERT TAKE: Wisconsin at Nebraska 
Sean Callahan - HuskerOnline Publisher
I really like how Nebraska physically matches up with Wisconsin's offense. I think the Blackshirts will more than hold their own in this game and make things difficult on the Badgers. My question is with the offense, and the ability to get a consistent rushing attack and protection for quarterback Tanner Lee. I think Wisconsin will win a very close game that goes to the fourth quarter.
Wisconsin 24, Nebraska 20
##############################
Robin Washut - HuskerOnline Senior Writer
Given Nebraska's improved play the past two weeks and the home field advantage of a night game at Memorial Stadium, this game will be much more competitive than the Las Vegas betting lines indicate. Both defenses will battle it out and points will come at a premium, but once again Wisconsin will somehow find a way to pull it out in the final minutes.
Wisconsin 20, Nebraska 17
##############################
Nate Clouse - HuskerOnline Lead Recruiting Analyst
Nebraska has been able to find a little mojo on both sides of the ball over the last few weeks and I see that confidence continuing under the lights of Memorial Stadium on Saturday as well. Tanner Lee has an efficient game, including a few big plays through the air to Stanley Morgan when they need them the most. Defensively, Bob Diaco and the Blackshirts find a way to slow down the Badgers' ground game and get pressure on the quarterback which leads to some turnovers. It will be a close one, but the Huskers stay undefeated in Big Ten play in front of a crazy crowd that's celebrating the 1997 National Championship team.
Nebraska 28, Wisconsin 27
##############################
Mike'l Severe - Omaha World Herald Bottom Line
The home-field and crowd has to matter in this game, right? My numbers say its a 14 point win for the Badgers, but I don't think Wisconsin can win this game unless NU turns the ball over at least twice. I think the Blackshirts play well, but I'm not sure NU can run the ball an I just don't trust Tanner Lee.
Wisconsin 27, Nebraska 20
##############################
Andy Kendeigh - KETV Channel 7 Sports Director
The Badgers are ranked 4th in the nation in total defense averaging 247 yards a game but perhaps even more impressive is Bucky's ability to create turnovers. In the last 9 games Wisconsin's forced 22 turnovers while Nebraska in the same span? Just 10. If the Huskers can somehow flip that script and win the rushing battle which leads to winning time of possession which leads to winning the game. In a slugfest, the Huskers find a way on a Drew Brown field goal at the gun.
Nebraska 16, Wisconsin 13
HuskerOnline Week 6 Score Predictions
Week 6
Sean Callahan
Robin Washut
Nate Clouse
Mike'l Severe
Andy Kendeigh

Wisconsin at Nebraska

24-20 Wisconsin

20-17 Wisconsin

28-27 Nebraska

27-20 Wisconsin

16-13 Nebraska

MSU at Michigan

23-10

Michigan

27-21 Michigan

33-21 Michigan

24-10 Michigan

20-13 Michigan

Minnesota at Purdue

34-24 Purdue

31-24 Purdue

28-27 Purdue

27-21 Purdue

31-24 Purdue

WSU at Oregon

41-34


WSU

49-45 Oregon

38-32 Oregon

30-28

WSU

48-45

WSU

K-State at Texas

27-23

K-State

29-26

K-State

35-28

K-State

17-14 Texas

28-24 Texas

Miami at Florida State

27-23 Miami

23-18

Miami

33-31

Miami

24-23 Miami

34-24 Miami
HuskerOnline Score Prediction Standings
Expert Picker 
Straight Up
vs. the Spread 
Cumulative Total

Mike'l Severe

OWH Bottom Line

22-8

17-17

39

Nate Clouse

HuskerOnline

22-8

15-15

37

Robin Washut

HuskerOnline

21-9

14-16

35

Sean Callahan

HuskerOnline

19-11

13-17

32

Andy Kendeigh

KETV ABC-Omaha

15-15

16-14

31