Will Honas commit: What does it mean for Nebraska?
Nebraska emerged as the big winner in the Will Honas sweepstakes on Wednesday.
The 6-foot-2, 225-pound linebacker out of El Dorado (Kan.) Butler County C.C. picked NU over Kansas State, Iowa, and Wisconsin. He becomes NU's 14th known commitment in its 2018 recruiting class.
Here are some quick takes on what Honas' commit means for the Huskers.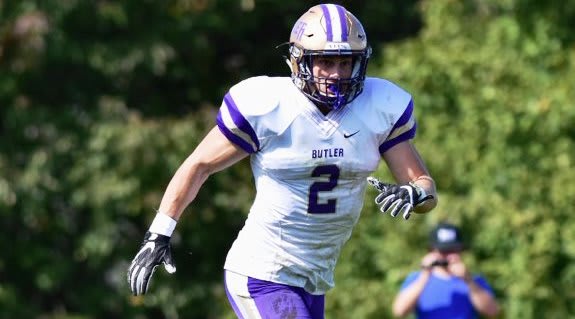 1. Nebraska has addressed some keys needs with some very high quality JUCO prospects for its 2018 class. Honas is arguably the best of a group that consists on Arizona Western running back Greg Bell and wide receiver Jaron Woodyard and Jones County C.C. defensive back Deontai Williams.
2. The first thing that jumps out about Honas on film is just his overall physicality. He's a tackling machine and when he hits a ball carrier they don't just stop, they're usually going backwards.
3. Honas runs very well and has good speed, but I think what really separates him from others are his feet. His feet are always moving, he gets downhill in a hurry and can also cover in space.
4. Honas' instincts are off the charts. He's a smart player that seems to read and react to plays extremely well which always has him in position to make a play.
5. Nebraska defensive coordinator Erik Chinander likes a fast and aggressive style of defense and Honas fits that mold perfectly. He plays the game full speed every play which helps set the tone for others around him. Honas is a leader that plays with a lot of emotion as well. All good traits for a middle linebacker to have.
6. Honas is yet another JUCO All-American that the Huskers have picked up this cycle and will be on campus in January. With his ability to go through winter conditioning and spring ball, Honas should have a great shot at filling the void left by Chris Weber who the Huskers lose to graduation.
7. You've got to tip your cap to the job Nebraska running backs coach Ryan Held has done getting NU involved in the JUCO ranks again and especially to linebackers coach Barrett Ruud who really contacted well with Honas right off the bat. Honas and Ruud actually share a lot of similarities in terms of their play on the football field.
It doesn't get much better than being able to add an instant impact type of player to your roster while at the same time keeping that impact player away from a pair of divisional rivals like Iowa and Wisconsin. That's exactly what NU has done by signing Honas today.
Honas' sophomore season stats: 96 tackles, 10 TFL, three sacks, one PBU, two INT one of which was returned for a touchdown. He was Butler C.C.'s leading tackler.
8. 2018 Nebraska commit breakdown
12/21/2017 - Will Honas - LB - 6-foot-2, 225 - Butler County C.C. (KS) - 3 Stars
12/20/2017 - Greg Bell - RB - 6-foot, 200 - Arizona Western C.C. (CA) - 3 Stars
12/20/2017 - Katerian LeGrone - WR - 6-foot-3, 220 - Atlanta, GA - 3 Stars
12/17/2017 - Deontai Williams - DB - 6-foot, 180 - Jones County C.C. (FL) - 3 Stars
12/12/2017 - Adrian Martinez- QB - 6-foot-3, 198 - Fresno, CA - 4 Stars
12/11/2017 - Justin McGriff- WR - 6-foot-6, 210 - Tampa, FL - 3 Stars
12/10/2017 - Jaron Woodyard- ATH - 5-foot-11, 175 - Arizona Western (MD) - 3 Stars
12/10/2017 - C.J. Smith- DB - 6-foot-3, 190 - West Palm Beach, FL - 4 Stars
10/6/2017 - David Alston- OLB - 6-foot-5, 215 - Woodbury, MN - 3 Stars
5/2/2017 - Barret Pickering- K - 6-foot, 185 - Hoover, AL - 3 Stars
4/16/2017 - Tate Wildeman- DE - 6-foot-6, 245 - Parker, CO - 4 Stars
4/8/2017 - Will Farniok- OL - 6-3, 260 - Sioux Falls, SD - 3 Stars
6/17/16 - Masry Mapieu- DT - 6-5, 290 - York, NE - 3 Stars
8/7/15 - Cameron Jurgens- TE - 6-3, 235 - Beatrice, NE - 4 Stars
9. Commits by position
1 - Quarterback
1 - Running back/fullback
2 - Wide receiver
1 - Tight end
1 - Offensive linemen
1 - Defensive tackle
1 - Defensive end
1 - Outside linebacker
1 - Inside linebacker
2 - Safety
0 - Cornerback
1 - Athlete
1 - Special teams
10. Where are they from?
3 - Florida
2 - Nebraska
2 - California
1 - Alabama
1 - Colorado
1 - Georgia
1 - Kansas
1 - Maryland
1 - Minnesota
1 - South Dakota