Wildcats shock Huskers in 28-25 upset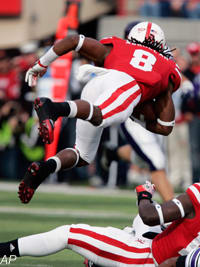 A week after keeping its Big Ten championship hopes alive with a huge win, Nebraska fell flat on its face against Northwestern on Saturday.
Despite coming in as 17-point favorites, the Huskers spent the entire game playing catch-up to a more efficient, more confident Wildcat team and was dealt a 28-25 upset loss that put their Legends Division title hopes back up in the air.
"We did all the things necessary to lose a football game: putting the ball on the ground, penalties. I told our guys all week, I said it all week long, that this was a good football team, that we were going to be challenged and we had to be ready for the challenge. We weren't. We didn't execute, we didn't play well enough to win."
It was a sluggish performance from the very beginning for the Huskers, as the offense struggled to move the ball and Northwestern's offense came out as efficient as it's been all season in the first half.
The Huskers had a chance to tie the game early in the second quarter when they marched all the way down inside the Northwestern 10-yard line, but Burkhead fumbled the ball away for the first time in 184 straight attempts at the NW six.
That score held on into halftime, as the Huskers went into the locker room trailing 7-3 despite actually out-gaining the Wildcats 181-160 in total offense and holding NW to just 42 yards in the second quarter.
Martinez ended up with one of his better first halves of the season, completing 11-of-13 passing for 101 yards, but turnovers obviously put a damper on the overall play of the offense.
"We didn't come out to play," Martinez said. "Maybe we overlooked Northwestern for Penn State. Other than that, I don't know what to say about the game."
"We blew a coverage, we played undisciplined," Pelini said. "We had a couple opportunities to get off the field and they run a little pivot route and get 35 yards on it. At the end of the day, you've got to make plays. You've got to cover somebody and make the tackle. We had our opportunities. We didn't play well enough to win, period. You want to talk about a team loss, that was a team loss. Every phase of the team, offense, defense and special teams contributed to it."
Nebraska's offense didn't start out the second half any better than it did the first, giving the ball right back to Northwestern on a turnover on downs when Burkhead was stuffed on a fourth-and-3.
The touchdown was Marlowe's first of his career, and marked Martinez's 11th straight completion to that point.
That missed opportunity proved to be more costly than anyone could know. After Northwestern took over inside its 20, Colter hit a wide-open Ebert on a play-action post route, and Ebert took the rest of the way for an 81-yard touchdown pass that stunned and silenced the sellout Memorial Stadium crowd.
"We were supposed to have two guys on (Ebert), but there was just a little bit of confusion on looking into the back field a little too long," Cassidy said. "I think when you do that big plays happen."
Desperately needing to come up with a touchdown drive, Martinez provided just that with an impressive display of passing (albeit with a couple hiccups), and Burkhead finished it off with a one-yard touchdown. Martinez came up with another huge pay on the ensuing two-point conversion, as he reached the ball over the goal line on a option keeper to make it 21-18 with just under nine minutes to play.
The momentum was short lived, though, as Northwestern ran right down the Blackshirts' throat down to the NU 18-yard line. With their backs against the wall, the Huskers finally stepped up and forced a fourth-and-1 play that would potentially determine the game.
Colter kept it on an option run and dove ahead past the first down marker to keep the drive alive, and essentially sealing the the game. From there, the Wildcats kept running right at Nebraska and kept running off more and more clock before eventually punching in the game-winning touchdown on a one-yard run by Colter on a sneak with 1:34 remaining.
That final Northwestern drive went 17 plays and ate up nearly eight minutes. Needless to say, it was an unexpected and frustrating overall performance from a defense that had just been awarded it's Blackshirts days earlier.
"We take a lot of pride in getting those Blackshirts and to do what we did today, it's embarrassing," Cassidy said. "You're not going to win a lot of games giving up 30 points or however many points we gave up and 500 yards of offense. Last week we were able to shut those guys down. You're not going to lose very many games when you give up three points. It's hard to win when you give up that many points. I think we gave up 25 first downs which is just embarrassing, to be honest."
The Huskers will try and keep their conference title hopes alive next week when they go on the road to take on Penn State. The kickoff time and television broadcast informations for the game will be announced on Monday.
***Beck said the biggest problem for the offense was it didn't capitalize on numerous opportunities the defense gave it, especially by not converting short yardage plays on third and fourth downs.
***Martinez said Nebraska's offensive line might have been a bit confused by what Northwestern was doing up front on its defensive line, and they couldn't make the adjustments during the game.
"I think in the beginning they were in a different front than what our offensive linemen expected, and maybe it threw them off a little bit," Martinez said. "I think in the second half we still couldn't really figure out how to block, and I think that's what killed everything in our running game."
***Asked if he wanted NU to go for it on some of the fourth-and-short situations early in the game, Martinez said he wants to go for it on every fourth down, but it always comes down to what Beck wants to do.
***Cassidy wouldn't buy into the suggestion that Nebraska's defense may have been worn down late in the fourth quarter. He said every defense was going to be tired by that point, and it was the team's that stepped up and dug deep to come up with big plays that are successful.
***Cassidy said the defensive game plan didn't change at all when Colter replaced Persa at quarterback in the second half, as they were preparing for Colter to play all week.
"He delivered some good balls," Bell said. "As a wide receiving corps we didn't get it done today. That's on us. He did a good job. We need to get better."