Wilbon making push in running back battle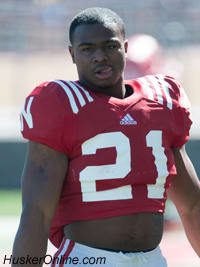 That all might change if he continues to play the way he has been through the first four fall practices, though.
With the Huskers looking to incorporate the screen pass game much more into the offense going forward, those flashes could end up earning Wilbon a role on the field come game day.
"You saw some of his speed," Langsdorf said. "He's caught a couple screen passes that have been exciting. He bounced a zone read (run) out and hit a big one. I like how he's come along. He's picking up our offense, he's doing a good job in protection, we've motioned him out and he's caught some passes. He's been a good threat there that's kind of a home run hitter in the zone game and then being able to catch the ball in the passing game has been exciting."
Wilbon came to Lincoln in 2014 as one of the top running backs in his class. A four-star prospect ranked No. 19 nationally at his position coming out of De La Salle (Ill.) Institute, the 5-foot-8, 190-pounder had just rushed for more than 1,200 yards in just six games as a senior.
The Chicago native then impressed so much during his season on the scout team that he was named the team's 2014 Scout Team MVP. Even with a new coaching staff taking over in the spring, Wilbon's play thus far has him very much in the mix to be a factor for the Huskers this year.