What does the Vedral transfer mean for Nebraska?
Former Wahoo (Neb.) Bishop Neumann quarterback Noah Vedral announced on Tuesday he is following Scott Frost and transferring to Nebraska.
We break down what this decision means for the Huskers going forward.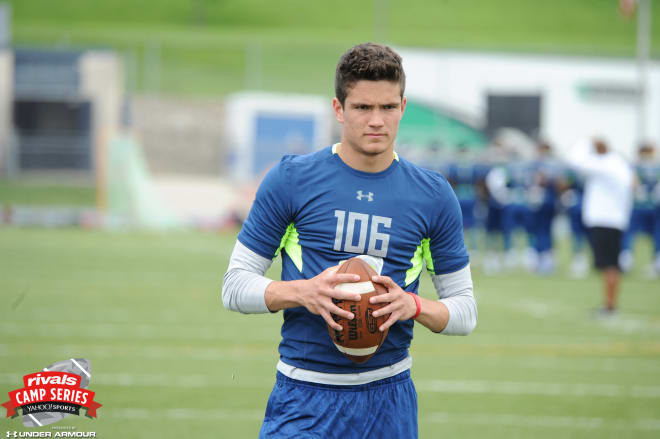 This was bound to happen
It was never a matter "if" Vedral was going to follow Frost to Nebraska, but more a matter of "when."
Vedral has as much Husker blood running through his veins as anyone you'll find in this state. His father Mike Vedral, along with his uncles Mark Vedral, Jon Vedral and Matt Turman all played for the Big Red.
Vedral specifically chose to go to UCF play for Frost, and when he committed to him in 2016, Frost told him if he ever left to go to Nebraska someday he could come back home.
It's understandable why UCF has not given him an outright release to NU because it would set a precedent for other Knight players to follow their former coaches to Lincoln.
Vedral officially started in classes at Nebraska Tuesday and will begin his NU career as a walk-on since he didn't get released. When the time is right, he will be put on scholarship by Frost and his staff.
This will help with the transition of the offense 
The biggest advantage of the move by Vedral is it allows the Huskers to have a quarterback in spring ball that completely understands Frost's system.
Vedral will obviously have to sit out the 2018 season per NCAA transfer rules, but he will be very valuable in teaching the offense to the other offensive players this off-season.
Vedral played legitimate snaps in Frost's offense as the No. 2 quarterback to McKenzie Milton. You can't put a price tag on what the experience means going forward.
Where does he fit in after 2018?
It's hard to project where Vedral fits into the big picture going forward, but from a culture standpoint, he's the kind of guy Frost wants in this program.
He was an all-state quarterback and point guard, along with a state hurdle champion at Bishop Neumann. He's a throwback in many ways, as you just don't see very many multi-sport athletes like Vedral in today's world of specializing. I believe that's why Frost recruited him to UCF in the first place.
There's no question he'll find himself in the quarterback conversation in 2019 and beyond, but a lot of it will be how he develops in 2018, and how the other quarterbacks perform in year one under Frost.