Wednesday notebook: WRs holding up well in Williams's absence
Nebraska's offense has had to try and fill a major void over the past couple of weeks since the suspension of wide receivers coach Keith Williams.
But in the absence of one of the team's biggest personalities in practice and for the first four games of the season, the Husker wide outs seem to be getting by OK with Hardie Buck at the helm.
The second-year graduate assistant spent all of 2015 working with the receivers under Williams, so when news of Williams's suspension broke, it was a natural decision for Buck to take the reigns.
"Coach Hardie Buck has been doing a phenomenal job, awesome job," senior wide receiver Jordan Westerkamp said. "He's been getting on us so it's been great to have him in there."
The good news for the Huskers is that Wedensday's practice marked the final day of Williams's ban from team activities, and he will return to action - including working practices again - beginning on Thursday.
Of course, Williams still must miss the first four games as part of his suspension.
Westerkamp said there were plenty of similarities between Buck and Williams's coaching styles, but noted that the former Alabama wide out and special teams ace reminded him of another relatively successful college coach down in Tuscaloosa, Ala.
"I think Coach Buck is more blunt about things," Westerkamp said. "They are both very blunt in their own ways, but Coach Buck came from Alabama under (Nick) Saban, so he has that attitude. That southern attitude.
"I'm sure that's where he got it from. I'm sure it wore off on him. It's great to have him in the wideout room because he's super blunt about things. Our No. 1 rule in the wideout room is not piss him off."
- Robin Washut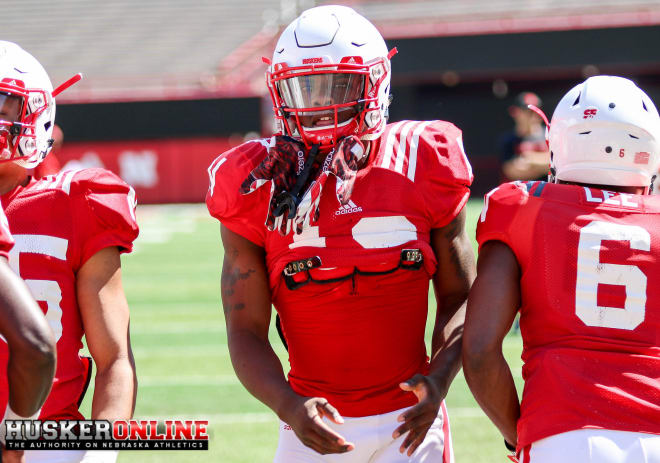 Reed sidelined again, status in doubt for Fresno State
Sophomore safety Antonio Reed sat out of practice for the second day in a row on Wednesday, and his status for Nebraska's season opener vs. Fresno State suddenly is in doubt.
After watching Tuesday's session from the sidelines with a supportive sleeve on his right knee, Reed was seen walking on crutches on Wednesday.
There won't be any official word on Reed's status until head coach Mike Riley meets with media after Thursday's practice.

If it turns out that Reed can't go, and with senior Nate Gerry already out due to suspension, the Huskers will have to rely on some new faces to provide some depth at safety.
Redshirt freshman Avery Anderson and true freshman JoJo Domann, neither of which having played a single collegiate snap, would be the top backups behind starters Aaron Williams and Kieron Williams if Reed cannot play.
- Robin Washut
Whitaker should be available for opener
All eyes will be on the left guard position on Saturday, and how fifth-year senior Sam Hahn is able to hold up in his first ever meaningful playing time as a Husker.
Offensive line coach Mike Cavanaugh has been work feverishly behind the scenes with Hahn this past week, and he also said on Wednesday that fellow senior Corey Whitaker should be available if needed on Saturday as well.
Whitaker had minor knee surgery about two weeks ago and returned to practice Tuesday.
"I think he's done pretty good in practice, so we'll see what happens and how the game flows," Cavanaugh said of Whitaker. "We haven't really talked about it yet, so Coach (Danny) Langsdorf and Coach Riley and I will talk about it."
The biggest obstacle may be knowing exactly what Fresno State is going to attack the Huskers with. Cavanaugh said with a new offensive coordinator they have to be ready for just about anything.
"We've been working like crazy on it," Cavanaugh said. "All you can go is off history and old film and stuff. There's a new coordinator, so obviously there are some uncertainties on what they are going to do, so we'll see what happens."
-Sean Callahan
Cracking the depth chart a proud moment for walk-on Reimers
Several new names listed on Nebraska's depth chart for the first time ever this week. Among them was sophomore walk-on receiver Bryan Reimers whom is listed as the No. 3 X-receiver.
The 6-foot-5, 210-pound Lincoln native said it was a proud moment for him to see his name on that depth chart and to know that all of his hard work has been paying off.
"I was really proud about it and I got a lot of texts and stuff on social media about it," Reimers said. "A couple of years ago I didn't think I would even be in this situation, but working hard and with the effort each day I think I really earned that spot.
"Now I'm just going to try and keep that spot each day by coming in and showing what I have."
Reimers said he has become a completely different player over the last couple of years and credits his growth at the position to working under Williams.
"I think my routes and my speed over the past few years have gotten tremendously better," Reimers said. "If you go back and watch some film from when I first came in here it's night and day different.
"I give a lot of credit to Coach Dub and what he's done to help me get better. It's just been a lot of watching film, learning from it and coming out and working on it and watching it again."
-Nate Clouse
Quick hits
***Langsdorf said he's mostly coached from the coaches' box during his career and feels far more comfortable up there calling games. He said one of their best seasons at Oregon State came when he and Cavanaugh were upstairs together.

***Cavanaugh said he's not worried about on-field communication with the o-line, primarily because of the trust graduate assistant coach Roman Sapolu and graduate manager Michael Philipp, who both are in their second season helping with the offensive line.
***Langsdorf said freshman quarterback Patrick O'Brien has been splitting up practices this week working half the session with the varsity offense and the other half with the scout team offense. Langsdorf said that allows O'Brien to learn and be exposed to the real offense each week while also getting more reps with the scout team.
***Langsdorf said it's hard to know exactly what Fresno State is going to do defensively because they have a new defensive coordinator this year, but because FSU head coach Tim DeRuyter is a "defensive-minded" coach, Langsdorf said he expects it to be similar to what the Bulldogs have done the past few years.
That means NU is preparing for Fresno State to blitz early and often and in a variety of different ways out of its 3-4 scheme. Langsdorf said the biggest emphasis the offense has had this week has been pass protection and blitz recognition.
***Langsdorf said freshman running back Tre Bryant has certainly earned the right to play right away on Saturday, but the staff needed to be careful not to "overload" him too early. That means Bryant will likely have a set number of situational plays drawn up for him, but it likely won't be much more than that at first.
***Alonzo Moore, who has missed some time recently with an unknown injury, said he's good to go to play on Saturday.