Wednesday notebook: Stille hasn't reached his own Blackshirt standard
The buzz around the Nebraska football team's Tuesday practice was centered around the Blackshirts. However, much of it wasn't necessarily focused on which players got them as much as it was about Ben Stille not accepting his.

The narrative was that the sophomore defensive end from Ashland, Neb., didn't feel like he practiced well enough to earn his Blackshirt. Following Wednesday's practice, Stille clarified that wasn't the case, and that it was all about his overall effort in the Minnesota game that led him handing his Blackshirt back over.
"I read some things that it was about practice," Stille said. "It was really more about the game I guess that didn't sit well with me; how I performed in the game. From the definition of what I've been told what a Blackshirt was from Grant (Wistrom) and Jason (Peter) and those guys that have come a talked to us, it just didn't sit right with me to put that jersey on if I didn't feel like I had lived up to that in the game. I definitely wanted it to be something that I earned."
Former Blackshirt greats, Wistrom and Peter, spoke with the Huskers before the season about giving maximum effort every rep in practice and every play on the field. Stille said during film study of the Minnesota game it was clear that there were plays where he didn't give that type of effort.
"On the backsides of the play," Stille said regarding the plays where he felt effort lacked. "Every play is just as important whether you're on the front side of a play and the ball is coming right at you or if the ball is running 20 yards the other way. They're all just as important. The little things add up and for me. That was a lot of it.
"Just effort on a couple of those plays definitely needs to be better. I wasn't going to put that (Blackshirt) on and fake it in front of my peers, my closest brothers that were in the film room with me. I'm not going to be one way in the film room and they know how it was and then go out there and put a Blackshirt on and pretend like everything was good."
As a leader, Stille feels as if he must hold himself to a certain level of accountability if he is to expect accountability from his teammates. While the news of him turning his Blackshirt in before ever wearing it has been big news outside the walls of the program, Stille said his teammates haven't said much about it other than they respect his decision.
"If you're going to be the person to try and hold people accountable then the first person you've got to look to is yourself. That was definitely a big part of it," Stille said. "A couple of guys have asked me, and I explained it to them and they said they respect that. They respect my decision, and that's really all the said."
- Nate Clouse
Stoltenberg planning to return to action on Saturday
This has obviously not been the season defensive tackle Mick Stoltenberg expected.

The senior captain from Gretna, Neb., has played just 61 defensive snaps over three games this season after being sidelined with a knee injury that required minor surgery after the Michigan game.
However, after missing the last four game, Stoltenberg has practiced all week and is expected to play on Saturday vs. Bethune Cookman.
"I practiced (Tuesday) and I practiced today," Stoltenberg said. "I took full speed reps with pads on – real football reps. So I'm hoping I can go out there and contribute on Saturday. I might not go out there and play 45 or 50 snaps, but I'll play what they give me, and I'll do what I can to help as far as that goes."
When Stoltenberg looks back at his injury, it didn't happen in the Michigan game. It was something that had been bothering him since August, and you saw his reps decrease from the Colorado to Troy game, from eventually being forced to leave the Michigan game after locking up his knee.
"It was probably one of those things that got injured early on before the first game, but it was one of those things we thought we'd be able to manage," Stoltenberg said. "I think clearly in the Michigan game it locked up on me a few times, and we realized we'd have to go in and work on it. It had to be done and it's feeling good now. It's been about a four-week recovery. The last few weeks I had to find a new role and try to help the team without being out there."
- Sean Callahan
Martinez living up to coaches' lofty standards
The praise has been pouring in more than ever on Adrian Martinez this week following his breakout performance in the win over Minnesota, and his coaches completely understand why.
During Tuesdays' Big Ten coaches teleconference, head coach Scott Frost said the true freshman was playing as well as he'd seen any quarterback he'd coached. As lofty as that statement was, NU offensive coordinator Troy Walters backed it up on Wednesday.
"I agree," Walters said. "He's playing with confidence, a lot of poise… He played almost a perfect game (vs. Minnesota), and as a true freshman that's pretty special."
During Monday's weekly press conference, Martinez said he was just doing his job as a quarterback in the win, and his gaudy numbers were simply a result of his teammates all playing well around him.
That humble mentality is something that can't be coached, but quarterbacks coach Mario Verduzco said he also holds Martinez and all of his QBs to a very high standard in everything they do on and off the field.
"The thing I've talked with about is that I don't want to treat you like a freshman or a redshirt freshman because then you will live up to your expectations," Verduzco said. "We expect him to perform like a senior. I'm hard on him, I am. In my own little goofy way, I am hard on him about everything - about his body posture, about his body language, about his feet about his eyeballs, about how he practices and all of that.
"I drive him nuts, but I expect him to perform like a senior and I think his teammates want him to perform that was as well. I know Coach Walters and Coach Frost want him to perform that way."
- Robin Washut
Ozigbo thriving under confidence, trust of his coaches
This season has been a rebirth of sorts for Devine Ozigbo, as the senior running back is putting together far and away his best individual performance of his career and seemingly getting better by the week.
Ozigbo had one of his best days yet against Minnesota, rushing 12 times for 159 yards and two touchdowns for his third 150-yard rushing effort in NU's past four games. Since the start of Big Ten play, the Sachse, Texas, native is averaging 8.3 yards per carry with six rushing touchdowns.
It's taken a lot for Ozigbo to turn his career around the way he has, and a lot of it had to do with his re-commitment to the game and doing all of the necessary things with nutrition and workouts to take his game to the next level.
But he said it also had to do with having a coaching staff that he felt had full trust in him and would finally allow him to reach his potential.
"Honestly, just the confidence, the trust the coaches have in me," Ozigbo said. "They let you play freely, to not really worry about much, not really worry about messing up, getting pulled. You go to the sideline and you're going to get coached up and corrected instead of just, alright, you don't know if you're getting back in the games.
"So just getting to play confident, going out there and you know not worry about making mistakes and just playing free and trying to make the big plays when you're there, I think that's definitely helped me the most."
Ozigbo said that wasn't the case under Nebraska's previous coaching staff, as he felt that he never really knew where he stood in the running back mix.
"Yeah, I guess you could say you just had to walk a little lighter before," Ozigbo said. "Because honestly, I never knew where I stood."
Ozigbo didn't hear it until a couple of days later, but word eventually got to him that Frost had called him "a Sunday guy" after the Minnesota game regarding his NFL prospects. Ozigbo said that only furthered his belief that Frost and Co. were 100-percent in his corner and would help him reach his team and individual goals.
"I really appreciate it, especially from a guy like coach Frost who's been there and has seen a lot of guys, coached a lot of guys that have been (in the NFL)," Ozigbo said. "So if he sees that, then that gives me some confidence, and I really appreciate it."
- Robin Washut
Beckton was bridge between Frost, Bethune-Cookman
Relationships in the game of football often times mean everything. For Nebraska, it was a behind the scenes relationship with Bethune Cookman head coach Terry Sims and Husker tight ends coach Sean Beckton that ultimately led to this game getting scheduled.

Beckton grew up in the Daytona Beach area, and at one time was a teacher and the head coach at Mainland High School right down the road from Bethune Cookman. He's always kept a strong relationship with the Bethune Cookman program over the years, and that ultimately got the ball rolling on the two schools agreeing to play a game.
"I just got Coach Sims on the phone with Coach Frost," Beckton said. "I let those guys take it from there. Bob (Burton) has done a really good job of getting this thing married up for us. (The Nebraska administration) was looking for a game, and I suggested that a long time ago, and I put them in contact with the head coach. Then obviously after that, it matriculated into a game. I'm looking forward to competing against them."
Beckton's last year at Mainland was 1996, and from there he was associated with UCF until this past season.
"I've known Coach Sims for a long time," Beckton said. "Those guys used to come over at UCF to clinic with us. I'm from that area. I grew up watching that program over the years, and then when I went to UCF, we obviously played those guys. It became a rivalry early on in my career there. Their receivers' coach was a graduate assistant for me. So I know quite a few of those guys.
"When I started teaching at Daytona Beach, their (Director of Football Operations) was a colleague of mine. So a lot of those guys over there I know. That's the area I grew up in, and I watched those guys play for a long time."
- Sean Callahan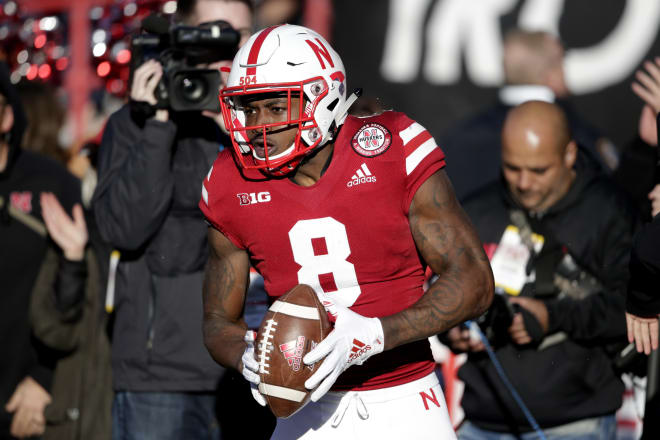 Walters proud as anyone of Morgan, Williams
Saturday's win was a big day for Nebraska's program, and it was especially so for Walters and his wide receivers.
After an underwhelming start to the year, Stanley Morgan Jr. had his best game of the season, hauling in a career-high 10 catches for 163 yards and two touchdowns.
Knowing how hard Morgan had worked and how consistent of a leader he'd been despite his limited production, Walters said he was as happy as anyone to see the senior finally get his due.
"It was awesome," Walters said. "I'm proud of him. He hadn't had the year that he wanted, that we'd like him to have, but he's never hung his head, he's never strayed from the process. It's good to see his hard work, his dedication, his commitment being rewarded. Every game here on out I expect a big game from him."
Junior Mike Williams only had one reception for seven yards in the win, but Walters said one of his proudest moments of the day was when he saw the wideout throw a crucial block on the perimeter to spring running back Devine Ozigibo's second long touchdown run.
Like Morgan, Williams hadn't put up the type of numbers he had expected, but that willingness to develop his game as a blocker showed a full commitment to the process.
"That was the biggest thing holding him back was just his run blocking and trust that he's going to make the block," Walters said. "We run a lot of perimeter screens where he's got to block the corner, and if you can't do that, it's hard for me to put you out on the field. So he's improved, he's gotten better as the year's gone on.
"A lot of it just want-to. I wasn't the biggest guy, but you've just got to have that dog mentality and make sure that the guy you're blocking doesn't make the tackle. He's really embraced that and he's gotten better."
- Robin Washut
Quick hits
***Verduzco said he wasn't aware of Martinez's stats vs. Minnesota until after the game, but when he saw them afterward, he wasn't surprised at all. Verduzco said that's how efficient Martinez had been practicing the past few weeks and it finally carried over into a complete performance on game day.
***Verduzco said he never really had any sleepless nights during Nebraska's 0-6 start, but he could tell the record was wearing on Frost. Verduzco said he was so happy to see Frost get that first win because he knows how competitive Frost is and how much this job means to him.
***Walters said a visiting recruit's dad told him after the Minnesota game how impressed he was with the team's attitude and demeanor on the sideline.
"(Minnesota) made a run and cut it to six, and there was no panic on the sideline," Walters said. "In fact, one of the recruit's dad noticed the demeanor on the sideline, and that impressed him tremendously. Even when they made that run – because he watched the Northwestern game, and he knew how they came back, so he wanted to see how we responded as a team. He didn't see any heads hanging low or any negativity on the sideline. So that was a good test for us to pass."
***Walters said Nebraska's improvement in penalties vs. Minnesota was a direct carry-over from how they had practiced last week. He said in the two practices where they had referees officiate the Huskers were hardly flagged at all.
***Offensive line coach Greg Austin said Saturday was the cleanest game his unit had played all season, but it wasn't the highest grade out. Austin said that showed how important playing clean was to the offense's success.
***Austin said right now the plan is to take five offensive linemen in the 2019 class.