Wednesday notebook: Is early jump to NFL an option for Jones?
With the way Chris Jones has been playing so far this season, it's certainly not out of the question that he could one day become a legitimate NFL prospect.
What some might not have expected, though, is that day could be coming sooner than later.
Through the first five games of his junior season, Jones is tied for the team-high in interceptions (2) and pass breakups (4), while 12 of his 13 total tackles have been solo stops.
Those numbers could be even better if opposing quarterbacks haven't seemingly been making it a point to stay as far away from the Jacksonville, Fla., native as possible with their throws the past few weeks.
Defensive backs coach Brian Stewart, who spent eight years coaching in the NFL, said the rapid development he's seen from Jones since the end of last season has been extremely impressive. In fact, it's been so good that Stewart isn't ruling out a potential jump to the NFL becoming an option for Jones as soon as this year.
"I know that he has the ball skills, the tenacity, the plant and drive to get to where he's supposed to get to, to be a high-level player," Stewart said. "I know that I'm excited and I'd like to keep it that way and keep him here."
Stewart declined to elaborate when asked if NFL scouts had been asking him specifically about Jones when they attend Husker games and practices. But Jones is already getting national attention for his play in 2016.
Two weeks ago, the NFL and college football analytical site ProFootballFocus.com listed the 6-foot, 185-pound Jones on its "Early Season All-American Team", joining fellow Husker Nate Gerry.
The site noted that Jones had recorded two interceptions and two pass breakups on the first 23 passes thrown at him this season, and that he had not missed a single tackle on his first 11 attempts.
Stewart admitted he was aware of the hype building around his budding star cornerback, and at some point planned to have a conversation with Jones about his plans after this season.
"I'm going to talk to him about it," Stewart said, then joked: "I want to talk to (Executive Associate Athletics Director for Academics) Dennis LeBlanc about making sure that he's on track to graduate next year."
- Robin Washut
O-line makes Joe Moore Award Midseason Honor Roll
Despite injuries hitting Nebraska's offensive line in a big way early on this season, the unit has more than held its own in the Huskers' 5-0 start.
In fact, NU's o-line has emerged as one of the best in college football.
Nebraska's was one of 17 offensive lines named to the midseason Joe Moore Award Honor Roll, which identified the best performances by offensive fronts through the first six weeks of the season.
Other Big Ten units to make the cut were Michigan, Ohio State and Wisconsin.
The Huskers have certainly made a strong case to be included on that list, leading the conference with only three sacks allowed and ranking second with an average of 472.6 yards of total offense per game.
NU's average of nearly 35 minutes of time of possession per game also ranks among the top-10 nationally.
- Robin Washut
Hoosiers see similarities between Nebraska, Ohio State
Much of the talk this week has been about Nebraska's respect for Indiana's high-powered offense, but the Hoosiers also have mutual admiration for what the Huskers have done offensively this season.
Indiana head coach Kevin Wilson praised NU during his weekly press conference earlier this week, going as far as to compare the Huskers to what IU faced last week against No. 2 Ohio State.
Wilson even said he sees a lot of similarities between the Buckeye quarterback J.T. Barrett and Nebraska's Tommy Armstrong.
"We probably don't know them like we know Ohio State, but there's some similar traits offensively with line play, running game, a great quarterback who can make a lot of plays, and speed on the perimeter," Wilson said.
"Just like Ohio State, they're (averaging) 35 minutes of time of possession. They keep the ball from you… So they're be a really, really tough challenge."
Wilson said there would probably be some carryover for his defense in terms of preparing for a similar offensive attack for the second straight week. At the same time, he expects the Huskers to look at what Ohio State did well against the Hoosiers and incorporate that into their game plan on Saturday.
The Buckeyes had to grind out a 38-17 win in Columbus, and they relied on Barrett as a runner to do it. While he only completed 9-of-21 passes on the day, Barrett rushed for 137 of OSU's 290 yards on the ground, with 22 of his carries coming on designed quarterback runs.
Wilson said he expects a fairly similar formula from NU.
"It's much like last week," Wilson said. "Really good running attack with good running backs, you add the quarterback in the run game who's a very, very dynamic runner, and then he's throwing the ball really, really, really well."
- Robin Washut
Indiana's 270-pound RB a big challenge for Blackshirts
When most people evaluate Indiana's running game, Devine Redding obviously gets the bulk of the attention as the current third-ranked rusher in the Big Ten.
But the Hoosiers have another very unique weapon in their backfield rotation.
Measuring in a 6 feet and 270 pounds, true freshman running back Tyler Natee has become an increasing factor in IU's offense. After scoring his first career touchdown against Wake Forest, Natee has recorded a combined 18 carries for 58 yards in Indiana's past two games vs. Michigan State and Ohio State.
As his experience continues to build, Nebraska's defense know it must be ready to stop literally the biggest running back test it will face this season.
"I think the big thing is really with a big back you've got to run your feet and wrap up, because he ain't going to just fall down when you hit him," NU linebackers coach Trent Bray said. "So that's more of an emphasis than anything. He's going to try and run downhill and be behind his pads, so it's about bringing your feet and wrapping up."
Natee is much more than just a big body. Along with rushing for more than 3,000 career yards and 25 touchdowns at Trinity (Texas) High School, Natee also completed 100-of-171 passes for 1,403 passing yards and 11 touchdowns while catching seven balls for 169 yards and two scores.
That said, simple physics will be as important as anything when the Huskers try to bring him down for the first time on Saturday.
"Hit him low," Gerry said. "It's tough to run a football on one leg, so you gotta hit him low."
- Robin Washut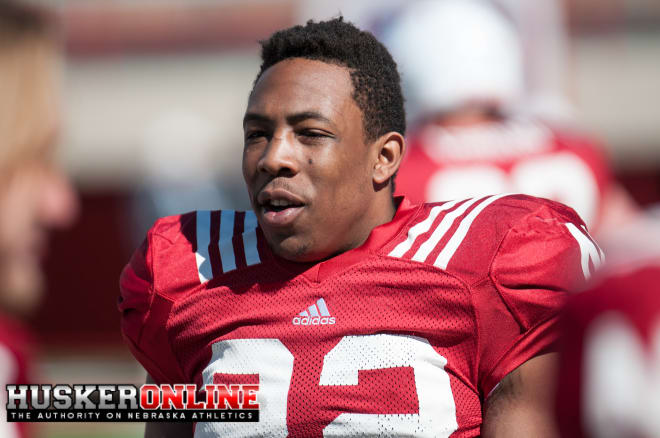 Quick hits
***Armstrong, Alonzo Moore, Tanner Farmer, and David Knevel all practiced on Wednesday and look good to go for Saturday's game at Indiana.
***Devine Ozigbo was also limited on Wednesday. Cethan Carter and Jordan Westerkamp were out again as expected.
***Offensive coordinator Danny Langsdorf said Armstrong has looked "pretty good" this week in practice and "moved around pretty well" on Wednesday. He doesn't think Armstrong will be limited much at all against Indiana.
***Langsdorf said he was excited about the different look Brandon Reilly will give the offense as the slot receiver, saying his speed will allow NU to do some different things than what they did with Westerkamp. Langsdorf hopes to get Reilly matched up with a linebacker to really exploit his speed.
***Receivers coach Kieth Williams said Reilly would play pretty much every slot receiver snap on Saturday.
***Knevel said he hurt his foot against Oregon and was able to play through the injury against Northwestern. He gave it a shot again against Illinois, but obviously couldn't make it through the game. Knevel confirmed he was good to go this week.
***Langsdorf said Tre Bryant has "put in a lot of good work" over the past couple weeks and will get an opportunity this week vs. Indiana. However, ball security will be huge in order to keep him on the field, as Bryant has already lost two fumbles this season.
***Bryant said earning back his coaches' trust has been his main goal since his last fumble, and he's looking at this week as a great chance to take a big step forward in that regard.
***Langsdorf and offensive line coach Mike Cavanaugh both said Indiana's strength on defense was their front seven, as they have big, physical linemen and aggressive, athletic linebackers who make a lot of plays.
***Both Langsdorf and Cavanaugh singled out IU linebacker Marcelino Ball as maybe the most impressive player on the Hoosier defense. Ball is third on the team with 32 tackles.
***Tight ends coach Tavita Thompson said there was no way one player could replace all that Carter brings to the table, but they think they can find ways to make up for his loss with a combination of the backups they have.
***Thompson said the bye week was a valuable opportunity for young tight ends Matt Snyder and David Englehaupt to get a lot of extra work. Thompson said he was really excited about the potential of both players.