Wednesday notebook: Injuries leave big questions at linebacker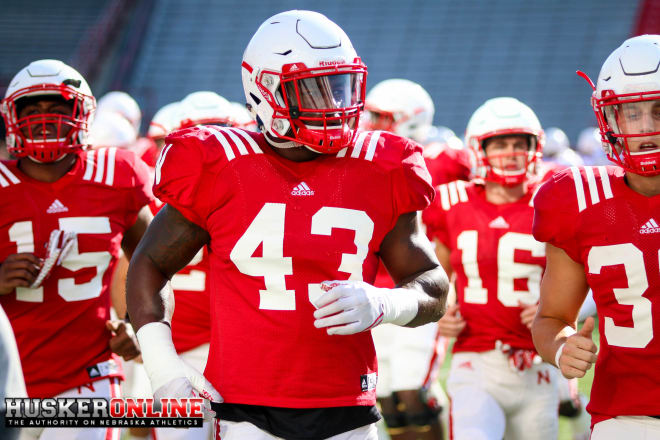 Head coach Mike Riley announced on Monday that senior linebacker Marcus Newby would be "out for a while" with a hamstring injury he suffered in Nebraska's loss to Northern Illinois.

To make matters worse, Newby's backup, redshirt sophomore Tyrin Ferguson, also suffered an injury vs. the Huskies and did not practice on Monday or Tuesday with a boot on his right foot.
The hope is that Ferguson will be able to return to action in time for Saturday's home game vs. Rutgers, as his coaches were definitely encouraged by his performance last week.
"I was very pleased with him," defensive coordinator Bob Diaco said of Ferguson. "I thought he went in and played hard. He was on his job, his work and he prepared hard. He was ready to go in as the next man in.
"That's fun to watch. A guy that may not get as many reps as the starter, but he prepares hard, he studies tape, studies the defense and the opponent and is ready to produce"
Should Ferguson not be able to play, linebackers coach Trent Bray said one option could be moving inside 'backer Mohamed Barry outside to help add some depth at the CAT position.
Barry has gathered eight tackles in the first three games and has been a standout performer in practice.
"He's always played hard, physical and could run fast," Bray said. "He's so much more assignment sound and in right spots. He just really gives us a boost of energy and he can really focus in and lock into what his job is and be in the right spots. He helps us a lot."
One of the things that Bray has been preaching to Barry has been better communication and to step up more as a vocal leader for the defense.
Bray said he saw signs of that this past Saturday.
"He made a couple checks in the game which was someone else's job, but he saw it and things like that are new for him and it's good to see," Bray said.
- David Eickholt
Dismuke gaining valuable experience in crunch time
When redshirt freshman safety Marquel Dismuke trotted out for his first series of action against Northern Illinois, there was no time for growing pains.

With junior Antonio Reed nursing a stinger on the sideline, the Blackshirts needed a stop to give the offense one last chance against the Huskies, a pressure-packed situation that can make or break young defensive backs.
Considering the three-and-out on the drive, Diaco was pleased with the unit's effort and the role Dismuke played.
"He's a football intelligent player who's a tough guy, and he loves football," Diaco said. "I have no reservations putting him in.
In light of injuries to senior veterans Chris Jones and Joshua Kalu in the back end, a youth movement has had to step up for Diaco's defense.
Dismuke, a former four-star prospect out of Calabasas, Calif., found himself in the two-deep on the depth chart to begin the season, as did five other underclassmen in the secondary alone.
Growing pains were evident for 'Lockdown U' after the first six quarters, giving up over 700 yards passing in that time frame.
But with the youth and athleticism in the secondary, the Blackshirts have allowed just one score over the last six quarters and look to continue to develop underclassmen like Dismuke.
"The development process has been accelerated because of all the participation," Diaco said, "and that's a good thing for the future."
- Matt Reynoldson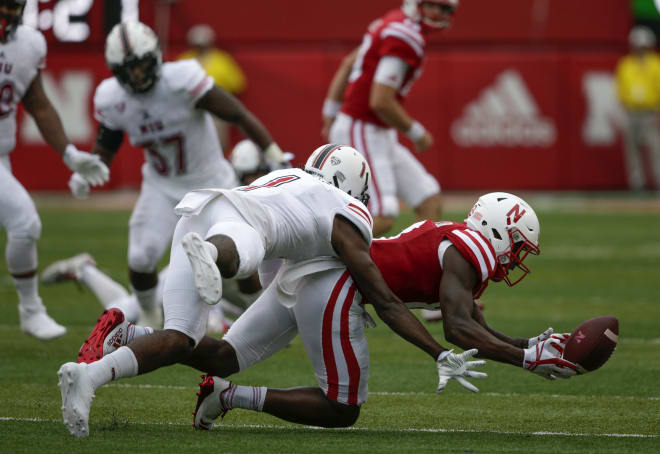 Morgan, Pierson-El must continue to grow as WRs, leaders
Given the sudden lack of depth in Nebraska's wide receiver rotation heading into the season, it was already assumed that Stanley Morgan and De'Mornay Pierson-El would have to do the bulk of the heavy lifting in the passing game.
Morgan (18 catches for 299 yards and three touchdowns) and Pierson-El (14 catches, 188 yards, two touchdowns) have dominated the Huskers' receiving production thus far.
The next highest reception total is eight (Tyjon Lindsey), the next closest yardage total is 125 (J.D. Spielman), and no other NU player has caught a touchdown.
Despite the lopsided numbers, receivers coach Keith Williams said Morgan and Pierson-El have by no means been perfect, and both players need to continue to balance improving their own games while also leading a young receiving corps.
"They need to lead themselves too," Williams said. "Nobody is exempt from getting yourself right first. First of all, I'll be the leader to set the tone, and then they'll go from there because they need to take care of themselves, because they didn't have perfect games either…
"They understand that part and they lead by correction also. They lead by being accountable for their own mistakes and showing how to move forward and correct that with themselves, and then the other guys see that and follow suit."
Morgan has been targeted early and often by Lee so far, including hauling in six passes for 94 yards last week vs. Northern Illinois. Langsdorf said that stat line could have been even better had the junior capitalized on a few more opportunities.
"He had some plays that I think he'd like to have back and make, and then we missed him a couple times too," Langsdorf said. "So we were a little off on a couple open plays… There's just been things like that where we've got to hope to have a little bit better ball and making a play on those tough catches."
- Robin Washut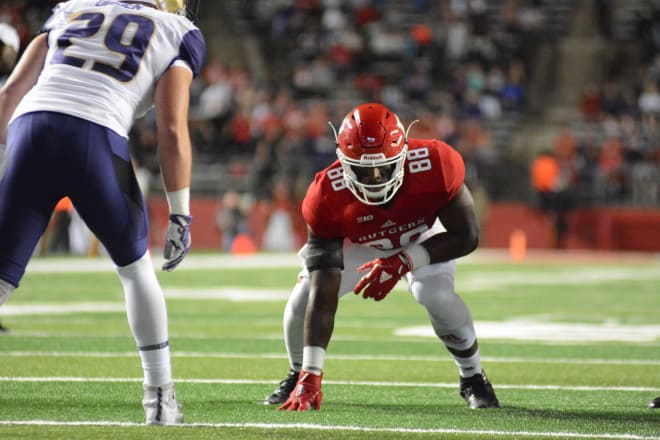 Rutgers' TE Washington provides big test for Blackshirts 
When listing off the strengths of Rutgers' offense, Diaco pointed to a veteran offensive line that returned four starters from last year and a four-heading running back rotation.
But what stood out as much as anything was the talent the Scarlett Knight's boasted at tight end in junior Jerome Washington.
With a team-high 12 catches for 108 yards and a touchdown through the first three games, Diaco said the 6-foot-4, 258-pound junior was not only one of RU's top receiving threats, but maybe one of the best all-around tight ends the Huskers will have faced all season.
Washington hauled in six catches for 36 yards in Rutgers' opener against Washington, and he hauled in his first touchdown grab of the year last week in a 65-0 drubbing of Morgan State.
"They have a really talented tight end," Diaco said. "He can do all the jobs. He's probably one of, if not the best tight end we've played up to date in terms of being able to do all the jobs.
"He blocks at the point of attack, he's a threat in the passing game, athletic, big, physical player."
- Robin Washut
Quick hits
***Nebraska has won all three Big Ten openers when opening league play at Memorial Stadium. The Huskers have defeated Wisconsin in 2012 and Illinois (2013, 2014) in Big Ten openers in Lincoln.
***Morgan's 18 receptions through are the most by a Husker through three games in school history, passing Matt Herian's mark of 17 back in 2003. Morgan's 299 receiving yards are NU's second-highest three-game total ever, behind only Irving Fryar's 315 in 1983.
***Saturday will mark just the fourth-ever meeting between Nebraska and Rutgers. The past three meetings have come as Big Ten Conference opponents, but the first matchup was played at the New York Polo Grounds in 1920.
***In addition to Homecoming activities on Saturday, Nebraska Athletics will also honor the Nebraska 150 Celebration at Saturday's home game. Throughout 2017, Nebraska is celebrating the 150th anniversary of its statehood in 1867.