Wednesday notebook: Huskers know protection must improve
Tanner Lee was maybe his own harshest critic following his performance in Nebraska's loss at Oregon last week.
But while his four-interception outing was certainly nothing to write home about, the five guys in front of him on the offensive line thought they're just as much to blame for the Huskers' struggles as anyone.
For the second week in a row, NU's offensive coaches and players lamented on the struggles with pass protection. Lee was sacked three times by the Ducks and took several other hits, including one on his final pass that ended with a game-clinching fourth pick.
"I just think we're getting hit too many times," offensive coordinator Danny Langsdorf said. "Part of the protection is making sure the backs and the tight ends are doing their part in their role … (and) the quarterback's got to get rid of the ball. It's a whole protection unit. But I think we're taking too many hits.
"We've got to get that solved. We've got to keep (Lee) upright and healthy and do a better job as a unit that way."
Offensive line coach Mike Cavanaugh definitely wasn't happy with his group's performance after the game and even more so after watching the film.
Cavanaugh called the o-line's overall effort "not good enough, obviously", and said even their play during NU's second-half rally was "just average" at best.
Junior left guard Jerald Foster said that while most people pointed the finger at Lee, a closer look showed he was hardly the offense's only issue.
"Tanner is a great QB, I'd say he's one of the best in the country," Foster said. "Him having a bad game, something that didn't go right, half of that you can't put on Tanner.
"If you're somebody that knows football, you can't just blame him for some of those interceptions, some of the stuff that went down in that game. The o-line will take a piece of that. The rest of the offense will take a piece of that. Don't put it all on Tanner."
The offensive line will get another protection test this week against Northern Illinois, which brings an aggressive blitz scheme and a dangerous edge rusher in sophomore defensive end Sutton Smith.
Starting Saturday, Foster said the o-line's goal from here on out would be keeping Lee's jersey spotless for an entire game.
"I'd love to have a game where he doesn't get touched," Foster said. "I'd want that jersey. That'd be a whole lot of fun."
- Robin Washut
Blackshirts to face more RPO offense vs. Huskies
With the injury to Northern Illinois starter Ryan Graham in Week 1, Nebraska has been preparing as if it will see both Graham and backup Daniel Santacaterina on Saturday.
As it turns out, the film on either option isn't too different.
While Huskies head coach Rod Carey officially ruled Graham out Tuesday afternoon, Nebraska feels good about knowing what it will see from Santacaterina.
"The offense doesn't seem to change at all based on one or the other," defensive coordinator Bob Diaco said of NIU's quarterbacks. "They both run that offense and manage it really well."
A 6-foot-2, 205-pound sophomore from Geneva, Ill., Santacaterina is undefeated as a starter at Northern Illinois, picking up a victory in the 2016 season finale at Kent State and lighting up the scoreboard in last week's win over Eastern Illinois.
He threw for 252 yards and three touchdowns at a 68 percent clip en route to a 38-10 victory last time out.

"They're going to get into 11, 12, 10 (personnel formations); they're going to have motions and shifts and all that, so we've got to be ready for all that," safeties coach Scott Booker said.
"We're going to get their full gamut of offense."
According to Diaco, in addition to the multiple looks, Nebraska will see an offense that runs the fast-paced Run-Pass Option scheme for the third straight week.
"I was a little shocked to see it, but this is very little different style than the first two weeks," Diaco said.
"It's RPO, and why wouldn't they? The most inequitable rule in the history of college football was activated, and the offensive line can run off the line of scrimmage and be with their back foot three yards down field.
"So now all the plays look like runs. But hey, America loves points."
- Matt Reynoldson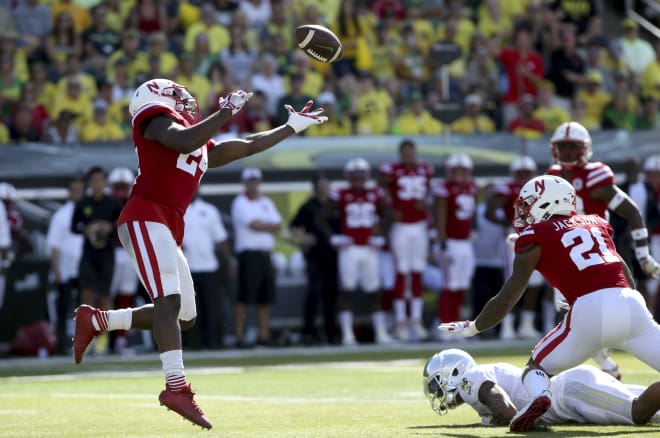 Defense adamant there will be no repeat of Oregon first half
After giving up 42 points and 409 yards in the first half alone to Oregon last week, Nebraska's defense has vowed to never let that type of performance happen again.
The Huskers' defensive coaches had a bit more bite to their answers this week and repeated head coach Mike Riley's message that the players and coaches should feel sick looking at the game film.
"It's really not on them, it's me as a coach and us as a staff to keep making sure they're always prepared," cornerbacks coach Donte Williams said. "The first half should have never happened. The first half should look like the second and will be from now on."
Williams noted that NU's young cornerbacks definitely stepped up in the second half, which was another sign of them getting better and better with each day of experience they get.
"It's hard sometimes, and the reason why is that comes from experience," Williams said. "Especially when you've got people who have never really played corner and are still learning on a day-to-day basis, so confidence is big."
Williams continued saying that the secondary was still learning and that they weren't ready to play against Oregon. From now on and in the future, though, Williams said his group would be ready.
"I promise you," he said.
Diaco said the key to confidence was preparation, which makes you feel good about yourself and makes you prepare harder and it will keep happening.
While Diaco talked confidence, he didn't shy away with some of the criticism that has gone on about his defense. He is prepared to make the necessary changes and believes his staff and players are doing things the right way.
"It doesn't look like it should look and the points don't look like they should look," Diaco said. "We are getting better and the games have gone the way they have gone. It got better and it will continue to get better and the staff and the players improve."
- David Eickholt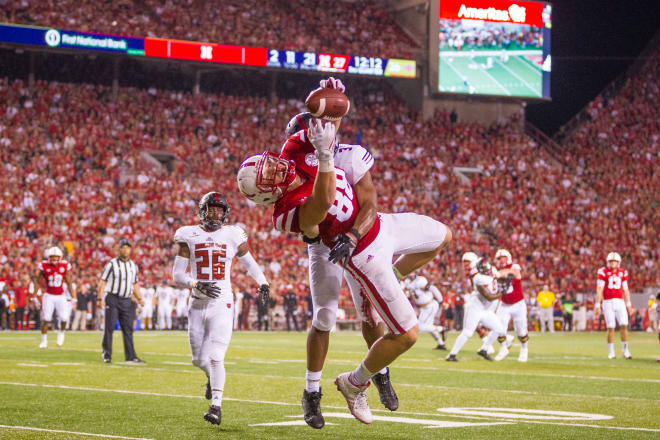 Quick hits
***Nebraska's meeting with Northern Illinois is the first of four matchups between the two schools between 2017 and 2023. The Huskies will visit Memorial Stadium in alternating years over the next seven seasons.
***The game is also Nebraska's first against a Mid-American Conference opponent since taking on Western Michigan in 2008.
***Nebraska is a perfect 5-0 all-time against MAC opponents. NU's most recent victory was a win over Western Michigan in the 2008 season opener.
***Junior receiver Stanley Morgan became the first Husker ever to post 100-yard receiving games in the first two games of the season. A third straight 100-yard outing on Saturday would tie the school record.
***Four former Husker greats will be inducted into the Nebraska Football Hall of Fame this weekend: quarterback Zac Taylor, defensive end Chad Kelsay, offensive lineman Randy Theiss and offensive lineman Donnie McGhee.
***Sophomore running back Tre Bryant's 299 rushing yards through two games are the most by a Husker since Taylor Martinez rushed for 301 in 2011. Bryant's yardage total is the most by an NU running back since Marlon Lucky rushed for 323 yards in the first two games of the 2007 season.