Wednesday notebook: Williams 'ecstatic' to be back on NU sidelines
For the first time since he read a written statement just days after his DUI arrest back in August, wide receivers coach Keith Williams spoke with reporters following Wednesday's practice.
Williams, who was suspended from all team activity for two weeks during fall camp and then from the first four games of the season, will finally return to the Huskers' sideline again for Saturday's homecoming game vs. Illinois.
Needless to say, he couldn't be happier that the wait was finally over.
"I'm happy to be back," Williams said. "Obviously it was tough not being around. That whole process was really tough, so I'm ecstatic to be back."
While Williams returned to work with the team in practice starting on Sept. 1, he was unable to be around at all for the first four games of 2016.
He said he watched the first three home games by himself on the TV in his office. He was allowed to travel with the team to Evanston, Ill., this past weekend on Friday and then went through part of the pre-game routine on Saturday, but when the Huskers left for the stadium, he headed home to Lincoln.
In fact, Williams said he watched NU's win over Northwestern on his iPad from the airport in Chicago.
"Not good," Williams said when asked how he felt during the games. "It was a stressful situation, but I brought it on myself. So you move forward and you make it right."
When Nebraska returned to meetings and practices following the games, Williams said he would go over corrections with his receivers and do his best to get them ready to play on Saturdays.
He gave a lot of credit to graduate assistant Hardie Buck, who took over the receivers while Williams was out during camp and was the primary position coach on the sideline during games.
While the wide outs haven't been perfect, Williams said he's seen a lot of good things from his group over the first four weeks. Maybe his favorite moment of the season came when walk-on Bryan Reimers caught his first career touchdown in Nebraska's win over Oregon.
"I almost started crying," Williams said. "I was like two blinks away from tearing up. That was awesome."
Williams reiterated that he received great support from everyone at Nebraska during his situation, and he thanked everyone from university and athletic department officials, his fellow coaches, to even the Husker fan base.
In the end, Williams said his message to his players was and would continue to be the same that he said during in his statement just over a month ago.
"You're responsible for every one of your decisions," Williams said. "Even if you've made 99 good ones, every decision is independent. The things that you do, you're responsible for them, no matter who you are."
- Robin Washut
Jones emerging as shutdown cornerback
In the final few games of 2015, Chris Jones was slowly starting to come into his own as one of Nebraska's cornerbacks of the future.
After one of the best offseasons of his career, where he gained 10 pounds of muscle and a vastly improved confidence to go with it, the junior has solidified that role completely.
His play through the first four games has backed up that title as well. Jones is currently tied for the team lead in both interceptions (two) and pass breakups (four).
Defensive backs coach Brian Stewart threw out an even better stat this week: Jones is averaging either an interception or pass breakup on one out of every four passes thrown his way this season.
"He's been very productive," Stewart said. "That's kind of what we talked about with having a lot of ball production… Last week (Northwestern) tried to throw some at early and he knocked it down, then they kind of went away from that."
Stewart said he could sense Jones was about to make a big jump in his play based on how focused and dedicated he was to improving his game over the offseason.
"I think the main thing that I see from him is just a different focus," Stewart said. "Once he knew he was going to be a starter and once he knew he was going to be on an island at times in our defense, it was important to him to do things right."
Banker has certainly been pleased with Jones's play thus far, but he added that he has even higher expectations for Jones and fellow starting cornerback Joshua Kalu the rest of the year and beyond.
"I think Chris Jones should shut everybody out," Banker said. "I think Kalu should. I think both of those guys are quality, quality corners, that if they get absolutely everything out of their fiber, they should be able to cover anybody."
- Robin Washut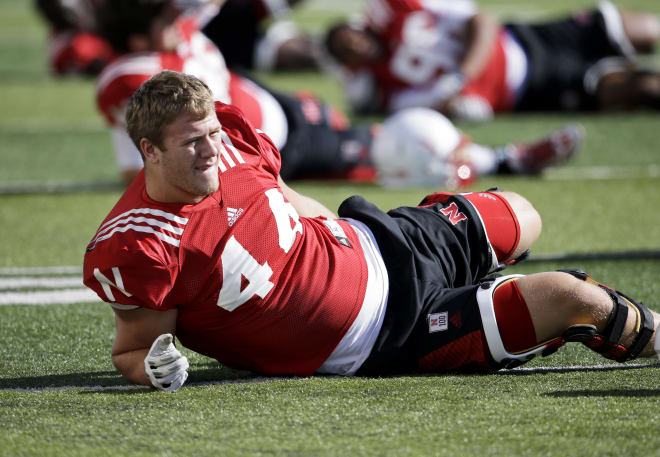 Finally healthy, Stoltenberg ready to get back to form
When Mick Stoltenberg initially went down with a non-contact injury during practice the week before Nebraska's game against Wyoming, he initially feared the worst.
For a guy who had already suffered torn ACLs in each of his knees over the previous three years, the feeling was understandable.
But it turned out the injury was far less severe than the sophomore defensive tackle had thought, and after an arthroscopic surgery procedure and less than two weeks of rehab, Stoltenberg was back on the field for NU's home game vs. Oregon.
He's played each of the past three weeks, with his number of snaps growing more and more by the game. Now, Stoltenberg said he finally feels back to 100 percent.
"It's great to have an injury of a less severe nature," Stoltenberg said. "Once I injured it in practice I didn't know how severe it was until they took a look at the MRI and realized it'd be a simple procedure. It was rough sitting out that Wyoming game and kind of being limited these last two weeks, but it's definitely a blessing that it wasn't more severe of an injury."
In retrospect, however, Banker said the staff may have put too much on Stoltenberg's plate too early, especially in his first game back against the Ducks, where he played 19 snaps.
But with the emergence of redshirt freshman Carlos Davis - who has started the past three games in Stoltenberg's place - the coaches have been much more careful about easing Stoltenberg back into the mix. This week, Stoltenberg has practiced 40-50 reps each of the past two days.
"I thought this past week, because we gave him some time off, he was better," Banker said. "I think we rushed probably the week before and he probably played a little bit too much. But he seemed to play pain-free, and with less reps he was more effective."
- Robin Washut
Husker linebackers still striving for perfection
Nebraska's linebackers came into the season regarded as one of the deepest and most talented position groups on the entire defense, a stark contrast to where the unit was a year ago.
They've definitely lived up to that praise over the first month of the season, as five of the team's top 12 tackle leaders are linebackers. The group as a whole has combined for 76 tackles, five tackles for loss, five quarterback hurries, a forced fumble and a pass breakup.
That said, Bray noted the linebackers have been far from perfect. Though perfection may be an impossible goal, that's the standard the unit holds for itself every game.
"There's never going to be a perfect game, but it happens at times," Bray said. "There's stretches where it's really good and there's a lot of good stuff at Northwestern. There's times where we are a little bit out of our fits and they got 7-8 yards. Those are the things, just consistency and always being there and always doing it with a physical and violent attitude."
Senior Josh Banderas, who ranks fourth on the team with 18 total tackles, said the linebackers know that as the most veteran unit on the defense they have to set the tone with their play on every snap.
Whether it's in a game or a midweek practice, Banderas said the expectations are always high within the group.
"I mean we strive for it everyday in practice," Banderas said. "We all need to be in our fits and be in our proper drops every play. We are getting there and guys are making less and less mistakes... Every week we are trying to get that, and it may never happen, but we are going to keep striving for that perfect game."
- Robin Washut
Quick hits
***Offensive coordinator Danny Langsdorf said true freshman Boe Wilson "is in the mix" to potentially play if necessary this week, but offensive line coach Mike Cavanaugh said that it could end up being Cole Conrad who goes into he game as the top backup option at guard, tackle and maybe even center.
***Quarterback Ryker Fyfe, who was absent from Tuesday's practice, was back in pads and practicing on Wednesday.
***Langsdorf said he hasn't watched any game film from last year's loss at Illinois this week. He said because the Illini have an entirely different coaching staff and defensive system, there was really no point to look back at last year.
***Running backs coach Reggie Davis said he it was "infuriating" to see Terrell Newby fumble the ball while driving for the end zone against Northwestern because he had seen Newby do that same thing before in practice and they had talked about not being careless with the football like that. Davis said what made it worse was that NU had practiced that run play all week, and it was blocked perfectly when they ran it on Saturday.
***Cavanaugh said he was very excited about adding his current batch of true freshmen into the offensive line rotation next season. He didn't mention anyone by name, but said a few of the freshmen linemen had really been impressing on scout team this year.