Wednesday notebook: Diaco, Taggart ready to meet again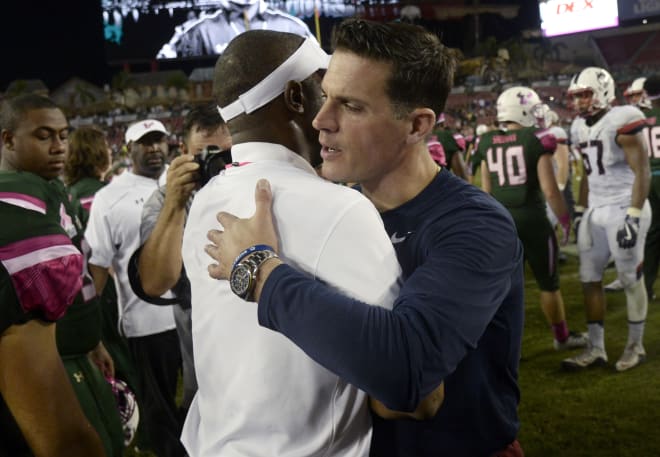 Bob Diaco is in his first season as Nebraska's defensive coordinator, and Willie Taggart is making his debut as Oregon's new head coach in 2017.
That doesn't mean those two aren't already very familiar with each other heading into Saturday's showdown in Eugene.
For three years in a row from 2014-16, Diaco and Taggart squared off when they were the head coaches at UConn and South Florida, respectively.
Taggart's teams won all three meetings (17-14 in 2014, 28-20 in 2015, and 42-27 in 2016), but this week's latest matchup will certainly be unique as the Huskers take on the Ducks.
"I would think that Coach (Taggart) has a pretty good idea of the things that I like to do, I've got a pretty good idea of the things he likes to do," Diaco said. "They're just getting started, we're just getting started, so part of that, there's a growth development process…
"We've got an understanding of their offense, he's got an understanding of our defense."
What Diaco has learned about Taggart's offensive philosophy is that its foundation is based on the running game.
While at USF, Taggart's offense averaged 226.2 rushing yards last season to 285.3 per game through the air.
That carried over into Oregon's season-opener last week vs. FCS foe Southern Utah, as the Ducks ran the ball 52 times to 27 passes with running backs Royce Freeman (150 yards and four touchdowns) and Kani Benoit combining for 257 rushing yards and seven scores.
Not only that, eight different Ducks ended up registering a carry in the game.
"One of the staples of Coach Taggart's offense is that they're tough," Diaco said. "He's a tough guy, he loves to run the football, they run the football. There's a lot of window dressing that goes on, but they run the football and they run it well.
"That's been a hallmark of all of his teams. They've always run it well, and this team is no different."
- Robin Washut
Farniok makes most of brief opportunity 
It was only three snaps, but redshirt freshman Matt Farniok finally made his debut on Nebraska's offensive line during Saturday's win over Arkansas State.
After starting right tackle David Knevel went down with an ankle injury midway through the game, Farniok stepped in and impressed despite only seeing limited action before Knevel returned.
"Matt has really grown and has done a really good job in development," NU offensive line coach Mike Cavanaugh said. "He's tough guy, loves football. Smart guy. Competes like crazy, so hard every day. He's a hustler and he's everything you are looking for."
There's a chance Farniok could see some more action this week when the Huskers travel to take on Oregon.
Knevel was held out of Tuesday's practice and wore a protective boot on his right foot. Cavanaugh said Knevel was out purely for precautionary reasons, but NU has full faith in Farniok should he be called upon again.
"I'm excited about Matt and have been," Cavanaugh said. "Eventually he can be a really good inside guy. We are repping him at tackle, guard, and center.
"He's one of those versatile guys. He's like Cole (Conrad) in he's smart and a good athlete. You just need to keep working his craft. He will do that."
- Robin Washut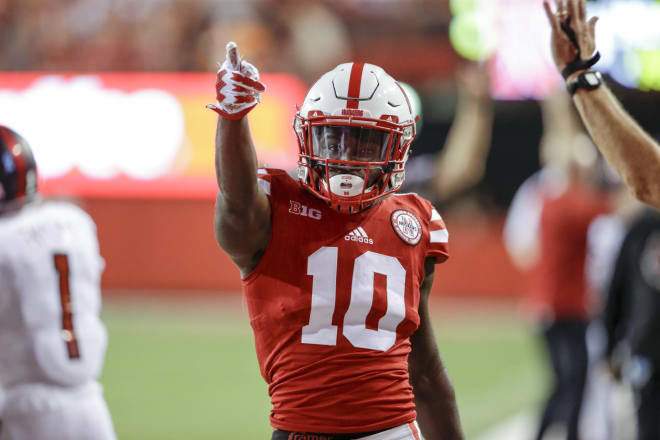 Spielman will be 'critical' vs. Oregon
Fans have heard a lot of buzz around wide receiver JD Spielman since his arrival last year, but hadn't seen him in a real game until this past Saturday.
Spielman's first career touch in a collegiate football game went for a 99-yard kickoff return touchdown, which helped spark the Huskers to a 43-36 victory over Arkansas State.
Outside of his stellar return, Spielman finished with two catches for 44 yards. Not a bad debut considering the redshirt freshman never played a live snap as a true wide receiver in high school.
"He's made a big jump for the fact he's a young guy and he's never played true wide out," wide receivers coach Keith Williams said. "He had to make that jump and show that he's developed into being a wideout, which he has done. He studies hard and works hard and it means something to him. I expect him to improve."
Spielman was a 5.7 three-star prospect and the No. 24-rated athlete in the 2015 recruiting class.
Head coach Mike Riley debated playing Spielman right away last year because he was so dynamic in practice, but an injury ended that discussion.
This season, Spielman has jumped out as a leader for this young wide receiving corps and will be a focal point for the offense going up against Oregon's primarily Cover 3 defensive scheme.
"He's critical for the coverages that (the Ducks) play," offensive coordinator Danny Langsdorf said. "They do a nice job of changing things up, they disguise well and give you a lot of different looks.
"I think like any receiver, get him into it early and getting him a few touches (will be key). A young guy playing on the road, it's one of those things that you want him to get in the groove fast."
- David Eickholt
Huskers settling into heavy set
One of the interesting things about Nebraska's initial depth chart was the inclusion of two tight end spots. After one game of action, the Huskers showed it wasn't just included for show.

"I love it as much as we can go two tight end," senior tight end Connor Ketter said, explaining that the Huskers ran it almost half the plays on Saturday. "We'll switch it up I'm sure."
Operating in a heavy set gives NU the ability to utilize the versatility of Ketter and Tyler Hoppes, who finished second on the team with three receptions for 40 yards in the opener.
Langsdorf stressed the importance of being able to run the ball to close out games, and on a night when the running game was effective until the later snaps, the heavy set helped the Huskers seal the edge on counter plays and other outside runs.
"You get late in the game and you get in that four-minute offense, you're in a situation where you've got to get a first down," Langsdorf said. "That's a big part of closing games out, and it's usually a run."
Ketter believes having more options with the two tight end set can create matchup problems and give them multiple options based on the alignment and personnel groupings of the defense.
"Whenever we go two tight ends, run it, pass it; it's all good," Ketter said.
- Matt Reynoldson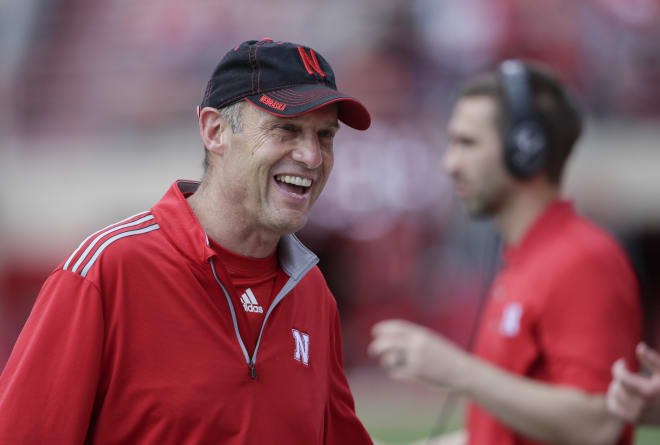 Quick hits
***Due to unsafe air quality from extensive wild fires in the area, Oregon opted to move its practice closer to the coast on Tuesday. The Ducks stayed in Eugene on Wednesday, though, as the air quality warnings dropped from "hazardous" to "unhealthy".
***Nebraska posted better than 200 yards both on the ground and through the air in its win over Arkansas State. It was NU's first 200-200 game since Week 5 of last season. Nebraska is 9-0 under head coach Mike Riley when rushing for 200 yards or more.
***With zero turnovers committed vs. ASU, Nebraska has been turnover-free in four of its past five games dating back to last season.
***Nebraska has won its past five meeting with Oregon going into Saturday's contest, outscoring the Ducks by a total of 241-60 in the series.
***Saturday's game will be Nebraska's first in the state of Oregon since a 1952 matchup vs. the Ducks in Portland. Since that game, the Huskers have played in 29 states as well as a trip to Japan.
***Only four FBS players through Saturday games had posted more rushing yards than Tre Bryant's 192 vs. Arkansas State. The sophomore averaged 6.6 yards per carry on first-down attempts.
***Junior receiver Stanley Morgan, who led NU with five catches for 102 yards vs. ASU, needs 141 more yards to become the 25th Husker with 1,000 career receiving yards.
***Senior kicker Drew Brown has now scored 293 career points, passing Ameer Abdullah (288) for sixth on NU's all-time scoring list. Brown is seven points from becoming just the sixth Husker to crack the 300-point barrier.
***Brown is also on pace to finish third in school history in scoring and could challenge his older brother, Kris, for second place on the scoring list at 388 points. Alex Henery holds the NU record with 397 career points.