Wednesday notebook: Armstrong, Fyfe available vs. Iowa
Nebraska held its final full practice of the week on Wednesday in preparation for its Black Friday game at Iowa, and it looks like the once muddy picture at quarterback has cleared up quite a bit.
Head coach Mike Riley said following Wednesday's practice that both Tommy Armstrong (hamstring) and Ryker Fyfe (wrist) would be available to play vs. the Hawkeyes along with No. 3 quarterback Zack Darlington.
In fact, if things go according to plan, there's a very good chance Armstrong will be back under center as the starter in Iowa City.
"I think so," Riley said. "I think that would probably be the case. I will reserve final judgement for a couple days, probably, as we see how he does tomorrow and talk about it Friday morning, I guess."
Riley said Fyfe - who broke a bone in his left (non-throwing) wrist late in NU's win over Maryland on Saturday - would wear the same soft cast on his hand he's been wearing all week.
As for Armstrong, Riley wasn't sure if the senior would wear the homemade artificial hamstring brace he's had on in practice this week.
Riley made sure to note that while Armstrong has looked comfortable running in what he's been cleared to do in practice, and he's seen "no noticeable limp or soreness."
However, Riley made sure to note that Armstrong "has not gone full speed" since returning to practice this week.
"We have not done all the quarterback run stuff full speed ahead like we normally do with him this week," Riley said. "We have simulated it and run the plays, but he has not cut it loose."
If the decision were up to Armstrong, he probably would have already officially penned his name as the starter days ago.
"I'm confident, I'm rested up, I'm good to go," Armstrong said. "I've just been practicing as much as I can. I feel like if we had a game today, I'd play. So I'm ready. It's been a long wait to get back on the field and practice with my boys, so it's a good sign that I'm out here in the beginning of the week to get in some work with them."
It's been a grueling past three weeks of rehab for Armstrong. After having to pass concussion protocol to play vs. Minnesota two weeks ago, he's been essentially living in the training room to help recover from both his recent hamstring injury as well as an ankle injury he's been playing through for weeks.
It's taken spending six to seven hours per day rehabbing and sometimes eating breakfast, lunch and dinner in the training room, but Armstrong said the motivation of finishing his final season on a high note has helped push him through.
"That was the main thing, just trying to get healthy," Armstrong said. "You've got to understand that there's more than one game. We've got this game, and potentially, if the cards fall in place, we may be able to be in the Big Ten Championship. We just wanted to make sure that for myself, I'm healthy enough to get out here and be with my team."
- Robin Washut
Banderas' patience rewarded after rocky start to career
So much has changed for Josh Banderas over the past four years, both as a football player and a person.
When the senior Mike linebacker looks back at the beginning of his career, he sees an ambitious true freshman who jumped at the chance to play right away his first season, but in retrospect wasn't nearly ready for the challenge.
As a result, Banderas said he struggled through the first couple years of his NU career, and it even got the point where he began to question his own passion for the game of football.
"I just look back, and just didn't like playing football," Banderas said. "I wasn't playing confident. I was playing scared and I didn't know what I was doing, and I was worried about too many other things going on than just what I needed to be worried about."
If he could do it all over again, Banderas said he would have rather redshirted his first season in order to give him a year to settle in both mentally and physically.
But he was thrown into the fire right away as a four-star Rivals250 standout from Lincoln (Neb.) Southwest, and the massive adjustment from high school to college ball quickly became almost overwhelming.
Add in the numerous injury setbacks he suffered in each of his first three seasons as a Husker, it's understandable that frustration nearly got the best of Banderas.
"The first two, two and half years, they weren't ideal, weren't really what I wanted," Banderas said. "It was a tough ride. It really kind of tested myself and who I really was. But I think I kind of proved to myself that just being myself, eventually things are going to end up going my way if I keep giving that effort and don't just change anything because of someone else.
"They weren't wasted years by any means, they helped me grow so much more. What I've been seeing from that is I can help the younger guys who maybe aren't in the position they want. I can tell them my story and what I've been through, and just tell them that it gets better."
Banderas made it a point not to blame Nebraska's previous coaching staff for his early struggles, but he did say he felt rejuvenated when Riley and his staff took over prior to his junior year.
Feeling more comfortable with his coaches and the defensive schemes, Banderas has ended up putting together his best season as a Husker in his senior year. He currently leads the team with 80 tackles, and he's racked up eight or more stops in each of the past six games.
This also marks the first time in his career that Banderas will have played in every single regular-season game.
"No doubt, this is most confidence I've felt," Banderas said. "At least I can say that."
- Robin Washut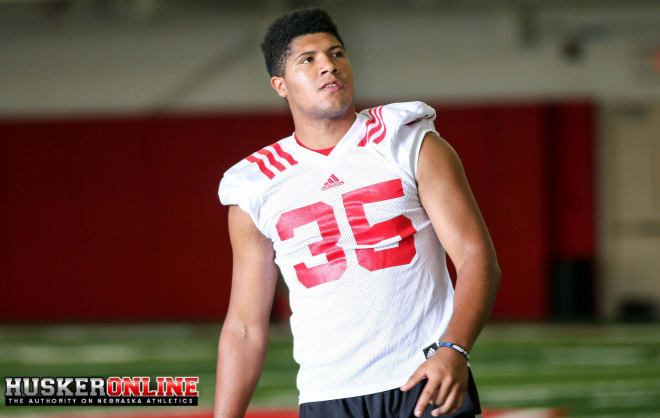 Armstrong's pep talk helped Lightbourn through stressful Senior Day
Lost amid all of the celebration of Nebraska's Senior Day and honoring the life of the late Sam Foltz on Saturday was the pressure that one true freshman was feeling more than any other player.
Punter Caleb Lightbourn, who has been given the task of trying to fill Foltz's shoes all season long, was as nervous as he'd been all year when he came out for his first punt against Maryland.
As a result, the kick was a shank that traveled just 27 yards and gave the Terrapins the ball at their own 45-yard line.
Armstrong noticed something wasn't right with Lightbourn as he watched from the sidelines, and the veteran leader knew he needed to help pick up his young teammate.
"He had a lot of stress on his plate with it being Senior Day and how everything was about Sam," Armstrong said. "I just told him, after those first few punts that he didn't like, 'Just go out there and have fun. Clear your head. We trust in you, we believe in you.'
"Like I told him, 'I'm you guys' biggest fan. I'm out here wishing I could play, but at the same time I believe that each and every one of you guys can do the job that I've always done and anybody on this team has done. You've just got to understand that you've got to believe in yourself.' Those guys took it heart, and they went out and played their tails off for each other. Caleb did a great job of responding after that."
Lightbourn certainly did bounce back after that pep talk, averaging 51.3 yards over his final three punts of the game and pinning all three inside the Maryland 20.
- Robin Washut
More to the story with Ozigbo's decreased role?
On Monday Riley made it clear that true freshman Tre Bryant had passed up Devine Ozigbo as Nebraska's No. 2 running back heading into this week's regular-season finale.
The main reason why was the way Bryant was able to capitalize on his increased opportunities with Ozgibo limited with an ankle injury he suffered on Oct. 1 vs. Illinois.
Ozigbo has hardly seen the field since that game, but according to running backs coach Reggie Davis, that may not be entirely due to the sophomore being injured.
Asked what exactly was keeping Ozigbo out of Nebraska's backfield rotation, Davis declined to specify, but hinted there were other factors involved.
"He knows what those reasons are," Davis said. "I think he'll be ready to go this week."
At the same time, Davis credited Bryant for taking advantage of the increased workload, especially with his production over past two games.
"He's always been pretty good assignment-wise, but he had some guys ahead of him who were playing well, so it's hard to find a way to get him in there," Davis said. "Some opportunities came up for him to be able to get in, and he took advantage of them."
- Robin Washut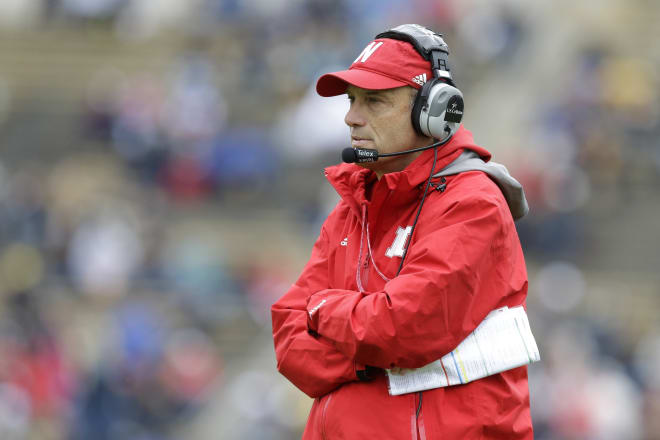 Quick hits
***Riley said receiver Alonzo Moore was able to do some work on the side today but still hasn't practiced this week.
***Tight end Sam Cotton practiced Wednesday, and kicker Drew Brown and receiver Stanley Morgan have been cleared 100-percent from concussion protocol.
***Linebacker Dedrick Young has practiced all week and is expected to play Friday.