Wednesday notebook: Armstrong likely to return this week
Nebraska continues to wait for an official ruling on the status of quarterback Tommy Armstrong this week, but head coach Mike Riley had one of the most positive updates yet in that regard following Wednesday's practice.
Riley said that while Armstrong still hasn't been cleared to return to action yet, the senior would be able to do some light non-contact work on Thursday for the first time since suffering his scary head injury at Ohio State last Saturday.
"Tommy has progressed what we would call normally through the protocol to this point," Riley said. "As you have probably gathered through similar injuries in the past, it's always day-to-day until he's finally cleared, and he is not finally cleared.
"He will do some football related activity tomorrow. If he goes through all that day tomorrow and does some stuff - which probably means he can throw the ball around a little bit and maybe even do some pass skeleton…
"So we'll do some stuff with him, and then we'll see. If that passes and everything goes good, then he would be available for the game, if everything stays normal."
Riley was then asked if he anticipated Armstrong being cleared to play in time for Nebraska's 6 p.m. showdown with Minnesota on Saturday night.
"Yes, I anticipate it," Armstrong said. "You know me, I'm kind of an optimistic guy. But I don't see any reason why not at this point. But we've been surprised before, so I shouldn't go any further than that."
Riley said the speed in which Armstrong has progressed through his concussion protocol was nothing out of the ordinary compared to previous situations he's dealt with in the past. But Riley noted that Armstrong was recovering as quickly as could possibly be expected.
"No, it is really normal," Riley said. "This is about as normal and about as good as it gets, I guess."
It also came as no surprise when Riley said Armstrong was chomping at the bit to return to his starting quarterback role this week, as the Huskers get ready for a pivotal Big Ten West showdown against the Golden Gophers.
"I think that he wants to be back for sure, I'll bet badly," Riley said. "Tommy likes football, likes to play football. He's a focal point guy on the team. I think one of the main attributes that he has is he loves to play and compete, doesn't want to miss anything.
"But, in a deal like this, he's not in charge and neither am I. Somebody else will tell us. We just follow all of the biology and the protocol and see what we can get."
- Robin Washut
Foster cleared, ready to play if needed vs. Gophers
When Riley announced on Monday that sophomore guard Jerald Foster would be available to play over the final three games, nobody saw that coming.
Foster tore his right MCL back in mid-August, and was told it would take three to four months to recover fully. He's on the front end of that projection, and he's in a position where he could see time on Saturday.
Foster took some reps Wednesday with the Huskers' second offensive line unit at left guard.
"For playing Saturday it's going to be off what the coaches want," Foster said. "I'm cleared. I got the green light and I love football and I'd loved to be out there. Whatever our coaches and whatever the plan is. If the plan is not to have me out there I get it, but I'd love to be out there."
This week was the first time offensive line coach Mike Cavanaugh has had his entire unit together since August. Senior Sam Hahn joked to Cavanaugh, "it's good having the band back together."
"It's great having him back and he's working hard," Cavanaugh said of Foster. "Boy, what a great job he did with his rehab."
As for seeing time Saturday, Cavanaugh said it's definitely a possibility.
"He could spot (play) a little bit," Cavanaugh said. "We'll see what happens. It's kind of day by day."
- Sean Callahan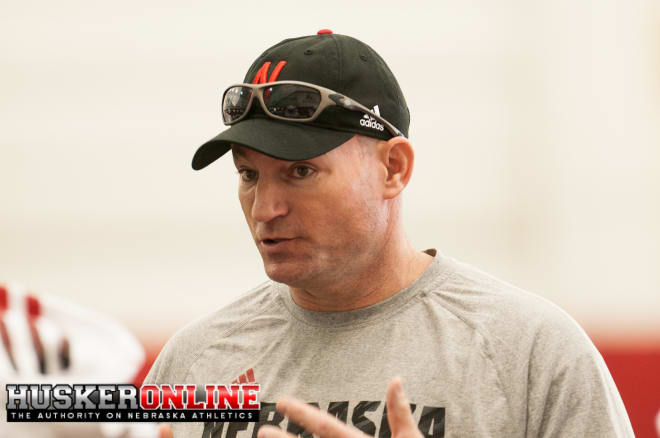 Parrella uses own experience to help Huskers turn page on loss
Very few of Nebraska's players had ever experienced a defeat such as last week's loss at Ohio State - where the Huskers were a top-10 team with a legitimate chance at a conference championship and more.
So it was hard for those younger players to process the situation when the team returned to Lincoln this week. Good thing there is a member of NU's coaching staff who knows all too well what they're feeling and what it takes to turn the page and move on.
Defensive line coach John Parrella was a senior defensive tackle at Nebraska in 1992 when the No. 7 Huskers traveled up to take on Iowa State boasting a 7-1 record, with their lone loss coming on the road at No. 2 Washington.
Despite being heavy favorites, NU struggled from the opening kickoff and was handed a stunning 19-10 loss by the Cyclones.
Parrella said he still remembers how difficult that game was to swallow, and he still chalks it up as one of the worst defeat of his career.
But his message to his players this week has been regardless of how difficult that ISU loss was, his Huskers were able to rebound and win their next two games vs. Oklahoma and Kansas State and went on to play No. 3 Florida State in the Orange Bowl.
"I was telling a couple of the linemen today, look, we were like (seventh) in the nation and got beat by Iowa State. We bounced back fast," Parrella said. "Things happen and you've got to have a short memory in this game, play-to-play or game-to-game.
"So we're totally anticipating that the hangover so to speak is gone and we're ready to get back and be Nebraska again this weekend."
Senior defensive tackle Kevin Maurice said the players have embraced Parrella's message this week.
"Coach Parrella is not harping on whatever happened in the past," Maurice said. "We came out here and we did what we usual do. Prep hard for a Big Ten team that is coming in here and trying to run the ball. We'll be ready for Saturday."
- Robin Washut
Leidner more of a running threat than ever
Minnesota quarterback Mitch Leidner has become known for his size and physicality since taking over as the starter two years ago.
But it hasn't been until the past month or so that the Golden Gophers have started making him somewhat of a focal point in their run-heavy offensive attack.
According to Nebraska's defensive coaches, they've seen the 6-foot-4, 230-pound senior have more designed quarterback runs over the past three weeks than they had seen on film from any previous point in his career.
"The one thing that's different with him this year that they didn't do last year, they're actually running him," defensive coordinator Mark Banker said. "They don't necessarily run him off the edge by himself for the most part, they block for him when he runs with the ball. He's running quite a bit. He actually has I think (seven) rushing touchdowns, and they're not necessarily off scrambles."
Since returning from a concussion he suffered in a loss to Iowa that forced him to miss the next game vs. Maryland, Leidner has rushed 29 total times for 109 yards and recorded four of his seven rushing touchdowns on the year over the past three games.
He's also coming off his best outing of the season last week vs. Purdue, when he carried the ball 14 times for 74 yards and two touchdowns. According to NU defensive backs coach Brian Stewart, a good portion of that production came off of a relatively new wrinkle in Minnesota's offense - the zone-read.
"Surprisingly so, he's running zone-read," Stewart said. "I'm not saying he isn't athletic enough to do it. He's more of a big Big Ben (Roethlisberger) type QB than he is (Ohio State's) J.T. Barrett. He is running some zone-read, and he's doing a good job.
"They have an escort for him, which means there's a blocker all the time, every time he fakes it, so in case he fakes it, he has somebody to minimize some hits he would take."
- Robin Washut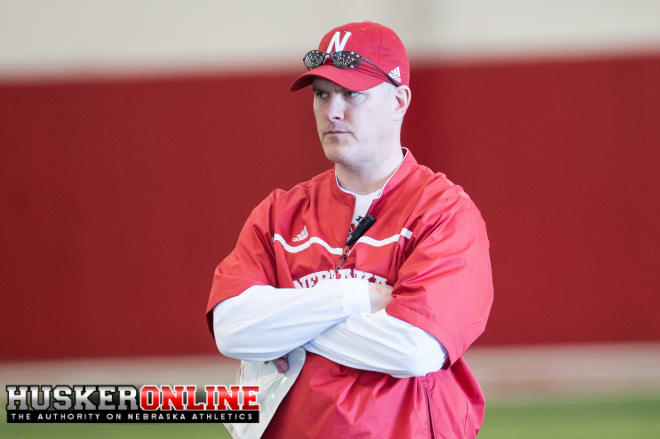 Quick hits
***Along with Foster, Tanner Farmer and David Knevel also practiced on the offensive line for the second day in a row. Cavanaugh wasn't shy about his feelings on getting Farmer back in the mix at right guard.
"He's a physical guy, so having him back will be good," Cavanaugh said.
***Ryker Fyfe said he was still preparing this week as if he's going to be the starter, but offensive coordinator Danny Langsdorf said the staff is also preparing its game plan around the chances of either Armstrong or Fyfe being the quarterback.
***While Knevel has been practicing this week, Cavanaugh said Cole Conrad would start at right tackle against Minnesota.
***Cavanaugh said he's noticed Conrad has been hanging out a lot with Nick Gates off the field, which he obviously likes. Cavanaugh said he thinks Conrad would be a very good player down the road.
***Should NU have to turn to Zack Darlington at all, Langsdorf said they have some packages in pace to work around his abilities. Langsdorf said Darlington has picked up the QB position well again after moving to receiver this spring.