Warren proves his worth again on recruiting front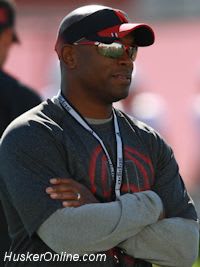 "Coach Warren is a huge thing… Just being that good role model that every man needs in his life. I think that's just something that kind of sold me on that part."
- Eric Lee, 2015 Nebraska defensive back signee.
"Coach Warren was a big reason why we committed. I just feel comfortable with him. I feel like he's going to make sure Aaron is going to be taken care of more than just football. I feel like he'll be there checking up on him and making sure that he's heading in the right direction more than just on the football field. I just feel real comfortable with Coach Warren, I really do."
- Ernest Williams, father of 2015 NU defensive back signee Aaron Williams.
***
Two of the most important decisions regarding Nebraska's coaching staff came before head coach
Mike Riley
was even hired and then less than two weeks after he took over in Lincoln.
During a crucial transition period following Pelini's firing and Riley's hiring, Warren who was handpicked by NU athletic director Shawn Eichorst to continue going on the road recruiting. The job he did keeping the Huskers' group of committed 2015 recruits in place for the most part during such an turbulent stretch was nearly enough in itself to convince Riley that Warren needed join his new staff.
Ten days after Riley became coach, he made the second-year defensive backs coach the lone holdover from the Pelini era.
As Nebraska officially introduced its 2015 recruiting class on National Signing Day on Wednesday, Warren's influence was clearly visible on Riley's first batch of new Huskers. Of the 20 signees NU added in the class, seven were directly recruited or assisted on by Warren.
That made for two straight classes where Warren, a former Air Force assistant and native of Atlanta, made a major impact on the recruiting front for Nebraska. Despite joining Pelini's staff in January, Warren was able to bring players like quarterback
AJ Bush
and cornerback
Chris Jones
to Nebraska in his first month on the job. He also added a key player in safety
Kieron Williams
who transferred from Air Force Prep in June.
Warren also helped secure commitments from defensive backs
Joshua Kalu
and
Trai Mosely
after former secondary coach Terry Joseph left for Texas A&M.
As Riley fielded questions during his Signing Day press conference on Wednesday, he was asked how he was able to identify some of the more under-the-radar recruits that NU was able to land, specifically a player like Reed - a two-star prospect who had just one other offer from Memphis, where he had been a verbal commit.
"He was on Charlton's radar," Riley said.
"I think Charlton was a big resource. I think it was great to have him. Everything about him in hiring him was confirmed to me why that is a good thing because of who he is, but also he was a good connection to a lot of these guys. The first homes I went into, Avery and Eric, the defensive backs from Colorado, those folks wanted to know what's going to happen to Coach Warren. That's a good sign, right?"

Click
Here
to view this Link.
[rl]