Versatility at skill positions a hallmark of new NU offense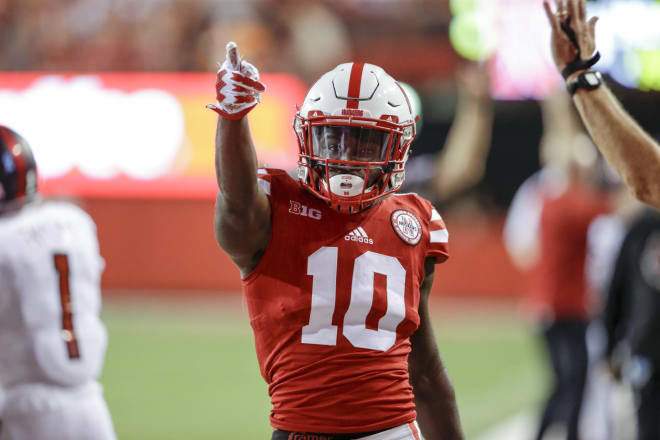 The first descriptor that immediately comes to mind when discussing the hallmarks of Scott Frost's offense is speed, and understandably so.
But maybe next on that list should be versatility, as Frost and his staff have thrived on using skill players in a variety of ways to maximize talent, potential, and production within their system.
Offensive coordinator Troy Walters said one of the easiest positions to find that interchangeable approach were at running back at wide receiver.
In fact, he said both of those groups would have to learn how to play two positions to be the Swiss Army knife players the new staff desires.
"We're teaching the whole system, and as long as the running backs are learning the receiver position and the receivers are learning what the running backs have to do, that way we are interchangeable," Walters said.
"So we could have three receivers in the game, but we can use one of those receivers as a running back. We could have two running backs in the game and use one of those running backs as a receiver. That's how we were effective at UCF, and we plan to do the same thing here."
That immediately brings multi-talented players like J.D. Spielman and Tyjon Lindsey into the conversation, as both saw roles and runners and receivers last season.
Spielman was second on the team with 55 catches for 830 yards and also ranked fifth on the team in rushing with 73 yards on 10 carries. Lindsey caught 12 passes for 76 yards and carried the ball seven times.
At running back, Mikale Wilbon was NU's second-leading rusher with 88 carries for 379 yards and hauled in 21 receptions, the fifth-highest total on the team. Jaylin Bradley posted 24 rushes and four catches in his limited role as a true freshman.
As for potential newcomers fitting that bill, four-star athlete Miles Jones could end up being exactly what the staff wants. The 5-foot-9, 170-pound native of Miramar, Fla., was a do-it-all player for powerhouse American Heritage High School, leading the team in all-purpose yards (1,830) while ranking second in rushing yards (695) and receiving yards (401).
"I like what we have," Walters said of the Huskers' skill position talent. "I think we have some depth at the receiver position. Guys that have played, guys that have made plays. Stanley (Morgan) and JD and Tyjon; I'm looking forward to seeing what (Jaevon) McQuitty can do. We know we are going to bring in some guys.
"Overall, I'm excited. We've thrown a lot at them and in the last couple of weeks, and they've taken it all in, and now I think they're ready for spring ball to get out on the field and I'm excited to see what we really have."
The versatility won't just focus on the receivers and running backs, either.

Tight ends coach Sean Beckton said they've already begun the process of changing the mindset within his room to go from predominantly end-line blockers to becoming effective pass catchers on the perimeter and in the slot.
Beckton said the nature of the tight end position in general had shifted to more of a big wide receiver, as of the 80 or so 2019 prospects he's evaluated so far at the position, nearly all play mainly on the perimeter.
The good news is that Nebraska currently has some tight ends Beckton thinks can easily transition to that style, noting that Jack Stoll, Austin Allen, and Cameron Jurgens all played on the outside a lot in high school.
Beckton also noted that incoming freshmen Justin McGriff (6-6, 220) and Katerian Legrone (6-3, 230), who were both recruited as athletes who many assumed would be tight ends at NU, would start their college careers as receivers with the option of moving them inside if necessary.
Beckton said Legrone could be the most interesting piece of that group, saying he fit the mold of UCF wideout Marlon Williams (6-0, 222), who caught 17 passes for 270 yards as a true freshman after the staff incorporated a special package just for him in their passing game.
"Tight ends now are really receivers now when you're out recruiting…" Beckton said. "So a lot of the guys have played out there. Now the biggest thing is teaching them how to play like they're fast receivers on the outside - being able to maneuver off linebackers, being able to understand coverages, and how to get down the football field and being able to make the adjustments."