Valen Erickson commit: What does it mean for Nebraska?
The Nebraska football team landed commitment No. for the Class of 2022 from Chicago (Ill.) St. Rita offensive lineman Valen Erickson.
Here are some quick thoughts and takes on what the commitment of Erickson means for the Huskers.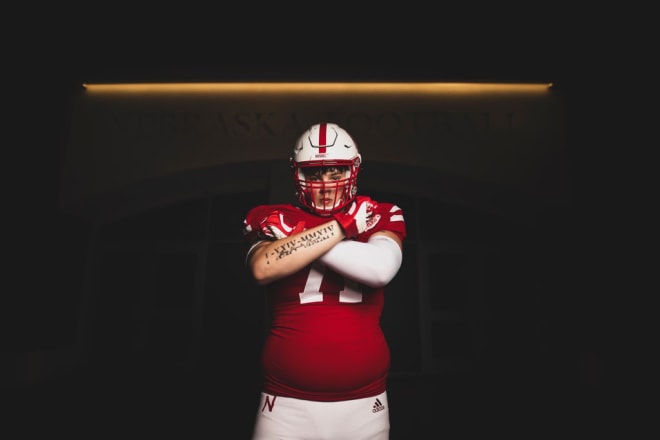 1. Erickson actually was raised in Florida before he moved with his family up to Chicago, so he was able to closely follow UCF while Scott Frost was coaching there. He was familiar with the success Frost and his staff had in Orlando, which likely played a role in his initial interest in the Huskers and coming to his decision to play for Nebraska in college.
2. Erickson is yet another 2022 commitment to NU who was able to get on campus multiple times this year before he committed. The offensive line prospect was able to attend the Red-White spring game in May, and he was brought in among the group of official visitors on the first weekend of June. He is the third member of that June 4 group of official visitors who has since committed to Nebraska.
3. With the limited scholarship numbers available for this cycle, Erickson fits the mold the Husker staff seems to be shooting for of versatile prospects who could possibly play several positions in college. The NU coaches told him on his official visit that he will be starting off inside at offensive guard and eventually moving outside to tackle. Erickson liked the plan and was totally on board with it.
4. Erickson comes from the Big Ten footprint, and it's somewhat surprising Nebraska has not recruited the state of Illinois more since they joined the conference. The last recruit NU signed from Chicago was running back Mikale Wilbon back in 2014. The Huskers haven't fared very well with Illinois offensive line signees over the past decade. The "misses" like Bryan Brokop [2016], Matt Finnin [2013] and Ryan Klachko [2011] far outweigh the "hits" such as Tanner Farmer [2014]. A couple of other notables from Illinois the Huskers "hit on" over the past decade were DL Vincent Valentine and WR Jordan Westerkamp, both from the Class of 2012.
5. Things developed pretty quickly between the Cornhuskers and Erickson. He did a virtual tour with the Nebraska coaches in mid-April when he was offered, and he was in Lincoln two weeks later to attend the spring game. He was made a priority target by the Big Red and brought in at the earliest opportunity for an official. With all the scouting and evaluation uncertainty surrounding the lost COVID year, it looks as if NU wanted to put their best foot forward before other staffs at Tennessee, Missouri, Illinois, Louisville and Cincinnati came aboard with offers.
6. Valen Erickson is now the third official visitor from that June 4 weekend who has subsequently committed to sign with and play for Nebraska. He joins Texas quarterback Richard Torres and Minnesota tight end Chase Androff. Five other visitors from the June 4 weekend have committed elsewhere.
7. Nebraska continues to recruit nationally coast to coast. NU's nine commitments hail from seven different states. This also marks the sixth Class of 2022 verbal commit for the offensive side of the ball, as opposed to only two on the defense thus far.
8. 2022 commitment breakdown  
1. 3/7/2021 - Ernest Hausmann - LB - 6-foot-3, 210 - Columbus, NE - 3 Stars
2. 4/1/2021 - Victor Jones - WR - 6-foot-2, 190 - Orlando, FL - 3 Stars
3. 6/7/2021 - Chase Androff - TE - 6-foot-6, 230 - Southlake, MN - 3 Stars
4. 6/14/2021 - Richard Torres - QB - 6-foot-6, 211 - San Antonio, TX - 3 Stars
5. 6/17/2021 - Ashton Hayes - RB - 5-foot-11, 180 - Reno, NV - 3 Stars
6. 6/20/2021 - Grant Page - WR - 6-foot-3, 185 - Boulder, CO - 3-Stars
7. 6/20/2021 - Jake Appleget - OLB/TE - 6-foot-4, 210 - Lincoln, NE - 3-Stars
8. 7/14/2021 - Hayden Schwartz - DE - 6-foot-4, 250 - Jacksonville, FL - 3-Star
9. 7/30/2021 - Valen Erickson - OT - 6-foot-6, 315 - Chicago, IL - 3-Stars
9. 2022 commit breakdown by position  
1 - Quarterback
1 - Running back
2 - Wide receiver
1 - Tight end
1 - Offensive linemen
0 - Defensive tackle
1 - Defensive end
1 - Outside linebacker
1 - Inside linebacker
0 - Safety
0 - Cornerback
0 - Athlete
0 - Special teams
10. Where are they from?
2 - Nebraska
1. Colorado
2 - Florida
1 - Illinois
1 - Minnesota
1 - Nevada
1 - Texas