Up close: Vedral talks more about his decision to come back to Nebraska
HuskerOnline had the chance to go one-on-one with former UCF quarterback Noah Vedral, who announced on Tuesday he's coming back home to play for Nebraska.
The former Wahoo Bishop Neumann quarterback was offered by Scott Frost during his junior year and won the No. 2 job in 2017 as a true freshman.
Vedral is the son of former Husker tight end Mike Vedral, and the nephew of former Huskers Jon Vedral, Mark Vedral and Matt Turman.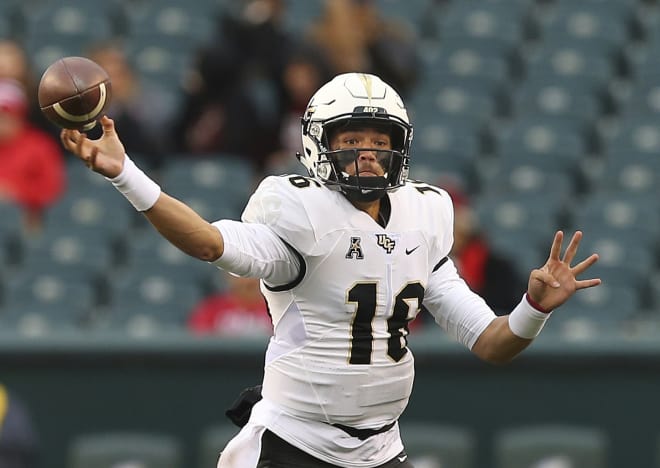 What was the last week like for you? I have to imagine there was quite a bit of emotion leaving UCF after such a magical season.
Noah Vedral: "The last week has been a very interesting week for me, and for my family. We experienced some pretty high highs with the Peach Bowl win, the celebrations that followed and all that stuff and then, obviously, some tough decisions followed that game. Some pretty hard goodbyes to my brothers at UCF and all the guys and the friends that I have back there. Then, obviously, anyone who's transferred knows- or has even looked into the transfer process knows it's chaotic. There's a lot of paperwork, a lot of logistics that go into it and my family and I have been sorting through that as well as moving.
"Getting everything done, I owe my dad a big thank you. He met me in Florida and then was kind enough to drive my stuff back for me. He made an almost day-long trip drive from Orlando back to Lincoln to help me make this transition as smooth as possible. It's been a really big family effort, my mom helping me with academics as I get enrolled and stuff like that. It's been a chaotic week, but I'm happy to be home."
You go back Noah -- About over a year ago, you made the decision to go to Central Florida, follow Scott Frost to move away, all the way from Wahoo out to Orlando. What did you see in Coach Frost back then that made you want to go out there and follow him and obviously you've seen something here over this past year that makes you want to follow him now to Nebraska?
"Back when he was recruiting me out of High School, I saw a coach that had something special about him. I know some guys always call it the 'it factor' when they evaluate players. I think if the players evaluate in coaches in the recruiting process, he really had that 'it factor' and he's able to make kids excited to play for him, excited to play the game when he takes over a program and stuff like that.
"He was very clear with the way he did things at UCF and how quick he got that university to turn around and that team to be something special. He relates really well to players, he's a really fun guy to play for, he does everything the right way. He's honest, he's fair, he has high expectations, he pushes you to be the best you can be. Personally, I followed him down here because I believed and I still do believe that his offense is the right fit for me. I feel that I can play extremely well in his offense and stuff like that. Obviously, fit was a big thing, but he's a tremendous coach with tremendous character. I'm grateful for getting the opportunity, to come back home and continue my career underneath a special head coach like he is."
When did you know this past season 13-0 was a possibility?
"I think that feeling -- We got into it when we beat Maryland pretty bad at Maryland, we knew they were down and they were on their third-string quarterback, so we didn't think too much or want to get too high after a win like that. Then, I think it really happened though after we played Memphis, who was actually kind of the pick to win the American (Athletic Conference). To be the team that the American wanted to send to a big bowl game and we beat them here and their home but almost no hiccups, and played really well.
"We beat them pretty good at our home field and after that, we started to feel, 'Okay, we do have something special.' We took care of business down the home stretch, then we got to our last three games and I think they were three of the most exciting college football games of the year. In those three games, it came to show that we did have something special and that the group of guys there did buy in and believed in what we were doing. The execution went way up, the emotion went way up, the passion fashion went way up and we were able to win three big games."
When did you realize that it was attainable that you could win the No. 2 job and play so many snaps this past season?
"I had a really good camp, and I picked up the playbook really quickly, which makes life as the quarterback a bit easier. When you're able to know what you're doing and focus on doing things well instead of focusing on what you're doing. Towards the end of camp, into the first week of game prep, it became clear that I'd end up being the backup. I was excited about that because obviously anyone playing college is trying to get as close to the starting job as they can until they get there.
"The snaps this season proved to be of tremendous value, and I can honestly say I learned so much through just those quarters here and there, where I was able to get in and take on series of events. Teams like Temple who had a really good defensive line, and to take a few snaps against the Memphis who was, in my opinion, I think they are top 25 team and a really good team. Those reps proved to be a huge, huge, huge, help.
"Helping factors for me growing as a quarterback and then through the help of my coaches and stuff like that. Some help from McKenzie and the other quarterbacks from the unit, I was able to pick stuff up quickly and could grow quickly. Getting the chance to finally specialize in just one sport and being able to dedicate all my time and attention to being the best quarterback I can be really accelerated the process for me in my first year. I feel really good about where I'm at. I'm not ready to settle down though, but I know I've got a redshirt year, maybe I get a lot bigger and a lot faster, a lot stronger which I think will prove to be very valuable after this redshirt season."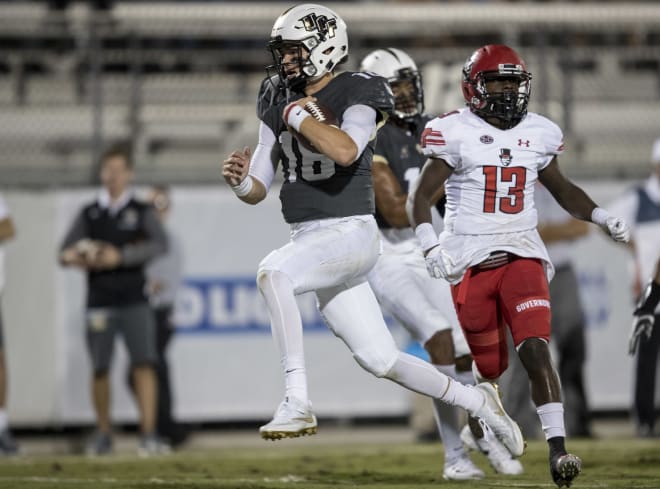 How do you mentally keep yourself in it knowing right now you're going to have to wait over 600 days before you play in your next football game?
"Really for me mentally it's self-progress. The benefits of taking a redshirt year gives you a chance to truly dial in the weight room and with your nutrition and in the playbook to become a smarter, more efficient quarterback. I've seen quarterbacks who have redshirt years, I think do benefit from them just because they get to swap their 18 or 19-year-old season for their 22-year-old season. You'll be a different quarterback at that at age 22 than you would be at 18 or 19 and it's simply just through experience and being around things longer but more familiar with things the better any quarterback will ever play.
"I'm excited just to get a year to work on strength, increase velocity, size and speed. Those are really big emphasis points, and I'm excited to get the chance to zero in and have a big year in the weight room. Mentally just staying supportive making sure I can do everything in my power to help this team succeed this year and then also doing everything I can to make sure I'm ready to compete for the job when my time comes and the redshirt year is over."
You mentioned the weight room, what will Zach Duval bring to Nebraska as the new strength coach?
"I think he brings tremendous toughness and unbelievable development of athletes. He does a good job of personalizing the weight program, not just randomly selecting workout that would best suit the average football player but tailoring weights and workouts and exercises to each specific athlete to help bring their ceiling up and to raise or bring the floor up and raise their ceiling as an athlete.
"He does an unbelievable job with that, expectations are high, and he's really good about pushing you to achieve whatever it is that you need to achieve to become a better athlete. Then, obviously, they know the difference when you're in season or off season or any season they are really good about making sure our strength stays up and not slacking, making sure every athlete is fine-tuned and ready to go every Saturday. It is a great job keeping up and following up with all of their athletes that they get to work with."
Finally, I have to ask you, living in Orlando the last six months, what will you miss the most?
"Oh man. I think what I'll miss the most are the people. Secondly, I think getting up in the morning and being able to sleep in shorts, get up and throw on your hoodie and just walk across in flip-flops to the football offices and get ready for practice, that will be missed, especially as I come home and we're getting ready for a blizzard in the coming days.
"I will miss that with the sunshine and stuff like that, but the sad thing is I only got to go to the beach I think a couple times in the six months that I was there because we were practicing almost the whole time."
I think I speak for everybody Noah, welcome back to Nebraska. I'm sure it's been an emotional ride, but you've gained a lot over this last year, and I'm sure you're excited to be back home.
"Thank you. I'm really excited to be back home. I know, and I speak for myself and for the coaches and for the players already here that we're ready to get Nebraska back where it used to be and where it should be."