Tuesday practice hot takes: Can McCaffrey unseat Martinez?
Here are some quick takes and reactions on what we learned following Tuesday's Husker football practice.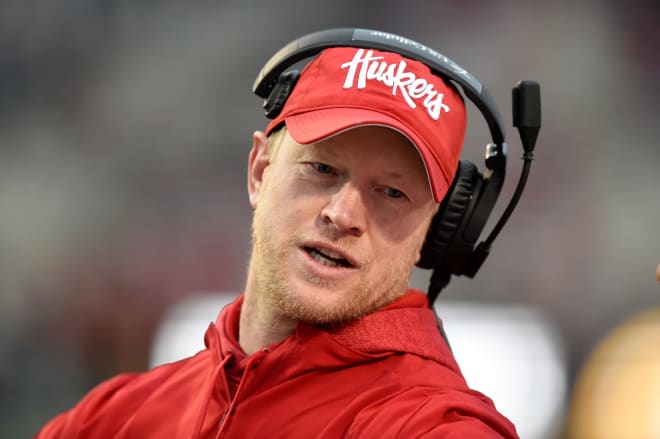 There is a legitimate quarterback competition going into Week 1
It's long been assumed that Nebraska's starting quarterback job was Adrian Martinez's to lose.
Even though redshirt freshman Luke McCaffrey showed impressive flashes in four games last season, many expected the two-year starter Martinez to be the No. 1 guy until he gave reason for NU's staff to make a change.
But as the Huskers wrap up their last week of fall camp and get ready for their season opener at Ohio State, head coach Scott Frost just kicked the door wide-open for a legitimate quarterback battle going into Week 1.
"I wouldn't say it's clear yet," Frost said of NU's quarterback depth chart. "Adrian's certainly playing well. Luke's certainly playing well. We feel like we have two guys at the top of that heap that are playing well enough to help us win games.
"Every position is a competition, and we're going to have to make those decisions pretty quickly, but I've been really impressed with both of them."
Martinez has the obvious edge in experience with 21 career starts under his belt, and he said last week that he finally feels as healthy as he'd been in years going into the season.
But the conversation seems to have less to do with what Martinez has done and more with how rapidly McCaffrey has progressed over the past 18 months.
Frost, who made it clear once again that McCaffrey was a quarterback and only a quarterback, said the former Highlands Ranch (Colo.) Valor Christian standout had gone rep for rep with Martinez all offseason.
"Right now, our offense moves exceptionally well when he's at quarterback," Frost said. "He finds a way to make a lot of plays work. He's throwing the ball really well. I don't think anybody has any questions about his athletic ability or his speed."
It wasn't just Frost who was hyping up McCaffrey's potential on Tuesday, either.
Junior tight end Austin Allen said he'd seen "a true competition" at quarterback this fall, which, "as a whole offense, I think that's going to make us better."
Senior defensive end Ben Stille said, "it honestly doesn't matter who's back there" at quarterback between Martinez and McCaffrey and that the offense feels just as comfortable with either guy under center.
"You can ask the offensive guys, but I think they're really comfortable, and they both make plays," Stille said. "I'm excited to see how it turns out for this season."
Omar Manning's status remains unclear going into Week 1
Regarded as one of Nebraska's most important offseason additions for 2020, there has been plenty of hand wringing recently regarding the uncertainty of Omar Manning's status going into next week's season opener at Ohio State.
While rumors have swirled speculating on the former junior college standouts future with the program, Frost said his concern was just getting Manning on the field enough to be ready to make an immediate impact.
Having missed notable time this summer and fall due to injury and personal reasons, Manning remains a relative unknown as far as what he'll be able to provide NU early on this season.
"That's still a work in progress right now," Frost said of Manning. "When Omar has been out there, he's been really good. He's been dealing with some health things that have kept him in and out.
"We need him out there more consistently if he's going to help us the way we expect him to and hope he will."
Frost was later asked directly if he anticipated Manning would be available to play against the Buckeyes on Oct. 24.
"I hope so," Frost replied.
This is a player that Frost himself said changed the complexion of Nebraska's offense when he was on the field. At 6-4, 225, Manning provides the type of body and athlete NU's receiving corps has lacked arguably since Maurice Purify.
Add in Frost's other reports that sophomore Wan'Dale Robinson and true freshman Alante Brown had also missed practice time with minor injuries, having Manning in the receiving mix seems imperative for Nebraska offense still trying to find its footing.
Kade Warner's rise continues
With all of the questions facing Nebraska's offense at the moment, consistency and reliability have taken on more importance than ever.
That's why junior wide receiver Kade Warner has capitalized on this offseason almost as much as anyone.
While Frost declined to announce any new walk-ons that would be placed on scholarship for the 2020 season, Allen spilled the beans on Tuesday by unintentionally breaking the news that Warner had already earned a scholarship.
"Kade Warner's leadership has been unmatched in the receiving corps," Allen said.
Warner has established himself as one of the most proven and consistent pieces in Nebraska's otherwise inexperienced wide receiver room entering this season.
After breaking onto the scene with a solid redshirt freshman campaign in 2018, Warner was sidelined by injury for the first four games of last season. However, he soon picked up right where he left off to end the year.
Warner ended up starting five of the final seven games of 2019 and caught eight passes for a career-high 101 yards, with an average of 12.6 yards per reception.
Even more, he's also been a fixture on the practice field this fall, while others like Manning, Robinson, and Brown have missed time with injuries.
"The best thing that he's done is he's been out there the entire time," Frost said. "I don't think he's missed any time. If you're going to play, you've got to be on the field. He's done a good job leading at that position… Kade's done a wonderful job for us."