Tuesday nuggets: Latest injury report, Blackshirts talk Illini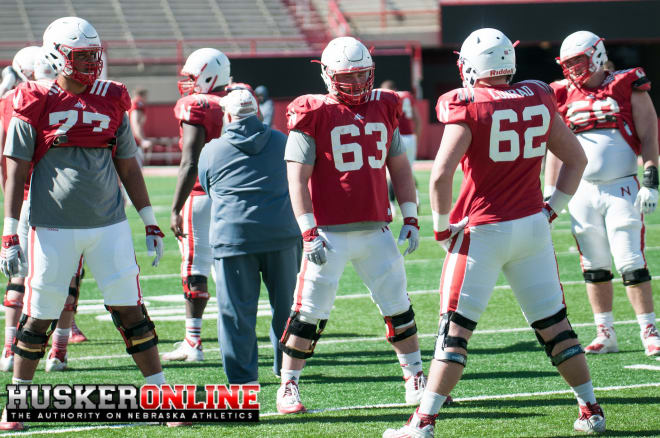 Here are some quick notes and observations to pass along from Nebraska's full-pads practice on Tuesday afternoon...
***As expected, wide receiver Alonzo Moore (shoulder) and right guard Tanner Farmer (ankle) did not practice on Tuesday, as both are considered doubtful to play against Illinois. Farmer wore a protective boot on his left foot.
***Senior backup quarterback Ryker Fyfe was a no-show for Tuesday's session. Because head coach Mike Riley nor any offensive coaches were available for interviews after practice, no update will be given on Fyfe's status until Wednesday.
***Defensive coordinator Mark Banker said Mick Stoltenberg has really bounced back well after his knee surgery earlier this season. Banker said Stoltenberg was much better against Northwestern than he was against Oregon, where Banker said they may have rushed the defensive tackle back a little too soon.
***Banker said Carlos Davis has done a great job filling in for Stoltenberg the past two weeks. Banker said Davis has matured quite a bit from where he was last season, and paired with his "world-class" athleticism, Davis is really starting to come into his own.
***Banker said Illinois has been flipping its offensive line from side to side during games this season, meaning the left guard and tackle will switch with the right side on a given play. Banker said he's heard some grumblings from Illini players and coaches that they don't really like that strategy, and that it tends to be an "indicator" of certain plays, such as identifying "strong side" and "quick side" looks up front.
***Banker said Nebraska played eight different defensive linemen against Northwestern, and that added rotation was something they want to continue to do to keep the front four fresh.
***While Nebraska's defense only gave up two "explosive plays" against Northwestern, Banker noted that both of those resulted in touchdowns by the Wildcats. Banker said the Blackshirts had to continue to eliminate those big plays, especially against an Illinois team that thrives on big plays.