Tuesday notes: NU kicks up intensity with full pads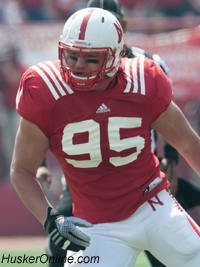 Click
Here
to view this video.
The intensity of camp kicked up a few notches on Tuesday night, as Nebraska suited up in full pads for the first time this fall.
While it wasn't as much full-blown contact as it would be in an actual game, the increased physicality gave the players a new test and allowed the coaching staff to get much better evaluations of the roster as the season opener draws closer.
For head coach
Mike Riley
, the two-hour session was a great chance to not only see his team hit and tackle for the first time since the spring game back in April, but also to see how his fall newcomers would respond to the physical toll of a true major college football practice.
"I think that some of our young guys got an eye-opener about what the tackling of some of these guys is really about," Riley said. "I think we had a number of runs where the backs really just ran through tackles out there. I think that will be really good for the defenders to look at and be ready for the next time."
One of the downsides to the day was that the Huskers had four top wide receivers sitting out for the practice with minor muscle-related injuries in
Jordan Westerkamp
,
De'Mornay Pierson-El
,
Sam Burtch
and
Taariq Allen
. As a result, Riley said NU was unable to operate the two-team practice format it generally prefers because of the lack of depth at the receiver position.
The fact that so many players were out before even putting full pads on only re-affirmed Riley's belief that going 100 percent was actually the best way to avoid injuries in football.
"I frankly worry almost more about the days in shorts when you don't have any pads on than I do this day when you put full gear on," Riley said. "We did however do a little more live football than we've ever done on our first day of full gear. We particularly got the young guys quite a bit of live play at the end, some of them probably got 10-12 plays at the end, which is good."
Riley said he was especially interested in seeing how his younger defensive players would respond to both getting themselves in position to make tackles and then finishing plays for the first time. On the other side, he wanted to see how Nebraska's running backs handled getting tackled to the ground and also how they could avoid tackles, all while making sure to hold onto the football.
Quarterbacks were not allowed to be tackled to the turf, but Riley liked seeing how the group handled live pass rushes and how the wide receivers were able to catch the ball with full contact.
As for the offensive and defensive lines, defensive end
Jack Gangwish
said the practice wasn't much different from what they always do from an intensity and physicality standpoint.
"I think I can speak for most of the offensive and defensive linemen: practice isn't different for us from half-racks (shoulder pads) to full gear," Gangwish said. "It doesn't matter what dress we're in, our play is the same. It's all hat and hands. Just because you're not wearing shoulder pads or not wearing (practice) pants doesn't mean you're not as strong as you are with them. You're still dealing with the same athletes and we're all moving the same way."
Quick hits
***Defensive tackle
Vincent Valentine
sat out for the fifth straight practice with a bruised knee. Riley said Valentine is still considered day-to-day.
***Riley said the coaching staff has tried to be a fair as possible with the reps it's given the quarterbacks behind
Tommy Armstrong
this fall. He said they've tried to mix and match what teams the other QBs are working with on a near daily basis to give everyone a chance with the top groups.
***Riley said the offense did a lot of 3rd-and-long situational work in the team portions of Tuesday's practice. The offense was put in positions to execute third-down conversions from as far as 7-10 yards out, which was a challenge for the group.
***Once again, redshirt freshman running back
Mikale Wilbon
impressed with his performance on Tuesday. Riley said he's seen Wilbon make a big jump from the spring to now in his knowledge of the offense and just playing faster.
***Riley also played freshman wide receiver
Stanley Morgan Jr.
, who took full advantage of his increased reps with so many other receivers out. Riley said Morgan has really put himself into position to see the field right away this season.
***With so many wide outs on the sideline, Riley said it hindered NU's ability to run two teams at once during practice because of their lack of the depth at the position. As a result, there was more single-team work that forced a lot of other players to have to stand around and watch.
***The Big Ten Network was in town to take in Tuesday's practice for their annual fall camp tour of the conference. Also in attendance were former Huskers Russ Hochstein, Loran Kaiser, Kris Brown and Milt Tenopir.
***NFL scouts from the Cleveland Browns and Denver Broncos took in Tuesday's practice.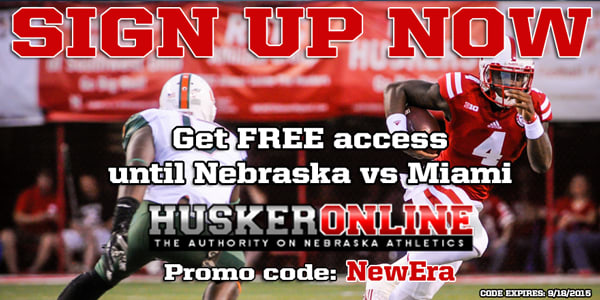 Click
Here
to view this Link.
[rl]