Tuesday notes: Newby, Gifford pushing each other at OLB
One of the most intriguing position battles during spring practice was at the "Dog" outside linebacker position, where senior Marcus Newby and junior Luke Gifford essentially split first-team reps all the way through the Red-White game.
That competition has picked up right where it left off this fall, as Newby and Gifford continue to be neck-and-neck in the race for the starting job come Sept. 2.
But as far as defensive coordinator Bob Diaco is concerned, the idea of the title of "starter" is really a non-issue, as both players will have big roles for the Huskers regardless of where they are on the depth chart.
"Very, very good," Diaco said of the work Newby and Gifford have done this offseason. "Both players are really doing a wonderful job. My only hesitation was I'm not sure we're seeing that so much as a battle as (we are) a cooperative performance between the two of them to put together the very best outside linebacker overhang position and production.
"I think they're going a beautiful job getting ready and cooperating. I don't feel a lot of angst and anxiety with the competition at that spot."
Gifford echoed that sentiment when asked his take on the competition with Newby this fall.
"We work so well together, honestly," Gifford said. "We watch film together, we bounce things off each other. If I don't know something, then he knows it. If he doesn't know something, then I know it.
"It's really nice being able to coach each other and work together, because Dog's not an easy position. We're out there in space and we've got a lot of jobs to do, so we use each other as much as we can."
So regardless of which player takes the field first at the Dog, it's clear there will be a heavy regular rotation all season long.
"At the end of the day, we're both going to help the team win," Gifford said. "When he's in there, there's no drop-off when I come in, and when I'm out there, there's no drop-off when he comes in. It's nice to have that."
- Robin Washut
Ferguson quietly having a strong camp
There's obviously a lot of talk about the position battle between Gifford and Newby, but lost in that discussion has been the elevated play of sophomore Tyrin Ferguson.

The New Orleans native is quietly having a very strong camp for the Big Red according to linebackers coach Trent Bray.
"The guy that's really stepped up his game is Tyrin Ferguson," Bray said. "He's really adding more depth to that dog position. That's the guy from out of spring that's really stepped up his game the most as to opposed to a guy that we weren't really seeing pushing those other guys. Now he definitely is and he's doing a good job."
Bray said a lot of it is just Ferguson getting comfortable with his role in the defense.
"During the off-season, he was working really hard, watching film all the time and asking questions," Bray said of Ferguson. "He's just been very productive, especially in the last three or four practices his production has skyrocketed. We are liking what we are seeing from Tyrin and he gives us that extra depth that if things happen to move guys around."
-Sean Callahan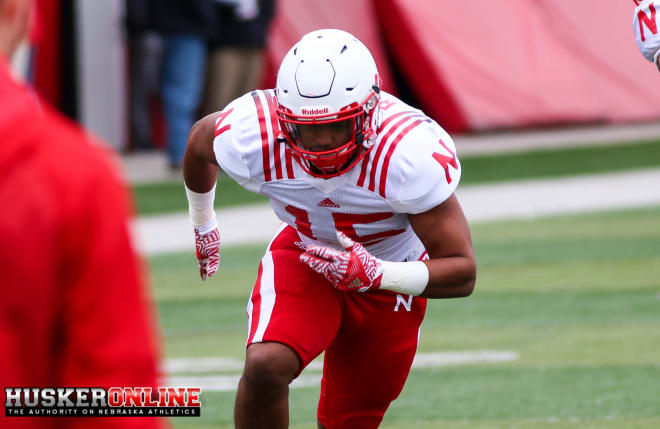 True freshman Roberts continuing to impress
Nebraska's linebacking corps is full of capable players, many of whom are rising through the ranks and beginning to make a name for themselves. One such player is true freshman Avery Roberts.
The young inside linebacker came to Lincoln as an early enrollee last winter and has become a player that senior Chris Weber has taken under his wing as his primary backup.
Weber has liked what Roberts has shown early on in his career, as has sophomore inside linebacker Mohamed Barry, who has been playing alongside him in the middle so far during fall camp.
"He's looking real good," Barry said. "I'm surprised as a freshman how he learned it and how he's put his flavor into it. He's making plays, flying around and that's a great thing to see from a freshman."
Barry says Roberts' mental maturity combined with his physical style of play are what stand out the most about the true freshman.
"He's mentally tough is what I would say," Barry said. "He's a mentally tough kid, he doesn't get down on himself and hold his head down. That's one thing that I do like about him. I feel like he's going to prosper if he keeps that mentality.
"I think he's a smash-mouth player. I would like to say he's smash-mouth, he's calm and I like it. He loves to hit and anyone who loves to hit is my friend."
-Nate Clouse
Cornerback development can only go so far before season starts
The process of getting Nebraska's young cornerbacks up to speed following the injury to senior Chris Jones has been an ongoing development during fall camp.
Head coach Mike Riley said the staff made it a point to get guys like Lamar Jackson, Eric Lee, and Dicaprio Bootle more reps in Saturday's first fall camp scrimmage than any other first-string position group in an effort to get as much work under their belts as possible.
While the Huskers are doing all they can to get those young corners ready, Diaco said there's only so much they can do in practice.
"They're going to need to play in the games," Diaco said. "You only get markedly better when you play in the games, so really, none of those guys have played in the games…
"There's just a difference to a game that can't be simulated at any other time. We do the best job we can preparing at game speed and also maintaining safe drills and proper drills through the grind of a camp…
"But there's nothing like playing in the games. Players make the biggest gains when they get an opportunity to participate."
- Robin Washut
Daniels, Thomas in line to potentially make immediate impacts
As Nebraska's defensive line continues its major transition in its new 3-4 scheme, the window of opportunity remains open for some new faces to make an immediate impact this season.

Two true freshmen joined the mix on the d-line this fall in Damion Daniels and Deontre Thomas, and according to their coaches and teammates, both have a chance to play a role in 2017.
"Pleased, pleased. Really, really good," Diaco said of Daniels and Thomas. "I'm not sure who's going to participate or not; Coach Riley's in charge of the personnel. But given that they're all trying hard and possession the traits to do the job, all of those guys that came in in that new class all possess good traits to do the job as we ask them to do."
Sophomore defensive lineman Khalil Davis knows all about how difficult the jump is going from high school to the Big Ten, and he said both Daniels and Thomas came in with the perfect mentality for how to adapt as quickly as possible.
"Deontre and Damion, both of them were eager to learn," Davis said. "As soon as they got here they were asking us for the playbook and what they can do to help us. They were ready to work from the beginning. That's what I like about them. They're always asking questions and they're always looking to get better."
That's why Davis said it wouldn't surprise him one bit if both freshmen made their way onto the field at some point this season.
"They both can play, to me," Davis said. "They both have that potential. Right now it's just to keep working and learning."
- Robin Washut
Stille comfortable at defensive end
Following Saturday's scrimmage head coach Mike Riley singled out redshirt freshman defensive end Ben Stille as a standout early in fall camp.
Stille moved from outside linebacker to defensive end before camp started, and defensive line coach John Parrella has been impressed with his overall transition.
"I think the first week he was flying around and he had a good pass rush and his technique was better," Parrella said. "We are excited about his potential for the future."
Parrella also feels like Stille is the type of player that will do whatever you ask of him.
"Ben is a hard working kid and obviously he was recruited here for a reason," Parrella said. "We just have to continue to develop him so he can help us somewhere on the defensive line."
- Sean Callahan
Quick hits
***Diaco was pretty vague with his analysis of Saturday's first fall camp scrimmage, though he did say Riley's comments on Saturday about the concerning number of missed tackles in space were "appropriate".
***Gifford said he's been getting some work in as a pass rusher off the edge this fall, something he's really enjoyed. He said he's been working with Parrella to help improve his pass rushing technique and is excited for another opportunity to potentially help the team.
***Gifford said he's currently weighing around 240 pounds, crediting the S&C staff for helping him get into the shape he needed as a 3-4 outside linebacker.
***Davis said he's been playing "everywhere" on the defensive line this fall. He said he probably feels more comfortable at nose tackle right now, but he's working to improve as an end be an all-around lineman.
***Special teams and safeties coach Scott Booker had a witty answer when asked if we'll see Nebraska run the shield punt scheme in 2017.
"We are going to punt the ball," Booker joked. "We'll put it with 11 guys on the field and hopefully we can get it far down the field."
***Receiver Keyan Williams did not practice on Tuesday with an undisclosed injury, and Jones is no longer wearing a protective brace on his injured knee.
***NFL scouts from the Cleveland Browns and Arizona Cardinals were in attendance for Tuesday's practice.