Tuesday notes: Diaco delivers heavy praise for Kalu
When senior cornerback Chris Jones went down with a knee injury during summer workouts, many assumed the natural move for Nebraska would be to bring senior Joshua Kalu back to corner from safety.
It turns out, at least for NU defensive coordinator Bob Diaco, that option was never really ever on the table.
The reasoning behind that is due to how much Kalu, a two-year starter at cornerback, has impressed since switching to safety this spring.
In fact, the Houston, Texas, native has been so good that following Tuesday's practice, Diaco delivered him more praise than he's ever given one player since coming to Nebraska.
"Joshua Kalu could play a myriad of different positions really, really well," Diaco said. "He's a talented player, he's a rugged, tough player, he's a smart player. We all collectively believe that safety is his natural position. We believe that, from an evaluation standpoint and a future standpoint, that he would be a very, very good corner. Maybe even a great corner.
"But in my mind, there's no doubt that he is, and/or will be, one of the best safeties in the country, if not the very best safety in the country."
The decision to keep Kalu at safety going forward had just as much to do with his abilities as it did the value he brought to what Diaco called one of the most crucial positions in his defensive scheme.
Along side junior Aaron Williams, who had earned some heavy compliments in his own right for his defensive acumen, Diaco said the Huskers have arguably two of their best overall players running the show in the back end of the defense.
"The safeties are a really premier position to me on defense," Diaco said. "So in our defensive system, it's a big, big deal to have great safety play… The safeties are our quarterbacks. They really are."
- Robin Washut
Darnell brings an 'unabridged dictionary' of knowledge to NU
One big bit of news that broke earlier this weekend was the addition of former head coach Gary Darnell to Nebraska's staff as a defensive analyst.
Following the death of former safeties coach Bob Elliott, the Huskers were in need of an experienced football mind who had knowledge of the game from a variety of levels.
Darnell fit that billing to a T, Diaco said, as he was the head coach at Western Michigan from 1997-2004 and also served as a defensive coordinator at Texas, Texas A&M, Florida, Kansas State and Wake Forest.
"Veteran coach. Been there, done that at every level," Diaco said. "He's got an understanding of seeing the big picture. He's got a wealth of experience… He could cycle back to his Rolodex of information to the mid-70s and think about something that might have hurt or helped. It's like having an unabridged dictionary sitting there next to you."
The connection stemmed from when Diaco was Darnell's defensive coordinator at Western Michigan for one season in 2004. Diaco said that familiarity and mutual respect would be a great asset for NU's defense.
"He's a big help and he's a dear friend," Diaco said. "He's a greatly respected colleague. We've been very close since the day we parted, and we have shared vision on how young men should be treated and developed."
- Robin Washut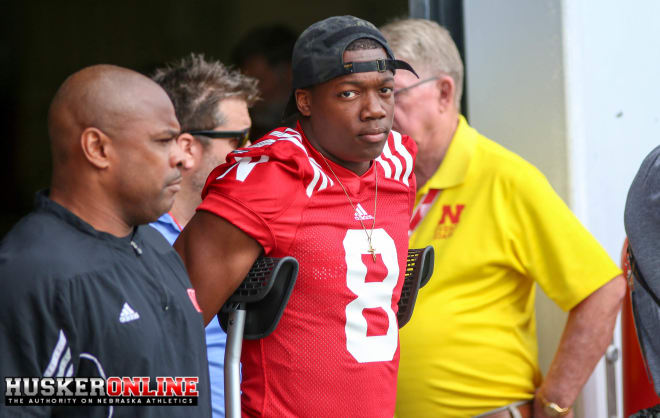 Jones still making his presence felt
Jones still making his presence felt in camp
While Jones may not be able to make an impact on the field right now because of his injury, he's still more than made his presence felt in fall camp.
Jones continues to walk on crutches, but expects his knee brace to come off as early as next week. It remains to be seen even if Jones could return to the field in 2017.
"We all gravitate around Chris, because he's a special player," junior defensive end Freedom Akinmoladun said. "I know that he's hoping for the best this season, but all we can do is play for him every play and every snap.
"He's really out there helping the corners because he knows what we have to do and I know what his expectations are with the corners. He's enforcing that."
One of the players that will have to step up in even a bigger role this season will be sophomore Lamar Jackson.
"I know it hurts (Jones) just watching rather than not being on the field," Jackson said. "His presence hasn't changed though. He's in every meeting and everything."
- Sean Callahan
Huskers lack seniors, but not leadership 
Despite the fact that Nebraska entered fall camp with just 11 scholarship seniors, the vibe when you talk to players is this team still has plenty of leadership.
When you look at the defensive alone, there are several underclassmen that will be going into their second or even third years of playing major snaps.
"I don't think we're young," Akinmoladun said. "Everybody is just stepping up. I don't want to say it's about age, it's about who you are.
"I could say the twins (Carlos and Khalil Davis) really have stepped up from being a young person saying 'hey we need to do this or get on top of that.' It's just everybody growing up and being a better person."
- Sean Callahan
Quick hits
***De'Mornay Pierson-El was at Tuesday's practice wearing a green no-contact jersey, as he still needs to go through the required two acclimation practices before putting the pads on.
***Diaco said he's not focused on the long-term with the cornerbacks coming up to fill the void of Jones' injury. He said the Huskers "don't fly at 40,000 feet" in their preparation, instead, they want to improve by ".001 percent" each day.
***Safeties coach Scott Booker did his first interviews on Tuesday, and he said he was definitely ready for all that comes with coaching at a place like Nebraska from his experience at Notre Dame.
***Just like the late Bob Elliott did this spring, Booker praised just how smart Williams was at safety and how much that would help the entire defense having him back there.
***Jackson said he grew up a lot over the past year just with his overall maturity. He admitted last year his ego was pretty big when he came to Lincoln, and when things got tough he said he would sometimes just go through the motions with his effort.
Now he's taken on a totally different focus, saying he doesn't even like to look back on last year's film because he's embarrassed by his play and effort.
***Eric Lee said he knew what kind of opportunity was in front of him from the moment Jones went down, and now he's determined to do everything he can to earn the starting position and answer the call.
***Cornerbacks coach Donte Williams said NU still has not done any work on the nickel defense this fall.
***Defensive line coach John Parrella said that a lot went into the moves they made since the spring. Junior Peyton Newell moved from defensive end to nose, Khalil Davis moved from nose to defensive end, and redshirt freshman Ben Stille moved from outside linebacker to defensive end.
"We are moving guys around at different spots and just seeing where they're going to excel," Parrella said.
***Linebackers coach Trent Bray said freshman outside linebacker Guy Thomas reported to camp at an impressive 230 pounds. It's safe to say he's got a very bright future.
"He's physically capable to do a lot of the job we ask," Bray said of Thomas. "He's long, he's athletic and strong. I not only very excited about where he's at, but his future. The ceiling is very high for him."
***There was some debate on where redshirt freshman Collin Miller fit the best in Diaco's defense. In the 4-3 Miller played defensive end, but Bray said they really think he's a better fit at inside linebacker in the 3-4.
"Just body type," Bray said on why Miller is inside vs. outside linebacker. "He's a big kid at 6-foot-3, 245 pounds and he can run and he's a smart kid too. He can make the calls and get the defense where it needs to be. I like Collin and think he's going to be a good player in this system."