Tuesday notebook: Wistrom, Peter inspire NU defense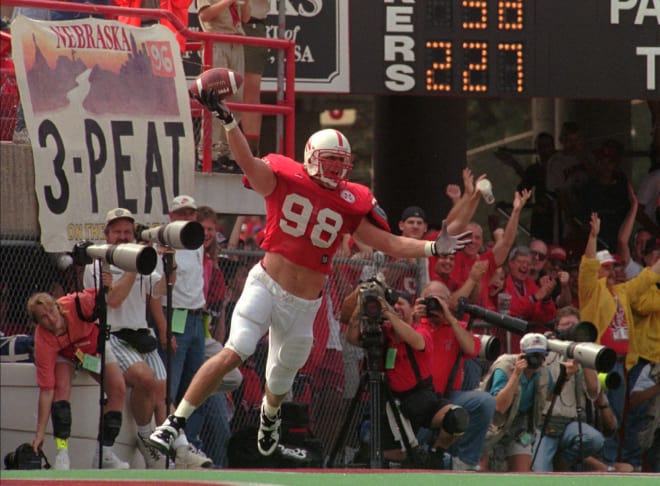 As Nebraska tries to build itself into the championship-level program it once was, its new coaching staff has made it a point to connect with the Huskers' rich past as much as possible.

In particular, head coach Scott Frost and defensive coordinator Erik Chinander have reached out to several former Blackshirt greats to give advice and deliver messages to the players about what it takes to be great.
The most recent example came this past weekend when legendary former defensive linemen Grant Wistrom and Jason Peter returned to Lincoln to watch practice and address the team on Friday.
According to Chinander, the current Huskers took Wistrom and Peter's words to heart.
"You could tell as soon as they got up on stage that the atmosphere - there was an electricity in the air, a tension in the room a little bit," Chinander said. "When the whole group was in there and then we let the offense kind of go on their merry way and we shut the door and really got down to business, then it became very high intensity. I mean, it was like we were practicing."
Chinander wasted no time connecting with the Blackshirt past when he first arrived at Nebraska, immediately reaching out to former defensive coordinator Charlie McBride - the creator of the Blackshirt tradition - to come to practices this spring. Then former NU defensive end Mike Rucker spoke to the team on the first fall camp practice.
Chinander said all of their messages came back to a common theme - that the only way to get back to what the Blackshirt defense used to be was to live up to the standard of the tradition every single day.
"As Grant and Jason so eloquently stated, when they were here the bar was set pretty high already," Chinander said. "They knew how to operate. It's not quite like that right now. I want those guys to get a taste of what that standard is, what the bar is supposed to be, how you're supposed to act when you're a Blackshirt.
"I don't think the level of the upperclassmen and those types of things have been here the past few years, so I think it's important to get guys who were there when they were operating at the highest level to verbalize it our guys."
Chinander said when Nebraska returned to the practice field on Saturday morning, there was a different level of intensity among the players, including a few "skirmishes" that broke out during the session.
"We were really inspired by them," senior defensive end Freedom Akinmoladun said. "Having Blackshirts - true Blackshirts - that went through the process, went through the training, and know what it means to truly be a Blackshirt, having them talk to us about the things we need to do to be where we want to be and to acquire our dreams, it's really inspirational."
- Robin Washut
Sunday scrimmage carried weight in depth chart evaluation
As far as determining what the first official depth chart will look like for the season opener vs. Akron on Sept. 1, no fall camp practice was more important than Sunday's full scrimmage.

Frost said on Friday that the scrimmage would be a big piece in the overall roster evaluation process for the coaches, and Chinander confirmed that the day served as exactly that for the defense.
"So far it's been a pretty flowing depth chart, if you will," Chinander said. "We've just been giving guys reps with the ones and twos and threes, whether they deserved them or not, just to kind of see. That was kind of the first time we're making evaluations saying, 'Now we kind of know where he belongs.'
"Yesterday was kind of a day where we got to see who we thought were the ones going against the ones and see if they really should be there, so I thought it was really important for us."
Chinander wouldn't say if any player had won a starting job outright just yet, but he pointed to a few defensive players who stood out during the crucial scrimmage.
Chinander mentioned defensive lineman Carlos Davis and linebackers Mohamed Barry, Dedrick Young, Will Honas, Collin Miller, Luke Gifford, and Tyrin Ferguson as players who all played well on Sunday.
The Huskers will hold another key scrimmage this Friday, where Chinander said some final decisions could come on the starting lineup.
- Robin Washut
Long wait worth it for Dixon
When Breon Dixon left Ole Miss for Nebraska, he knew there was a pretty good chance he'd be ruled immediately eligible for the 2018 season, but it still was a process to get the final word.

Dixon went through the entire spring not knowing for sure if he'd be cleared to play, which ultimately played a factor in how the coaches gave him reps in practice. He didn't get the final word until later in May, but he said on Tuesday it was well worth the wait.
"You always have that question mark in the back of your head when you aren't eligible," Dixon said. "That you are just out there to be out there. Of course, I was still going as hard as I could, and Coach (Jovan) DeWitt sent me my first message and I was back home.
"He was like 'I just want to let you know before we put it out that the NCAA just hit me up and said you are eligible. Congratulations. We are excited for you, and we are going to move ahead.' That's what we did. I'm just ready to see what the season holds. I'm just ready to get there."
Dixon was one of six former Ole Miss players that left Oxford and were ruled immediately eligible for this upcoming season by the NCAA. He still keeps in close contact with those guys, including Michigan quarterback Shea Patterson.
"We all talked about the situation, but not that much," Dixon said. "We all knew we were fighting for the same case and the same thing that everybody wanted. We really didn't talk about that much, because we didn't want to jinx anything, but we did stay in contact throughout that period."
- Sean Callahan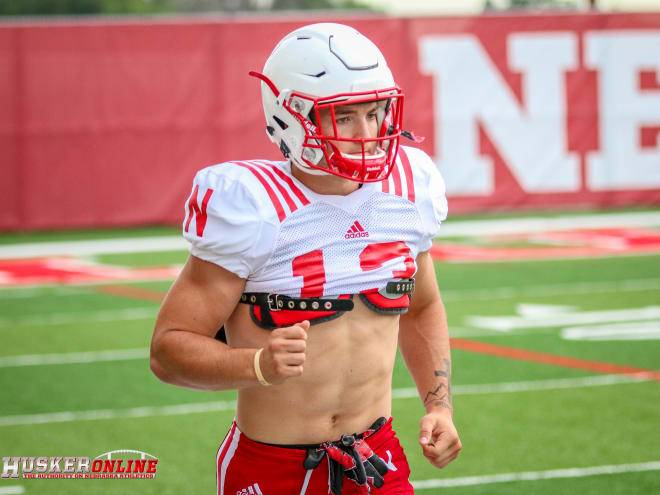 Four players competing for starting nickel job
One of the key pieces to the defense we haven't heard much about to this point is the nickel corner.

Talking for the first time since the spring, secondary coach Travis Fisher gave an update Tuesday on the players he's looking at for at the nickel right now.
"We have a group," Fisher said. "Right now, it's Dicaprio (Bootle), JoJo (Domann) is playing some, Ethan Cox is playing some, and Cam Taylor is playing some. Right now, those are the guys."
Fisher added it's been a tightly-contested battle in camp, especially with Domann's recent re-emergence since coming back from a major knee injury.
As for what he's ultimately looking for, Fisher said it was pretty simple.
"I'm just looking for guys that play within the defense first," Fisher said. "Then looking for guys that are gritty at that position, and that can tackle, cover – just the basic things I would be looking for in the other positions.
"Right now, I think we have a good group of nickels. It will be exciting to see who falls into that spot at the end of camp."
- Sean Callahan
Huskers want to be aggressive on special teams
Special teams coordinator Jovan Dewitt says Nebraska's return game was starting to take shape through 10 fall camp practices.

While a lot of the names at the kickoff and punt return spots are familiar, the Huskers aggressive approach may surprise some this fall.
"It's going to be a familiar crew for a lot of those guys," Dewitt said. "Tyjon (Lindsey) has done really well. Stan (Morgan Jr.) has done really well. Maurice Washington has done some really good things in terms of the back end being able to secure the ball and get loose.
" The good thing about it is we've got a plethora of guys that we can use right now. We've got a lot of depth in terms of returners. Each one's got a slightly different skill set in terms of being able to turn it on or make people miss, but I'm pretty pleased with the progression of those guys."
Whoever wins the top return jobs, Dewitt said NU planned to dial the aggressiveness up this season.
"We're going to be aggressive now," Dewitt said. "We're trying to go after some stuff. I am excited about it. It's really cool because they have bought into a lot of the mentality we've got on special teams. We're going to be as aggressive as anybody you see in terms of special teams.
"Now, we're going to pick and choose strategically when and where we need to go after things when we need to return things so we're not making dumb mistakes. But the mentality we've got is to be as aggressive as we can be."
- Nate Clouse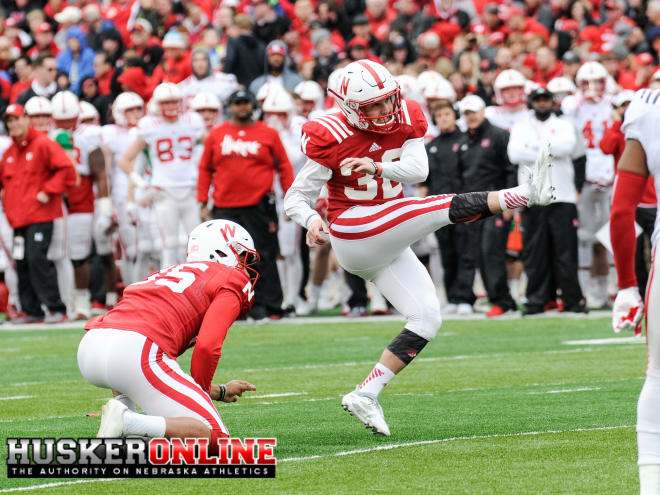 Pickering, Lightbourn taking charge in kicker battles
While there is an ongoing battle at placekicker and kickoff specialist, Dewitt says true freshman Barret Pickering and junior Caleb Lightbourn currently hold an edge at the respective positions.
"Pickering has done a really nice job in terms of his accuracy and location, he's done a really good job," Dewitt said. "Caleb has probably been the most consistent in terms of kickoffs. It's still an ongoing battle, obviously. There's limited reps for those guys throughout the course of camp just because it becomes really expensive for the team to go through the reps of covering a kick in terms of the expense on their legs.
"(Pickering's) surprisingly got a lot more distance in his leg for field goals than you would think because he's not a very big person. He's kind of little, but he's got a pretty good range. The other day I think he was just shy of 56 (yards), so that's pretty good."
- Nate Clouse
Things starting to come together for Thomas
Outside linebacker Guy Thomas was one of the more highly-touted prospects in Nebraska's 2017 recruiting class.

The four-star recruit out of Miami (Fla.) Booker T. Washington redshirted last season as a true freshman and Dewitt said he can see things are starting to click for the talented player.
"He's going to be a really good player, absolutely," Dewitt said. "He's still a redshirt freshman, so he's still got this year and three more to go. Once it clicks for that kid - which it's really starting to, you can see it - he's going to be a really good player."
Dewitt said he already knew all about Thomas since he hails from his main recruiting territory and was excited about his future at Nebraska.
"From him being down at Booker T. and me being down in South Florida, absolutely I knew who he was in coming here," Dewitt said. "His coach, Ice Harris, is awesome. (Thomas) is going to be a really good player."
- Nate Clouse
Quick hits
***Safety Tre Neal said the only difference he's noticed from the coaching staff now to when they first took over at UCF is they are much calmer and confident in what they're doing. Neal said he's definitely sensed how good the staff's chemistry is now, especially after thinking they were a little nervous in their first season together.

***In talking about head coach Frost's aggressiveness as a coach, Neal noted one of Frost's philosophies of always going for it on fourth down-and-manageable situations any time the offense was past the 50-yard line.
***Safety Deontai Williams said the players always look to the team's "Performance Chart" that is updated after every practice to see where they stand in their respective position battles. Williams said at safety, Neal and Antonio Reed are tied for the most points, but he was just one point behind them.
***Williams said one of the biggest differences between the spring and the fall for the secondary is a "nastiness" within the unit, which he said stems from more confidence and experience in the defense.
***Inside linebackers coach Barrett Ruud said Collin Miller was probably the No. 4 inside linebacker right now after Young, Barry, and Honas. He also said Jacob Weinmaster was in the mix.
***Fisher said he made it a point to challenge cornerback Lamar Jackson specifically this spring and at first Jackson fought back a little bit. Fisher said Jackson quickly realized that was a battle he wasn't going to win and has since embraced the challenge really well.