Tuesday notebook: Tradition, history helped decide Blackshirts
Tuesday's practice marked the official unveiling of the latest group of Blackshirts that were handed out for the start of the 2016 season.
In all, 13 defensive players were awarded with the honorary black practice jerseys, including four defensive tackles, five linebackers, and four defensive backs.
Up front, defensive tackles Kevin Maurice and Mick Stoltenberg and defensive ends Freedom Akinmoladun and Ross Dzuris received Blackshirts.
At linebacker, Josh Banderas, Michael Rose-Ivey, Marcus Newby, Dedrick Young and Chris Weber all earned the jerseys. The four recipients in the secondary were cornerbacks Joshua Kalu and Chris Jones and safeties Nate Gerry and Aaron Williams.
Defensive coordinator Mark Banker discussed the coaching staff's thought process behind the latest round of Blackshirts following Tuesday's practice. He noted that the selection was much easier this time around than it was a year ago.
"There was such a concern the last time around, really from veteran players, former players, as to what was going to be done," Banker said. "Having no idea about the recent past and what wasn't maybe done with the Blackshirts, I mean, it seemed like an arduous task. Giving out the Blackshirts this time around was fun."
One key addition this year was having a former Blackshirt on staff to help with the process in defensive line coach John Parrella.
Parrella downplayed his role in the selections, but Banker said Parrella gave the 13 newest members a lesson on what it meant to be a Blackshirt and the history behind the jerseys.
"We had him come up in front of the group and tell them from a player's perspective, which was awesome, as far as what it meant," Banker said.
"He brought up the word 'botherhood' and playing together and for one another, the sacrifices that you put forth for one another, and the fact that you come out every day, establish a way to play, and you earn it every day when you come out to the field."
The most represented unit among the 13 were the five linebackers.
Regarded as arguably the deepest group on the entire defense, linebackers coach Trent Bray said there was no denying that all five players had earned the right to wear the Blackshirts with their play and leadership over the past year.
"What it was was we looked at the body of work since we've been here and who's earned them," Bray said. "Not only through practice, but playing and a bunch of different factors.
"So those guys like Josh, Chris and obviously Dedrick, Marcus and Michael have all earned that through game play and what they've done in practice. That's why we gave five guys those Blackshirts."
- Robin Washut
Banker explains omission of Kieron Williams as Blackshirt
Maybe the most notable omission from the 2016 Blackshirts was the only player listed on Nebraska's starting defense for Saturday's season opener who didn't get one - junior safety Kieron Williams.
Despite being named one of the starting safeties along side Aaron Williams with Gerry out due to suspension, Kieron Williams did not have one of the coveted jerseys hanging in his locker prior to Tuesday's practice.
Banker explained the thought process behind leaving Williams off the list of recipients, and he made it clear that there was still time for Williams to earn one down the road.
"Overall, it's something that people work for, not only off the field, in the weight room, in practice, the way they carry themselves, the leadership and all that stuff," Banker said. "I think Kieron along with about four other guys are right there from a standpoint of becoming Blackshirts.
"I think they need to prove it to themselves and prove it to the group that they in fact truly earned it, because that's what it should be. It should be earned, just as in order to keep that Blackshirt, it should be earned as well.
"He's done a tremendous job. I think we've talked about Kieron along the way here in camp … Just his maturity and the way he expresses himself, that has translated to the field as well. So let's do it in front of the nation."
- Robin Washut
Parrella gives unique perspective on Blackshirt tradition
It's a big deal to be a Blackshirt at Nebraska and perhaps no one on the team has a better understanding of the tradition than Parrella because he's a part of its history.
The defensive line coach was an All-Big Eight selection, three-year letter winner, team captain and even won Lifter of the Year as Husker. Perhaps above all of that, Parrella was a Blackshirt.
He addressed the team a few days ago about the significance and while the exact details of that aren't known, Stoltenberg says it made quite the impact.
"A few days ago he kind of just talked to the whole defense about what it means," Stoltenberg said. "He's talked to the d-line multiple times throughout the summer and throughout the spring and then this fall about what it means to be a part of this brotherhood."
Being a Blackshirt is more than just being a starter, Parrella stressed it's about being a part of a "brotherhood" and a way you go about your business according to Stoltenberg.
"I thought I knew what it meant coming in just being a kid from here," Stoltenberg said. "I definitely have a further understanding of what it means after hearing his philosophy, his take on it."
-Nate Clouse
Stewart says freshman CB Jackson will have big role Saturday
There's no question true freshman cornerback Lamar Jackson is going to see snaps on Saturday against Fresno State, it's just a matter of how many?
Secondary coach Brian Stewart addressed that topic on Tuesday as he gets the talented newcomer ready for his first ever career playing time.
"He's is going to play playing in our sub stuff," Stewart said. "He's going to be the boundary corner in our stuff. He's going to play and should get a lot of plays, then he's on all the special teams. Probably 25 to 30 plays."
Stewart said he's been really impressed with the development of Jackson this August, and said he brings a certain skill set to the table you sometimes can't coach.
"He has a knack for attacking the ball," Stewart said. "It's hard to overthrow him because he's so tall, so that's big for us."
-Sean Callahan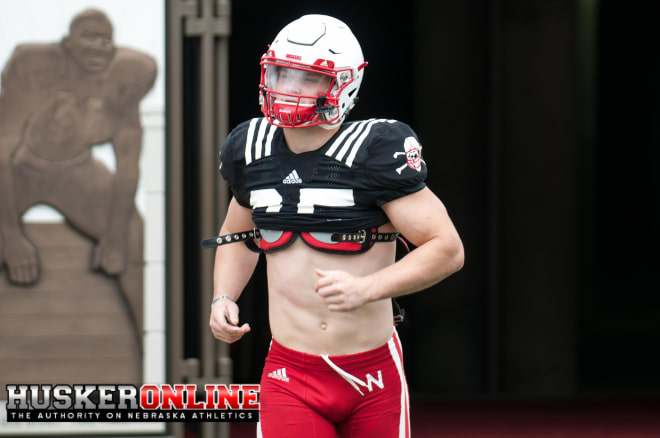 Quick hits
***Nebraska got some welcomed returns to its offensive line on Tuesday, as guards Corey Whitaker and Jalin Barnett were both back in pads and practiced. Whitaker had missed the past two weeks after arthroscopic knee surgery, and despite his return he's unlikely to play on Saturday.
***Also back in action was redshirt freshman tight end Matt Snyder.
***The only notable player who sat out of Tuesday's session was sophomore safety Antonio Reed, who had a sleeve brace on his right knee.
***Bray said the two nickel linebackers would be Banderas and Young.
***Freshman defensive back Tony Butler announced via Twitter that he would be undergoing season-ending shoulder surgery on Friday. Still, Butler was in pads and practiced on Tuesday.
***It was the same situation with freshman linebacker Quayshon Alexander, who practiced Tuesday even after head coach Mike Riley said on Saturday that Alexander would also miss the season due to surgery.
***NFL scouts from the Baltimore Ravens, New York Jets and Washington Redskins were in attendance for Tuesday's practice.