Tuesday notebook: Pierson-El locked in as No. 1 punt returner
Considering that De'Mornay Pierson-El broke onto the scene three years ago as a true freshman and established himself as one of the most electric punt returners in college football, it would seem like a foregone conclusion he would once again assume those duties in his senior campaign.
But with the emergence of stellar freshman Tyjon Lindsey and Pierson-El coming off two straight injury plagued seasons, there was some discussion that Nebraska might opt to take some of the workload off the Alexandria, Va., native's plate.
Head coach Mike Riley confirmed on Tuesday that the Huskers have no intention of removing their former Freshman All-American return man out of that role for their season opener vs. Arkansas State.
That said, Riley added that NU has made it a point to have a couple other players - notably Lindsey and receiver Stanley Morgan Jr. - ready to step in if necessary.
"We all love De'Mornay and what he can bring," Riley said. "We also have to have other guys trained. I think Tyjon Lindsey's a natural. I think he could go back there. We know Stanley Morgan is very reliable and can make big plays for us. We're pretty versatile, but De'Mornay will be the initial guy."
Pierson-El will go into the first game looking to recapture the magic he showed as a true freshman, when he led the nation with 596 punt return yards and three touchdowns.
The biggest issue standing in his way of doing so, and one of the main reasons why there has even been a discussion of him possibly giving up his punt return duties, is finally getting back to his old self after a series of injury setbacks.
Pierson-El had his sophomore season cut short by a foot fracture and then torn ACL in 2015. He was clearly still not his normal self last season as a junior, averaging just 7.3 yards on 23 punt returns, though he still earned honorable-mention All-Big Ten recognition.
Now feeling better and stronger than ever, Pierson-El is ready to put his bad luck behind him and have his best season yet as a Husker.
"If I'm thinking about getting hurt, then I'm really not playing," Pierson-El said. "I'm not thinking about getting hurt, I'm thinking about having fun and just playing."
- Robin Washut
Stoltenberg returns to action
Nebraska got a very welcomed return to practice this week, as junior nose tackle Mick Stoltenberg returned to action after missing all of last week with a head injury.
Stoltenberg had to go through concussion protocol before being allowed back on the field.
Riley said the 6-foot-5, 305-pound native of Gretna, Neb., picked up right where he left off when he returned to work on Monday and Tuesday.
"He came back Monday and has gone these two days - whole days," Riley said. "He's doing well."
Locked in as the Huskers' No. 1 nose tackle heading into the season, NU is definitely to happy to see Stoltenberg back in the mix.
During his absence last week, Nebraska has true freshman Deontre Thomas working as the No. 1 nose.
- Robin Washut
Versatile Davis finding his role at 'Cat' linebacker
Sophomore linebacker Alex Davis didn't really watch much football growing up.
A standout basketball player, the 6-foot-5 Davis never even played football until his senior year of high school.

But after two seasons in Nebraska's program, the versatile athlete now finds himself as the starter in a crucial position of the new 3-4 defense.
"I really didn't know what to think of it at first," Davis said. "But we got out on the field in the spring and I started doing the movements, dropping back in pass coverage, and it started to feel natural after that."
Used as a defensive end primarily in pass-rushing situations in 2016, Davis has learned all the facets of being a linebacker from veterans like Chris Weber, Marcus Newby, and Dedrick Young.
Absorbing the techniques of pass coverage was one of the bigger learning curves for Davis, but his versatility and ability to pick things up quickly over the last three years has put him in a vital role in the new defense.
"I come out with the same energy every time," Davis said. "(Cat) is just another position my team needed me to play, and that's what I'm doing."
- Matt Reynoldson
Conrad said competition with Decker was 'a battle'
There was a point this spring where it looked like sophomore Michael Decker could end up being Nebraska's starting center in 2017.

Then NU took junior Cole Conrad and moved him from tackle to center, putting him in a head-to-head battle with Decker.
When the dust settled, Conrad ended up winning the starting job, but it was one of the better competitions this off-season.
"He's a great center," Conrad said of Decker. "He's a smart kid and he's got good technique. It was a battle. It was neck and neck for a while. I thought he might have had a better spring than me honestly, so I just have to keep working, keep grinding and keep growing. Things worked out."
So why did Conrad think Decker had the edge at one point?
"Just kind of some of the technique stuff during the spring I was a little off," Conrad said. "I was kind of getting back in the swing of things at center. I just kept on grinding and it kind of fell into place."
- Sean Callahan
Huskers enjoy relaxing weekend
Between the Kendrick Lamar concert on Friday and the Terrance Crawford fight on Saturday, downtown Lincoln was the place to be seen.

Luckily for the Huskers, Riley surprised the team on Friday by cancelling practice Saturday and giving the entire team tickets to the Lamar concern.
"Nobody really expected it," sophomore cornerback Lamar Jackson said. "The concert was big, but the biggest part was not having to go practice Saturday morning. That was the biggest thing, because it was the end of camp.
"It was a good way to wrap it up and have some fun with team and regroup on Monday."
Jackson added the team came back strong this week, despite the extra time off.
"Everybody came back with the same energy and intensity like Coach Riley says all the time," Jackson said. "We came out with that first day energy and everybody came out ready to compete.
"We have to keep building because we play next week. It's not time to take a break. That alone motivates people to get through the weeks."
- Sean Callahan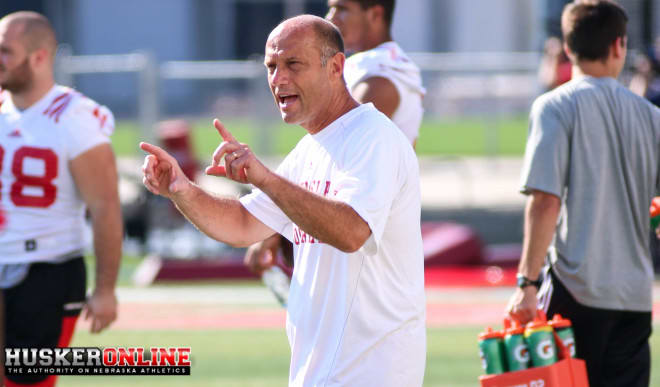 Quick hits
***With classes starting this week, Nebraska's full team has joined the rest of the 105-man roster for practices. The new additions had to go through a two-practice acclimation period on Monday and Tuesday before they can go full-pads.
***Riley said the coaching staff has awarded some walk-ons scholarships, but they weren't done selecting all of the players who would receive one. Thus an announcement on which players were placed on scholarship will likely wait until this weekend.
***Riley said they've also decided on the redshirt statuses of several true freshmen for this season, but again that process was still ongoing and no announcements are ready to be made.
***Riley also said a vote on the team captains for this season would be made by the coaches and the players sometime this weekend.
***Riley said no running back has emerged as the No. 1, but he thinks Tre Bryant, Devine Ozigbo and Mikale Wilbon have all been really consistent this this fall.
***Riley said freshman running back Jaylin Bradley has missed the past couple days with an ankle injury.
***Tuesday was the birthday of defensive linemen Carlos and Khalil Davis. Carlos Davis said he had heard rumors that Stoltenberg was organizing an effort amongst the players to dunk the twins in the cold tub after practice, but Carlos said he didn't plan on letting that happen.
***Carlos Davis said he recently watched some game film of himself from last season and couldn't believe how much better of a player he is now than he was a year ago. He said he's thrived in the new 3-4 scheme and can't wait to show everyone what he can do.
***Right guard Tanner Farmer said he's seen a definite sense of urgency in David Knevel this offseason and expects a big year from the senior right tackle.
***Cornerback Jeremiah Stovall said a big reason why he was so underrated as a recruit coming out of Creighton Prep was that his head coach got fired at the end of his senior season and he didn't have anyone to help get his name out there to college coaches. Stovall made Nebraska's roster during an open walk-on tryout, and now he's getting reps with the No. 2 defense this fall.
***Cornerback Lamar Jackson said he can't believe how much better of a player he is than where he was last year as a true freshman.
***Conrad was quick to praise the play of freshman defensive tackle Deontre Thomas on Tuesday.
"Deontre Thomas is doing a great job," Conrad said. "He's got great quickness and power to him. (He and Mick Stoltenberg) are both good players and they are both really working on helping me get better."