Tuesday notebook: Jackson will grow from tough debut
Lamar Jackson was one of several true freshmen to make his Husker debut on Saturday night, but it was a bit of trial by fire for the former four-star recruit.
With Nebraska playing predominately with five defensive backs against Fresno State's spread offense and senior safety Nate Gerry out due to suspension, Jackson saw extensive snaps as the boundary cornerback with junior Joshua Kalu moving inside as the nickel back.
Bulldog quarterback Chason Virgil made it a point to throw at Jackson early and often with relatively good success, including FSU's only touchdown pass in the game.
However, Nebraska thinks Jackson will benefit from the experience in a major way and will continue to have a big role in the secondary going forward.
"I thought it was good for him, and I don't think he shied away from anything," head coach Mike Riley said. "I thought he played aggressively and confidently... He really kept competing, did not seem phased at all, which I appreciate a lot."
Statistically speaking, Jackson ended up having a pretty impressive night in his first game as a Husker.
His six total tackles (five solo) tied for third on the team, and he added a quarterback sack and two tackles behind the line of scrimmage of a total loss of 14 yards.
"I think I played all right," Jackson said. "The biggest thing I learned is that people are going to catch the ball, and you've got to have a short-term memory. When people did catch the ball on me and when I got scored on, none of my teammates knocked me down, they built me back up.
"Once I realized that, I could just go out there play. They were depending on me out there, and they trust me, so I just did my thing."
Defensive coordinator Mark Banker said Jackson definitely seemed "a bit tentative" in his first collegiate action, but as the game wore on the talented freshman continued to settle in more and more.
"There is no doubt in my mind that he is a good football player, a good athlete, and more importantly, he wants to be a good football player," Banker said. "We'll continue to see more of him along the way. We're not going to hand anything to him. He's going to compete just like everybody else.
"But I think what's important for every freshman in the secondary, you can learn by fire, but at the same time, you want to make sure that they always have confidence. Even veteran corners, if they lose their stinger, it's not a good thing."
- Robin Washut
Wide outs adjust in first game without Williams
Though Nebraska had known for weeks that Keith Williams would be absent from the first four games of the season, it still felt a bit strange for the players not having their wide receivers coach on the sideline in Saturday's season opener.
Senior receiver Alonzo Moore said he and the rest of NU's wide outs did their best to prepare themselves for taking on Fresno State without Williams, but it was definitely still an adjustment.
"It's something that we went through in practice, and we knew we had to get used to not hearing Coach Dub's voice," Moore said. "So when the game came, it was just normal. We kind of got used to it during practice, but we miss him a lot."
The game ended up being a very quiet night for the receivers as a whole. The unit only caught a total of five passes for 109 yards, with Moore accounting for nearly all of that with his career game of three catches for 92 yards and a touchdown.
The good news for the wide outs was that Williams was able to rejoin the team at practice last Thursday, and he'll continue to work with the players during the week before finally returning for his first game of the year against Illinois on Oct. 1.
"He brought me a long way," Moore said of Williams. "Without him, I wouldn't be as successful as I am on the field. I'm taking his coaching and putting it in the game… I've learned a lot from him."
- Robin Washut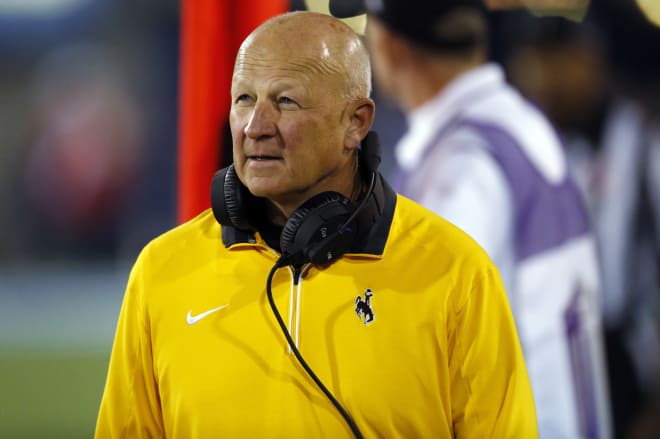 Bohl: Nebraska game about the players, not him
Craig Bohl knew the questions were coming well before he sat down for his weekly press conference on Monday.
The second-year Wyoming head coach is a native of Lincoln, Neb., played at NU in the late 1970s, and coached at his alma mater for total of 11 years.
On Saturday, Bohl will be making his first trip back to Memorial Stadium as an opposing head coach. In typical fashion, Bohl made it clear right away that he wasn't the storyline this week.
"It is a business trip," Bohl said when asked if this game held any additional meaning personally. "My parents still live there and my younger daughter lived there.
"But as coaches, you travel around the profession and guys end up coaching at another school than what you played at. It really is a business trip, and it's about our players."
Bohl praised the Huskers on both sides of the ball, particularly quarterback Tommy Armstrong.
He also said the Cowboys had already been preparing for Nebraska since the start of fall camp, and he was excited to see how his team would respond to playing on the road in such a daunting environment.
"I think any college coach would tell you it's about the players," Bohl said. "You focus on the game at hand and you focus on our players here. I'm excited about coaching these guys, and it'll be a big challenge going over and playing a Big Ten team."
- Robin Washut
Huskers add new wrinkle to prepare for 11 a.m. kickoff
Riley has talked about the struggles his team has had in the past getting up and ready for 11 am kickoffs.
This season Riley and his staff came up with a new idea to help them get ready for Saturday's early kickoff against Wyoming.
"It's a bit of a challenge, but the coaches have some things planned to get us up for Saturday morning to get us moving," senior linebacker and captain Josh Banderas said. "They gave us these new glasses that block blue light that suppresses your melatonin. They are trying to get us to sleep better.
"You are supposed to wear them three hours before bed and it's supposed to help your melatonin stay up."
Redshirt freshman defensive end DaiShon Neal said the players are supposed to start wearing the glass starting Tuesday night.
"It's supposed to help us sleep better after being on your phone, your iPad and watching TV. That light, it keeps you up and messes up your sleep pattern," Neal said. "With those glasses on it will get us to sleep faster and help us get proper rest on game day."
-Sean Callahan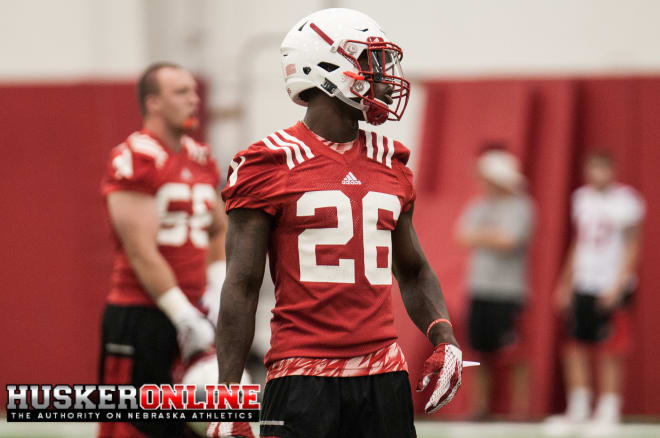 Quick hits
***Despite racking up a team and career-high 10 tackles and an interception against Fresno State, junior safety Kieron Williams still hadn't been awarded a Blackshirt as of Tuesday's practice.
***As expected, sophomore safety Antonio Reed was back in action on Tuesday after missing the Fresno State game with a knee injury.
***Even better injury news: no notable players sat out of Tuesday's practice.
***Banker said while it's obviously good to have Gerry back this week, he noted that Gerry hasn't played a full football since since Nebraska's win over Rutgers last November. Gerry is clearly the leader of the secondary, but Banker said the senior needed to work his way back into game mode this week.
***In Gerry's absence, Banker said Kieron Williams was one of the vocal leaders on the field against Fresno State. Banker also said Williams was "very boisterous" during Tuesday's practice, which was a good thing to see.
***Linebacker Luke Gifford said he understands why his hit on Fresno State's quarterback was flagged for targeting and admitted he needs to be smarter in those situations. However, he said he watched several other hits over the weekend - including the one by teammate Aaron Williams that had a targeting call overturned - that seemed a lot worse than what he did.
***Gifford said he's basically locked up the No. 1 dime linebacker job, and he really enjoys that role because it emphasizes his two best skills, coverage and blitzing.
***Linebackers coach Trent Bray said he thought the pass coverage from his group was night and day from where it was last season. Bray said they played six linebackers vs. FSU and he feels very comfortable about knowing which packages suit each of those players the best.
***Nebraska is experimenting with a new technique to improve how well players sleep this season. The Huskers are wearing special glasses they put on about three hours before they go to bed to help their eyes adjust and relax after staring at computer and phone screens much of the day. The idea will hopefully especially help with the team's overall energy level for 11 a.m. games like they have this week.
***Banker said the defense has been charting a stat call "Ls" - or "Loafs" - dating back to last season. The stat measures how many times a defensive player doesn't run to the football after every play. Banker said they only counted three "Ls" on Saturday.
***Gerry was asked if Wyoming head coach Craig Bohl recruited him very hard when Bohl was at North Dakota State and Gerry was a high school standout in South Dakota. Gerry said NDSU was the only school in that area that didn't recruit him.
***NFL scouts from the Cleveland Browns and Houston Texans were in attendance for Tuesday's practice.