Tuesday notebook: Four (almost five) new Blackshirts awarded
Following Nebraska's first win of the season, four defensive players are sporting brand new practice jerseys this week.

Junior cornerback Lamar Jackson, senior safety Tre Neal, and junior defensive linemen Carlos and Khalil Davis were all awarded Blackshirts prior to Tuesday's practice, bringing the total number up to 12.
The new additions joined nose guard Mick Stoltenberg; linebackers Mohamed Barry, Dedrick Young, Luke Gifford, and Tyrin Ferguson; cornerback Dicaprio Bootle; and safety Aaron Williams.
There was also supposed to be a fifth new Blackshirt handed out as well, but sophomore defensive end Ben Still decided to turn his down because he felt he hadn't truly earned the honor yet, per head coach Scott Frost on Tuesday's Big Ten teleconference.
Defensive coordinator Erik Chinander said it was mostly a matter of timing as for why the recipients earned the jerseys this week, as the staff didn't feel right about giving them out after a loss even though the players may have performed well enough to get them.
"We want to get all the starters (wearing Blackshirts), and we've been waiting for an opportune time," Chinander said. "Guys have learned how to practice and learned what we want out of the defense...so it was a good time to get the starters into the Blackshirts."
The new Blackshirts were the highlights of what has been a steady improvement by Nebraska's defense across the board the past two weeks.
Aside from the last-minute meltdown at Northwestern, the defense has been playing some of its best football of the season the last two outings, including arguably its best showing yet in Saturday's win over Minnesota.
But as far as NU has come on that side of the ball, Chinander said his group was "still a country mile away" from playing a complete football game.
"(There were) two big plays (allowed vs. Minnesota) we didn't like … but both plays are easily correctable," Chinander said. "Other than that, guys were pretty assignment-sound. Guys ran to the ball, guys tackled, we created a turnover when we needed to, and got a couple big stops on fourth down.
"The biggest thing was that we got put in bad positions a couple time for field position, which happens. That's football. But the difference was the guys said, 'This is our chance. This is a challenge. Let's go get this thing.' We have a long ways to go, but they're starting to embrace things that make you a good defense."
- Robin Washut
Jackson 'ecstatic' to get Blackshirt back
Of the four new players that were wearing Blackshirts on Tuesday, nobody may have been happier than Jackson.

It's been a long, hard process for the California native, who was benched against Purdue and didn't start the following week at Wisconsin.
Jackson has been a starter each of the last two weeks, and it appears he's taken a huge step in the right direction.
"He's doing the things off the field that we want him to do, embracing the culture that Coach Frost is creating, embracing his job in the defense and some of the techniques," Chinander said. "One thing we've been focusing on with him is he's been in phase. A lot of the football games we've seen a lot of penalties because he's not looking at the ball and not using proper technique.
"This past game, he was in phase, he looked for the football, he made plays on the football. So we felt like he was trying to do things the right way. He's improving steadily, and we felt like wanted to give him (a Blackshirt)."
For Jackson, the biggest thing is he and the coaches are on the same page. He didn't quit on them, and they didn't give up on him.
"My hard work is actually paying off," Jackson said. "I'm gaining the respect of my coaches, as well as my teammate in the locker room. I'm in a good place right now. I'm happy I got it. I've got to keep improving."
"What I went through, I just kind of feel that's one of the things the coaches talked about. Everything isn't going to be sweet. The grass isn't going to always be greener on the other side. They kind of pulled me to the side and said, 'we kind of hold you to a different standard.' We want you to be a pro and we expect you to act like a pro.
"At the end the day, once we saw eye to eye and I realized it wasn't out of spite, it was more about me and my future and to benefit me, I had no problem of going out there working and getting my spot back, as well as a Blackshirt."
- Sean Callahan
Dawson happy to see Davis twins earn Blackshirts
Several defensive standouts earned Blackshirts prior to Tuesday's practice including defensive linemen Carlos and Khalil Davis.

While defensive line coach Mike Dawson doesn't have the final say on which players get Blackshirts, he was certainly happy to see the Davis twins had earned theirs.
"As a coach here at Nebraska, you want to have a lot of pride in it," Dawson said about the Blackshirt tradition. "I want my guys to earn it, I want them to want it, and I want it to mean something to them. It's a fine line. You want everyone to be included in doing it, but you also want to be smart and handle it the right way.
"The twins, I was real happy for those guys. They've been grinding pretty hard and playing pretty well. We haven't had a lot of reasons to get too excited (this season), so for those guys, I'm happy for them."
Throughout the twins' careers at Nebraska, Carlos has typically been the one to grab more of the spotlight. Although Dawson says the light has really come on for both of the twins recently, he's been especially impressed with the play and selfless attitude of Khalil as of late.
"I'm real happy for Khalil," Dawson said. "Talk about a real selfless guy. He's played the end position, in the spring he was playing the nose, he plays on the right side, the left side, he'll be over the center playing the nose in different times during the game. I'm happy for him. I'm happy for his production.
"You can see the way that he plays. He's making a play on a screen at Wisconsin, flying around making tackles on the sidelines. You see him throwing his body all around and for a 300-pound guy that's not easy to do. He's playing super hard and you're happy to see the production. He had two that he was just so close on the other day, getting a couple more sacks. I think that those numbers will continue to go (up) the more confidence that he has.
"Both of those guys are just awesome guys. They are really selfless and will do whatever you ask them to do which is awesome to have with guys. You can't appreciate that enough as a coach."
- Nate Clouse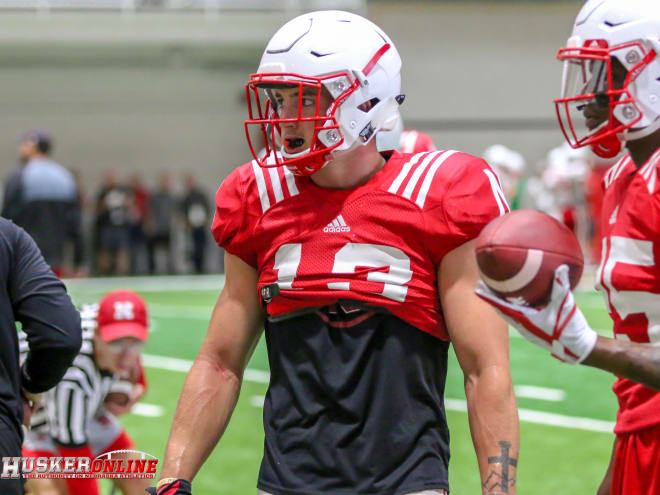 Domann's versatility will be a useful weapon for NU defense
JoJo Domann has been in line to be a major factor on Nebraska's defense since the day he arrived on campus as a three-star recruit in the spring of 2016.
After playing in every game as a true freshman, primarily on special teams and as a safety recruit, Domann's career path got derailed not once, but twice by two ACL surgeries in a span of just seven months.
The Colorado Springs, Colo., native could only watch from the sidelines as the Husker coaching staff flipped and his teammates got started making first impressions on the new staff.
But Domann stayed focused and battled through his second ACL rehab to get cleared to return to action this fall. Now less than three months later, the 6-foot-1, 225-pounder is back in the mix at multiple positions.
While still considered a safety, Domann was listed on NU's depth chart this week as the co-No. 2 outside linebacker alongside Alex Davis and behind Ferguson.
Chinander said having a player with Domann's wide-ranging skill set was a valuable asset in a lot of ways for NU's defense. More so, Chinander said he couldn't be prouder of how Domann persevered and rallied back after two major knees injuries.
"Earlier he was obviously beat down a little mentally because of it," Chinander said. "But he's really done a good job of wanting to get back, wanting to contribute, learning the defense, knowing what he has to do in practice, and also he's going to help us tremendously on special teams."
Now healthy and back on the field, Domann's teammates couldn't stop raving about his ability and versatility.
"Before he was injured, he was very physical at safety," Barry said. "Probably our most physical safety at fall camp, and a lot of guys can attest to that."
"You just don't want him to get a clean shot on you, because he might knock you out," wide receiver Mike Williams said. "JoJo is a baller."
Gifford has a fairly unique perspective on Domann's situation in that he too was a former safety who converted to linebacker. Gifford said Domann possessed all the traits necessary to be productive no matter where he lineup up on defense.
"He's a really good player," Gifford said. "He's a physical kid, pretty good size. He's a little unique to the group because he's a safety or he was a safety. He's got more coverage ability. I think he's going to great. He's a great player, he's physical, so we're excited to have him in the room."
- Robin Washut
Quick hits
***Fisher made sure to clarify that despite being listed as a co-No. 2 outside linebacker, Domann was most definitely still a safety and spending nearly all of his time working with the DBs.
***Chinander said plays like Eric Lee's tackle to save a touchdown on Minnesota's 87-yard kickoff return in the fourth quarter were what coaches call "GAP" plays – Game Altering Plays.
Chinander also pointed to a play where Maurice Washington was tackled from behind and swung the football out in his hand as he was going down. Stanley Morgan Jr. instantly ran up and wrapped Washington up to make sure the ball got back under control to prevent a fumble.
"Those are championship plays," Chinander said.
***Nose guard Mick Stoltenberg (knee) was in his Blackshirt and practiced during Tuesday's helmets-only session. Dawson said it was still to be determined when the senior would be able to return to action but was encouraged by Stoltenberg's progress thus far.
***Cornerback Dicaprio Bootle said he can tell teams have been trying to pick on him in the passing game all season, and that's something he's embraced as a challenge. He said going up against Morgan on almost every practice rep since the spring has prepared him for anything.
***Chinander said even though NU took Monday off and only practiced in helmets, jerseys, and shorts on Tuesday didn't mean the Huskers were taking Bethune-Cookman lightly. He said it was all because the team didn't have a bye week and needed to let the players' bodies recharge as much as they could.