Tuesday notebook: DBs living up to 'Lockdown U' mentality
Nebraska already had an idea that its secondary was on the verge of transforming from arguably the defense's most glaring weakness in 2015 to one of its biggest strengths this season.
When the Huskers' defensive backs broke out customized t-shirts with the nickname "Lockdown U" emblazoned across the chest towards the end of fall camp, that turnaround all but became a certainty.
In helping NU get off to an impressive 3-0 start, the secondary has emerged as one of the best groups in college football.
The Huskers currently rank second in the Big Ten Conference and 16th nationally in pass efficiency defense, but it's been their ball-hawking play that has truly opened some eyes around the country.
Nebraska ranks sixth nationally with eight total takeaways on the year, with seven of those coming on interceptions by defensive backs. In the win over Wyoming alone the Huskers picked off five passes along with a fumble recovery, marking their most turnovers forced in a game since 2010.
"It's just a mentality," said junior safety Kieron Williams, who's tied with safety Nate Gerry and cornerback Chris Jones for the team lead with two interceptions. "You no longer just represent yourself, you represent a group.
"So if you can carry that into game day, carry that into practice and even into class, and you know that the assignments you have to do in class to get your grades to be what they're supposed to be so you can play, that's the 'Lockdown' mentality. It's not just on the field, it's off the field as well. I think once you have an identity as a group, that allows the group to elevate."
It was defensive backs coach Brian Stewart who came up with the idea for the "Lockdown U" nickname. Senior safety Nate Gerry said the meaning of 'lockdown' was different for each member of the secondary, especially between the cornerback and safety positions.
"For me, it's about doing my job," Gerry said. "I know for Chris (Jones) and guys like them, they're cover guys, so being able to go man (coverage) every play, that's 'lockdown' for them. But for me and Antonio (Reed) and guys like that who don't play much man, our 'lockdown' is just being focused and being prepared, being able to get lined up every play and be the defensive quarterback for us."
While "Lockdown U" was originally designated just for members of the secondary, Williams said other players on the defense might be able to join the group, as long as they earned it on the field.
"I think they'd have to play some deep balls," Williams said. "I think we have some guys that could do that, so I guess we'd have to talk with Coach Stew about that."
- Robin Washut
Dzuris becoming a force on front four
Nebraska knew full well that its inexperienced defensive line would be one of its primary concerns going into the season, particularly over who would be able to provide a pass rush off the edge.
Little did most anyone know that it would be senior Ross Dzuris who has taken on that role full steam ahead through the first three games.
The former walk-on from Plattsmouth, Neb., has been far and away the Huskers' most disruptive force on the front four, already racking up 13 total tackles (fifth on the team) and a team-high six tackles for loss and 3.5 sacks.
To put those numbers into perspective, no other Husker has more than three tackles for loss on the year, and the rest of the defense has combined for just 2.5 sacks.
"Prior to the first game, (ESPN's broadcast crew) asked me, 'Out of your whole entire defense, who would you say is the unsung hero on the team?' And I said 'Ross Dzuris.'" Banker said. "I know this - and it goes back to last year when we first started playing with Ross - that he works very hard, he knows what he's doing, he has really good technique, he's a technician, he has a passion for the game.
"I think if you play hard and give great effort and you're in the right place, you've got a better-than-average chance to make plays, and that's what he's doing for us right now."
After earning a scholarship prior to his junior season, Dzuris saw action in all 14 games with four starts and ended up leading Nebraska with nine TFLs and adding 2.5 sacks.
The 6-foot-3, 255-pounder has been on a different level so far in 2016, however. Dzuris just posted five tackles, a tackle for loss, and a sack in NU's win over Oregon last week, and he opened the year with three TFLs against Fresno State.
He only had 2.5 tackles for loss all of last season.
Now, he's Nebraska's active career leader with six sacks and second only behind Gerry (18) with 15 TFLs.
"I'm not surprising myself," Dzuris said. "I'm just kind of doing my job and not doing anything outside of myself."
- Robin Washut
Huskers preparing unique Northwestern field conditions
While Northwestern's Ryan Field, which boasts a capacity of 47,130, certainly won't be the most daunting road environment Nebraska will face this season, there is one somewhat overlooked element that could be a factor.
Not only do the Wildcats play on a natural grass surface, their grounds crew is notorious for letting that grass grow far longer than most any other field in the country.
Though head coach Mike Riley has yet to coach a game in Evanston, Ill., he said he's already heard all about how tricky the field conditions can be.
"We're going to be playing on a different surface that everybody has talked to me about," Riley said. "They've said that it's the tallest grass you've ever seen. We've let our field grow out here as best we can, and we'll practice on the grass and try to get ready for that."
As Riley mentioned, Nebraska has already taken steps in adjusting to the longer grass surface by holding all of its practices this week on the natural grass practice fields north of Memorial Stadium.
On top of that, the Huskers instructed their grounds crew to let the grass on those field grow a little longer than usual.
Northwestern has been a thorn in Nebraska's side for the past five years now, but when it comes down to it, the Huskers know full well that the type of field they've played on has been the least of their concerns against the Wildcats.
"They are smart kids," senior quarterback Tommy Armstrong said. "They are coachable. They've got a lot of smart linebackers that identify a lot of things based off of our offense, what we do well and how we run things. We have just got to make sure that we do our thing and we execute on all segments of our game."
- Robin Washut
Family, friends will flock to Evanston for Westerkamp's final 'home' game
For the last time as a college football player, senior wide receiver Jordan Westerkamp will get to play a game in his home state of Illinois this week.
The Lombard, Ill., native and former Montini Catholic star said he's already expecting a rather large cheering section inside Ryan Field when the Huskers travel to Northwestern on Saturday.
In fact, his mother confirmed HuskerOnline.com that as of Tuesday, the Westerkamp's have 156 people in their group going to the game.
"I will probably have over a hundred family members and friends there at the game," Westerkamp said. "I am looking forward to it. It is home to me, so I get to go back and enjoy that. Hopefully we get some deep-dish pizza after the game. I am really looking forward to it."
Another layer to the storyline this week is Westerkamp's history of success against the Wildcats over the past three seasons.
So far he's caught a combined 11 passes for 224 yards and a touchdown vs. Northwestern since 2013, including a team-high five five catches for 92 yards in last year's loss in Lincoln.
Of course, no one could forget his biggest catch of all - a 49-yard Hail Mary touchdown as time expired to give the Huskers 27-24 victory his freshman year in '13.
"It pops up here and there, but I try not to pay attention to that stuff," Westerkamp said when asked if he still hears about his Hail Mary catch.
"Like I said, it's my last game back in Illinois here against Northwestern. We have a lot of history with Northwestern's program and Coach (Pat) Fitzgerald, so I am really looking forward to it."
- Robin Washut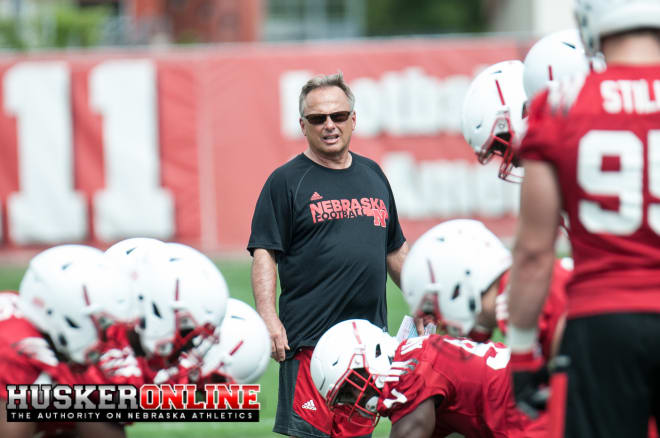 Quick hits
***Some good injury news to pass along was that senior wide receiver Brandon Reilly was a full participant in Tuesday's practice. Reilly missed last week's game vs. Oregon with a hamstring injury he suffered the week prior against Wyoming.
**The bad news, however, was that senior Alonzo Moore was sidelined with an unspecified injury. Moore missed most of practice last week with a shoulder injury he suffered against Wyoming.
***Defensive coordinator Mark Banker said his defense definitely didn't play its best game against Oregon. While some of that had to do with the Ducks' talent and speed, Banker said the defense had far too many "fundamental" errors in the win.
***Banker said Nebraska has been charting tackles a little differently this season, keeping track of "effective tackling" and "dominant tackling". Banker said "effective" tackling was holding a ball carrier to 2.3 yards after contact or less. "Dominant tackling" is essentially zero YAC.
***Banker credited Nebraska's switch to rugby style tackling for the improvement the defense has shown each week this season.
***Banker said he and John Parrella have to do a better job with their defensive line rotation going forward. He said the front four got "a little lethargic" at times on Saturday, and when he looked at the amount of snaps the line played, it made total sense.
***Banker said Nebraska isn't taking anything for granted going up against a Northwestern offense that has struggled so far this season. Banker said the Wildcats "embarrassed us last season", pointing to one run by quarterback Caleb Thorson in particular where the defense "looked like Mo, Larry and Curly out there trying to tackle him."
***Banker said in all of his years of football he'd never seen a team go for as many two-point conversions as Oregon (5) did on Saturday.
***Linebacker Michael Rose-Ivey said he can definitely tell that Nebraska's strength and conditioning work has been giving them a huge advantage late in games. He said it's clear the Huskers have been in much better shape in the fourth quarter than their opponents, and he credited strength coach Mark Philipp and his staff for getting the team so physically ready.
***One thing linebackers coach Trent Bray said the defense will be focusing on this week is getting off the field on third downs. He said he counted 11 or 12 different times that Thorson was able to pass to convert a third-and-long in the Wildcats' win over Duke.
***Freshman cornerback Lamar Jackson, who injured his groin against Wyoming, practiced all of last week and was in pads again on Tuesday, but it should be noted that he did not play a single snap against Oregon.
***The Huskers spent most of the day on the fields outside of the Hawks Championship Center, as they start to get acclimated for the natural grass surface of Northwestern's Ryan Field on Saturday. The grounds crew also has let the grass on the practice fields grow a little longer than usual to help simulate the Wildcats' long-cut turf.