Tuesday notebook: Darlington embracing 'Swiss Army knife' role
When sophomore Zack Darlington turned down a scholarship offer to play quarterback for Urban Meyer at Ohio State in 2013, he probably had grander plans of what his role would be at Nebraska.
The once former quarterback has been playing wide receiver since the spring, but has also taken over the role as NU's starting holder after the passing of punter Sam Foltz in July.
On top of that, Darlington has recently added the title of emergency quarterback to his repertoire after the departure of A.J. Bush last Thursday.
"Coach (Mike) Riley kind of called me a Swiss Army knife, and I kind of like that," Darlington joked.
"If it came down to if Tommy (Armstrong) was out like the Purdue game last year and Ryker (Fyfe) lost his helmet and had to step out, rather than burning Patrick (O'Brien's) redshirt I would just step in and run a zone read or a handoff. Something to save Patrick so Tommy or Ryker could get back in. Just an emergency thing."
Most people wouldn't have such a positive attitude about being moved around so much, but Darlington actually embraces his role on the team.
As the son of a coach, Darlington understands the big picture and all he cares about is winning.
"It was a big honor when Coach Riley asked me to (hold)," Darlington said. "Sam was really close to me and he meant a lot to me. Just for them to have the confidence to ask me, it meant a lot. I know a lot of people look at it as a holder and don't really think much about it. Me, I'm just looking for a chance on the team – a spot. Something I can call my own and help the team. It really means a lot for them to ask me to do that."
Darlington also joked he is optimistic about the possibility of running a trick play or two over the next few seasons.
"I told them hopefully I'm going to lead the nation in 2-point conversions," Darlington said. "I was joking with Coach (Danny) Langsdorf that if I have to go in and he gives me a run play, I would be like 'no chance. I'm checking it and we're going down the field. Tell Brandon (Reilly) he has a go route."
-Sean Callahan
Competition continues to fill left guard depth chart
Immediately after sophomore Jerald Foster was lost for the season to a knee injury and then senior Corey Whitaker was sidelined with arthroscopic knee surgery, the search began to figure out a new depth chart at left guard going into the season opener.
Now less than two weeks away from the Fresno State game, Nebraska doesn't appear much closer to figuring who will make up that rotation on Sept. 3.
Offensive coordinator Danny Langsdorf said the hope is that Whitaker can recover in time for the Bulldogs, but if not, there is currently a four-man battle going on for the left guard spot.
Redshirt freshman Jalin Barnett, true freshman Boe Wilson, senior Sam Hahn and sophomore Cole Conrad have all been working at left guard since Foster and Whitaker's injuries.
Langsdorf said they would continue to evaluate the position through this week and hopefully make a decision on the depth chart when Whitaker's status is a little more clear.
"There's a group of guys there," Langsdorf said. "I thought Boe played pretty well there in the scrimmage and I saw some good things from Sam. Jalin kind of played in the second group and kind of rolled up his ankle a little bit so he missed a few plays.
"But that group, we're trying to work that out with the Whitaker injury. We're hoping to get him back, but we're not sure what the status is."
- Robin Washut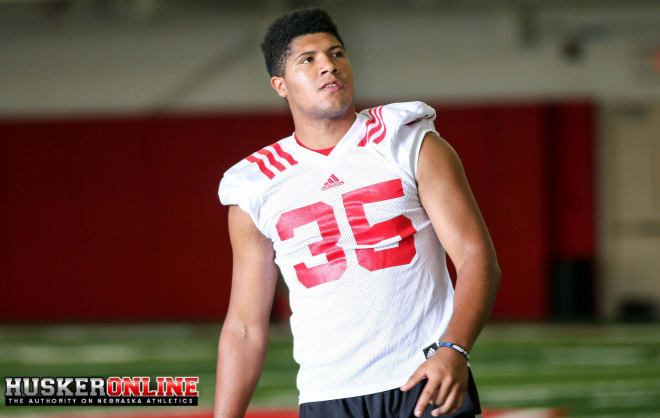 Lightbourn officially named No. 1 punter
Maybe some of the most heated position battles on the entire roster this fall just might be on Nebraska's special teams.
According to special teams coach Bruce Read, at least one of those competitions has come to an end.
Following Foltz's passing, the Huskers were left with a major void at punter going into 2016. Read confirmed what many initially assumed by saying true freshman Caleb Lightbourn would be the starter to open the season.
"Caleb I think is the guy who has really come to the front as far as upside and more power in his punts," Read said. "Isaac (Armstrong) has done a great job. It was a really good competition early between the two kids. We really wanted to make a decision because one is right-footed and one is left-footed and it has a lot to do with the protection, believe it or not, with everything that you're doing. We kind of didn't want it to string out too long.
"Caleb just has these flashes like, 'Whoa, OK that was a little bit like Sam. That's good.' So we figure we'll go with him."
- Robin Washut
Two-minute drill struggles becoming major concern
Riley noted following Saturday's most recent scrimmage that he was not pleased with how Nebraska's offense performed during the two-minute drill situations.
Three days after the fact, Langsdorf was still just as unhappy about those issues. Maybe even more so.
"Our two-minute drill needs a ton of work," Langsdorf said. "That's been our worst period. Way too many turnovers… I think we've had quite a few interceptions in that period."
The good news is that as far as the rest of the offense has gone in the scrimmage and team portions of practice, the turnovers and mistakes haven't been nearly as big of issues.
But considering that the bulk of the offensive miscues have come when the pressure has been turned up the most in two-minute situations, Langsdorf said fixing those problems would be priority No. 1 to close out camp.
"We're trying to push the ball down the field in a short amount of time, and the pressure is on to make some plays," Langsdorf said. "It's really a matter of executing some plays and making sure we're clean on the read… We've got to do a better job of checking the ball down to the backs in that period and getting completions.
"We're not finding enough completions and getting out of bounds. We're trying to chuck the ball down the middle of the field, and it's not good."
- Robin Washut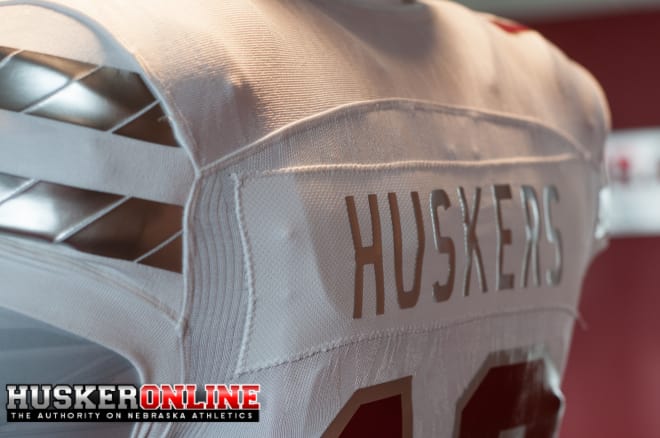 New alternate uniforms a hit with Huskers
Prior to Tuesday's practice Nebraska unveiled its latest alternate uniforms it will wear for its Big Ten Conference opener on the road at Northwestern on Sept. 24.
A university press release described the new uniforms as "inspired by the city of Lincoln, Nebraska, also know as the 'Star City,' the new Husker Chrome alternate uniform blends crisp, modernized design with a tribute to Nebraska's clean, classic signature look.'
Media got an up-close look at the uniform at Tuesday's practice…
The initial player reaction was overall very positive.
"In my opinion I think they are the coolest ones we had yet," Darlington said. "I am a big fan of the all-white … and I mean they are 'icy.' When A&M went to Adidas I thought it was a big, big deal when they would do all white. When they took the sheet off today I was like 'wow.'
"All white is different. It's kind of like a new trend. It's a very clean look. I would say probably the vibe on the team is it's been the coolest one we've had in the last 5 years."
- Robin Washut
Read remains mum on punt returner job
With less than 2 weeks until Nebraska's season opener against Fresno State, Read is not ready to announce who his starting punt return specialist will be.
Read is currently looking at junior De'Mornay Pierson-El, senior Jordan Westerkamp, sophomore Stanley Morgan Jr. and freshman J.D. Spielman for the starting job.
"Well, we've got kind of four guys now with Spielman, but you've got (Westerkamp), (Pierson-El), you've got Stanley and now you've got Spielman coming in now into that mix offensively and special teams-wise. Those guys are all capable. Westerkamp has got super sure hands, Pierson-El has got the flash, (Morgan Jr.) has just got the work ethic. He doesn't have the natural ball skills as those other kids have. Spielman can track the ball and chase it down and is a really natural catcher.
"So we've got some choices there. We've got to see, maybe, what happens there with everybody and how it all pans out, but one of those four guys is going to have to play and go in there and do it. We feel like we've got some good names there."
Pierson-El also didn't know where things stood on Tuesday.
"Honestly I don't know, I'm not worried about numbers," Pierson-El said. "Like I said I'm taking each rep with a grain of salt and I'm just out there perfecting my craft. I'm not worried about that right now. I'm worried about catching the ball and making the first guy miss."
-Sean Callahan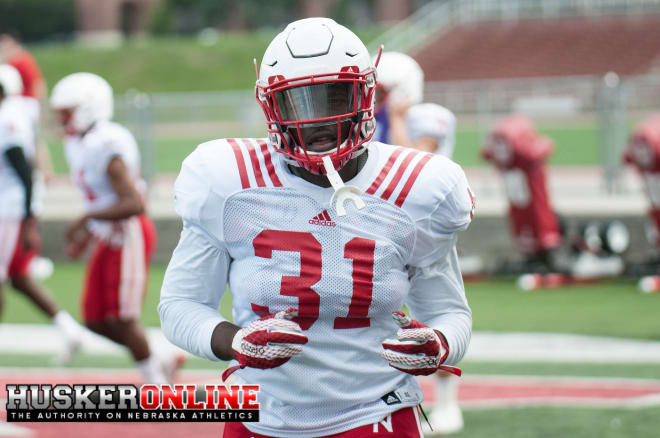 Quick hits
***Nebraska got a big round of good news on the injury front, as several players who had missed one with various injuries were back in pads for Tuesday's practice.
Here are the players who were back in action: linebacker Michael Rose-Ivey, Westerkamp, wide receiver Brandon Reilly, Barnett, cornerback Chris Jones, cornerback Eric Lee, and cornerback Charles Jackson.
***Another player who returned to the practice field was freshman linebacker Greg Simmons, who just over a week ago was carted off the field in a stretcher with a neck injury. Maybe the best news of the day for the Huskers.
***Whitaker was seen walking around with no noticeable limp and only had a supportive sleeve brace on his right knee.
***The only other notable player unable to practice was redshirt freshman tight end Matt Snyder (unknown).
***Darlington also said he hasn't seen kicker Drew Brown hasn't miss a field goal all fall camp.
***Langsdorf said the staff is still evaluating which freshmen will play or redshirt this season. He said Riley would likely announce the official decisions at the end of the week.
***With the start of the 2016 fall semester on Monday, Nebraska was able to bring its full roster to practice beginning this week. A slew of walk-ons took part in the practice in helmets, jerseys and shorts, as they won't be able to put on pads until Thursday because of the mandatory acclimation period.
***One of the more notable walk-ons in attendance was freshman wide receiver Ne'Land Smith, the son of former Husker great Neil Smith. Ne'land is listed at 6-3, 180 and hails from Blue Springs High School in Missouri, the same school that produced Carlos and Khalil Davis.
***A scout from the Los Angeles Rams was at Tuesday's practice.