Troy stuns Huskers 24-19, NU's worst start in 61 years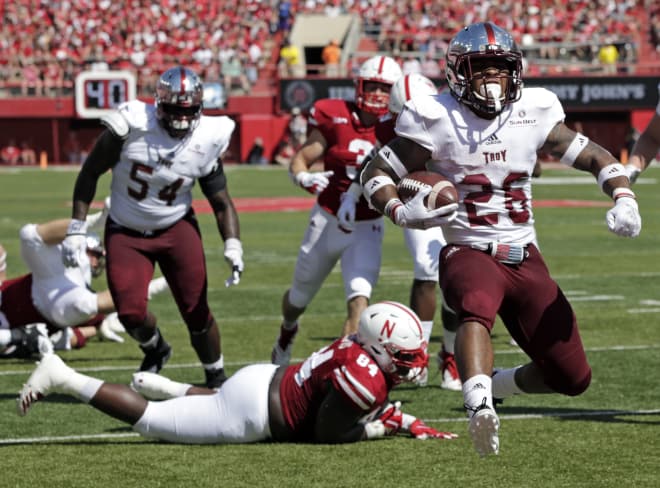 The cancelation of Nebraska's Week 1 game vs. Akron was a letdown. The 33-28 loss to Colorado last week was a disappointment. Saturday's 24-19 home defeat to Troy was a total disaster.

Add all that together and the first three weeks of the Scott Frost era have amounted to the worst start to a season the Huskers have seen 61 years.
Despite out-gaining the Trojans 364-253, Nebraska turned the ball over three times, committed 10 penalties, made a litany of special teams errors, went 5-for-15 on third downs, and failed to capitalize on numerous opportunities in all three aspects.
That all led to NU falling to a 0-2 start for the first time since 1957. Dating back to last season, the Huskers have now lost eight of their past nine games and haven't won in Lincoln in nearly a full calendar year (Rutgers on Sept. 23, 2016).
After a pair of three-and-outs to start the game, Troy struck first with a 37-yard field goal by Tyler Sumpter. Nebraska's offense started to get something going on its ensuing drive, but tight end Jack Stoll coughed the ball up, and Troy recovered at its 44-yard line.
Needing to come up with a big play to shift the momentum, the Huskers got one when cornerback Lamar Jackson snagged the first interception of the year to get the ball back at the NU 7. Jackson's pick was the first by a Nebraska cornerback in 21 games, when Chris Jones took back an interception for a touchdown at Indiana on Oct. 15, 2016.
But walk-on quarterback Andrew Bunch, who became the first walk-on QB to start a game at Nebraska in 20 years in place of injured freshman Adrian Martinez, ended up giving it right back by forcing a pass into coverage and getting intercepted by Troy's Tyler Murray at the TU 46.
Nebraska was able to force a quick three-and-out, but its offense again couldn't do anything and was quickly forced to punt. Things then got even worse when Cedarius Rookard broke loose for a 58-yard punt return for a touchdown to push the lead to 10-0 with 12:17 left in the half.
The Huskers' finally got going again and drove all the way down to the Troy 10-yard line, but the series again ended with zero points when freshman kicker Barret Pickering shanked a 33-yard field goal with 8:33 left in the half.
The Trojans immediately took advantage with a 57-yard keeper by quarterback Sawyer Smith down to the NU 23. The next play, linebacker Mohamed Barry was flagged for a late hit and ejected for targeting, and then linebacker Tyrin Ferguson was called for another personal foul one snap later.
Troy then made it a 17-0 game on a 9-yard touchdown run right up the gut by B.J. Smith with 5:12 left before halftime.
With the game legitimately falling into doubt, Nebraska's top offensive weapon stepped up in a major way. Bunch connected with senior wide receiver Stanley Morgan Jr. on a 33-yard pass right out of the gate.
After a 21-yard rush by running back Maurice Washington, Bunch hit Morgan again for a 9-yard touchdown to finally get on the scoreboard and cut the deficit to 17-7 going into halftime.
Nebraska stalled to start the second half, but the Huskers special teams got a big break when Rookard muffed the punt, and Cam Taylor recovered at the Troy 8. The offense couldn't move the ball at all, but Pickering converted a chip-shot 23-yard field goal to pull with 17-10.
The Blackshirts followed with a fourth-down stop at their 38, and after NU's drive got extended on a personal foul by Troy on what would have been a third-down stand, the Huskers drove down to UT 17.
A touchdown pass to J.D. Spielman was negated by a holding penalty, and Nebraska had to settle for a 32-yard field goal by Pickering that made it 17-13 with 3:02 left in the third quarter.
That score held until deep into the fourth quarter, until B.J. Smith put the nail in the coffin with a 26-yard touchdown run to make it 24-13 with 6:45 left to play.
Highlighted by a 26-yard fourth-down pass to tight end Kurt Rafdal to keep the drive alive, Nebraska was able to answer with a 7-yard touchdown catch and run by Spielman. Bunch missed an open Spielman on the two-point conversion try to leave it 24-19 game with 2:55 left.
Nebraska got the defensive stop it needed and got the ball back at its own 28 with 2:26 to play, but Bunch made one final killer mistake with his second interception to end any hopes of a comeback.
Bunch ended the day 19-of-27 passing for 177 yards, two touchdowns, and two interceptions. The Huskers rushed for 187 yards, led by Washington's 92 on 12 carries.
Nebraska will return to action next week for its Big Ten opener and first road game of the season at Michigan, which is set for an 11 a.m. kick on FS1.