Transfer White already a perfect fit at Nebraska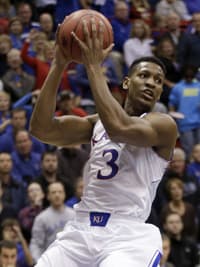 Because of NCAA transfer rules, the junior shooting guard will have to wait until 2015-16 before officially making his Husker debut. That being said, White has wasted no time making his presence felt in NU's locker room and on the practice floor. In fact, the hype is already soaring over what the former four-star Rivals150 prospect (No. 51 in the 2012 class) will eventually bring to Nebraska's lineup.
"He's going to be great player," Pitchford said. "I can tell you that right now. He listens to everything the coaches have to say. He's in the gym putting in extra work every single day. He'll text me to come to the gym, and I'll text him to come to the gym. He's just an everyday guy."
For White, he admits that the next year will be tough having to watch his new team play from the bench in street clothes. But that should push him even harder to make the most of his redshirt season, just like Petteway and Pitchford did in their year off in 2012-13.
"It's not really a big secret as to how you address your redshirt year," White said. "You just have to come in and work hard and help the team and stay positive since you're not going to be playing for another year. I think I realized that coming into school here, and I've had a real positive attitude about it… I think as far as me coming in and accepting that redshirt responsibility, I think I'm doing a great job with it so far."
White said he also plans to make life as difficult as possible for the starters while practicing against them every day during the season.
"Unfortunately I had to do that my first two years of college, so I know how that goes," White said. "I'm looking forward to competing against guys every day. Scout team is an important job, just because those are the guys that run other teams' actions, those are the guys who play a big part in getting the game players ready.
"So I realize the importance of that job, and by me competing every day and not taking days and plays off, it'll help me become a better player so that I'm ready for when my time comes."
White said he's had no trouble adjusting to life in Nebraska, and he's already fully immersed himself in NU's strength and conditioning program under Tim Wilson. He said he's focusing on improving his mid-range and 3-point shooting, getting more elevation on his jumper and becoming a stronger finisher against contact with the ball in the lane.
The opportunity to grow as a player while also joining an up-and-coming program on the national scene were two of the biggest selling points in White's decision to come to Nebraska, and so far it's been exactly what he had hoped for in both regards. It will be another calendar year before White finally puts on a Husker uniform and steps onto the Pinnacle Bank Arena floor, but after the long road he's already traveled to get here, White knows it will all be worth the wait.
"The coaches have done a really good job of developing me up to this point, and that was one of the biggest things in my decision," White said. "Since this is a redshirt year, I'm optimistic about my development and taking the time to turn into the best player I can be and helping my teammates, doing whatever it takes to help this team win even though I'm not going to be playing.
"So the expectations coming in were for me to come in and work as hard as I can. I think I've done that so far, and if I keep doing the things that I'm supposed to do, it'll play out for me."
[rl]