Thursday notebook: Williams back in action
A familiar face was back on the practice field for Nebraska on Thursday, as wide receivers coach Keith Williams made his return from suspension.
Williams, who was arrested for DUI a little more than two weeks ago, will still have to miss the first four games of the season. But having one of the staff's biggest personalities back in action at practice was a welcomed site for the Huskers.
"Keith was back today, and I know all of the players were glad to see him," head coach Mike Riley said. "There's no doubt about it, he is a well-liked person throughout our team, in particular the wide receivers."
Nebraska had to get a bit creative in filling Williams's shoes during his absence. Graduate assistant Hardie Buck took over the individual instruction of the wide receivers while Riley and offensive coordinator Danny Langsdorf also took on bigger roles with the group.
Riley said the wide outs were able to get through the second half of fall camp about as well as could be expected without their position coach, but he noted that there was definitely a boost in player morale having Williams back on the field.
Riley added that Williams addressed the team and the rest of the coaching staff before practice, and that his message "was well done."
"It's a mistake that we can't have in our program, and I don't want a program that's high maintenance," Riley said. "We want to represent everybody in this state at the highest level. So it was a situation that we don't like, but we like the guy.
"We know, he knows, we all know it was a terrible mistake, and that's understood forever. That's why it took so much thought, time, people to make a final decision on it. That's hard to do. But I'm glad for the opportunity that he has, now it's up to him."
Known for his loud personality in practice and a big presence on social media, Williams had been basically on radio silence since his brief press conference shortly following his arrest.
But when his suspension from being around the team was finally lifted on Thursday morning, Williams was back in full swing on Twitter.
Before some posts about recruiting and a picture of his trademark red-eyed "Savage Professionalism" Gorilla, Williams's first tweet had a much more serious tone.
Reed out, Whitaker in vs. Fresno State
Riley confirmed what many had already suspected following Thursday's practice when he announced that sophomore safety Antonio Reed would likely be out for Nebraska's season opener vs. Fresno State.
Riley said Reed had missed most of the week of practice with a knee injury, but the good news was Reed should be ready to return to action by next week.
With senior Nate Gerry (suspension) and now Reed both out, Riley said the Huskers would have to get a bit creative in the secondary.
"We don't like it," Riley said. "Any (injury) deal is tough, but when you're already down another guy at safety, certainly you don't want to lose another safety. But Kieron (Williams) and Aaron (Williams) will start.
"Aaron's a possible nickel as is Joshua Kalu. If we stay OK with the health of the guys that we have, we'll be OK. Not a lot of depth right now."
There was some good injury news to pass along. Riley confirmed that senior offensive lineman Corey Whitaker (knee) would be active on Saturday, and not only that, Whitaker would be available to play at either guard or tackle if needed.
"Corey Whitaker is back and did a great job," Riley said. "Right now Sam (Hahn) will start (at left guard), but Corey is ready to go at a couple different spots, probably."
- Robin Washut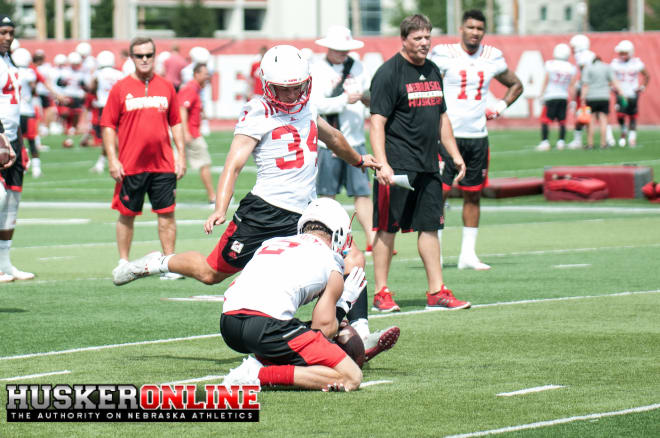 Brown automatic as ever this fall 
One position that hasn't been addressed much at all this fall has been the place kicker, and that's mostly because junior Drew Brown has been downright automatic all camp.
If the 2015 second-team All-Big Ten selection and 2016 Lou Groza Watch List member has missed any field goals this month, they could probably be counted on one hand, according to his coaches and teammates.
Brown's accuracy isn't a total surprise given he's currently riding a streak of 11-straight made field goals dating back to last season, but his improvements with his range and consistency have been hard to ignore.
"My goal this offseason wasn't to necessarily gain range, it was to be consistent and it was just gain explosiveness because that ultimately translates into range," Brown said. "I try to keep all my kicks the same, whether it's an extra point or 50-yard kick.
"It's the way you've got to approach it. They're all the same to me. This offseason I've just worked to build up strength and be able to stay consistent."
- Robin Washut
Sophomore LB Ferguson to redshirt 2016
The last bit of news Riley shared to close out his post-practice press conference on Thursday was that sophomore linebacker Tyrin Ferguson would redshirt the 2016 season.
Riley said it was actually Ferguson, who played in 10 games and made five total tackles on special teams, who approached the coaching staff about the idea.
Ferguson saw two veteran Blackshirts ahead of him on the depth chart at Mike linebacker in Josh Banderas and Chris Weber, and he felt it was the best decision for himself and the team to save a season on eligibility and redshirt.
"Tyrin approached us about redshirting because of Josh Banderas and Chris Weber, and he's absolutely right," Riley said. "So at this point Tyrin will be redshirting."
- Robin Washut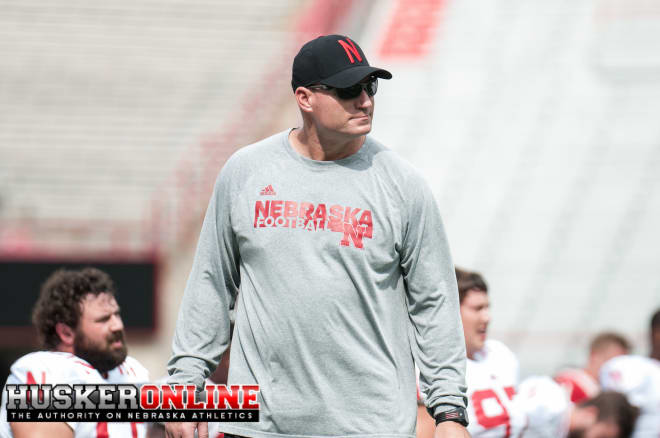 Parrella preparing for first Husker game day in 24 years
It's been 24 years since John Parrella ran through the Memorial Stadium tunnel onto the field for a Nebraska football game.
That drought will finally come to an end on Saturday.
While numerous players are getting ready to make their Husker debuts in the season opener vs. Fresno State, Parrella will also officially kickoff his tenure as NU's defensive line coach.
The former first-team All-Big Eight selection and 12-year NFL veteran from Grand Island, Neb., said he's already gotten plenty of ticket requests for his first game back.
"Lot of friends and family coming, (but) they aren't coming to see me, they are coming to see the team and that's what I try to tell the kids," Parrella said. "I think there might be one person in the crowd watching me, and that's my wife."
Parrella said it wouldn't be difficult to put any personal emotions surrounding his return to Memorial Stadium aside on Saturday. He's far too concerned with making sure his d-line is ready for its first test of 2016.
"I'm excited to see the state of the team and to see the front," Parrella said. "For us it still feels like (Saturday) is a long ways away, and we are just focused on tomorrow. Get back out here tomorrow and stay consistent."
- Robin Washut
Quick hits
***Riley said the weekly Sam Foltz captain title for the Fresno State game would be announced following Friday's practice.
***Riley confirmed that Nebraska would do something special for the first punt of the game on Saturday in honor of Foltz, though he did not go into detail as to what that would be.
***Riley acknowledged that this was obviously a huge recruiting weekend for the program, and that it would be a bit of a balancing act in giving the numerous high-profile recruits that are in town enough attention and also preparing the team for their first game.
Riley said the team and the game always come first, but no doubt will the staff be working hard on the recruiting front as well.