Thursday notebook: Stoltenberg in, Reilly questionable vs. Oregon
As Nebraska enters the biggest game yet of its early 2016 season, it got some good and bad news on the injury front concerning some key starters on both sides of the ball.
The good news came when head coach Mike Riley announced following Thursday's practice that both defensive tackle Mick Stoltenberg (knee) and wide receiver Alonzo Moore (shoulder) would be available to play in Saturday's game against No. 22 Oregon.
While Moore's status wasn't a total surprise considering he returned to practice on earlier this week, the news on Stoltenberg was an added bonus for the Blackshirts.
The sophomore missed last week's Wyoming game while recovering from arthroscopic knee surgery he underwent after suffering a non-contact injury in practice the week prior.
"I believe Mick Stoltenberg is going to be able to play," Riley said. "How much and what we do with that right off the bat, I'm not sure yet. But we have high expectations after today."
Moore, who re-aggravated a shoulder injury last week vs. Wyoming and missed two days of practice, was cleared to return to action on Wednesday and fully practiced on Thursday.
The senior wide out has established himself as one of the Huskers' best playmakers through the first two games, leading the team in catches (six), receiving yards (201), and tying for the lead with two receiving touchdowns.
"Alonzo practice the past two days full speed and looks good to go," Riley said.
There was some bad news, however. Senior wide receiver Brandon Reilly is listed as questionable for Saturday as he continues to deal with a hamstring injury.
Reilly, who dealt with hamstring issues last year during fall camp, tweaked the injury while diving for a pass in the third quarter against the Cowboys. He didn't practice all week.
"Brandon Reilly is still questionable at best," Riley said. "I don't know if he's going to be able to play. He didn't practice (Thursday)."
Without Reilly, other receivers like Stanley Morgan, Jordan Westerkamp, and De'Mornay Pierson-El will have to step up to fill his shoes, just as they did in the season opener vs. Fresno State when the Lincoln native was suspended for a violation of team rules.
- Robin Washut
Huskers to fans: 'Be loud and prepare not to sit down'
With by far the biggest game yet this season now less than 48 hours away, the anticipation for Nebraska's nationally-televised showdown with No. 22 Oregon is higher than ever.
While the Huskers themselves are trying to temper their emotions and staying focused on their game planning and preparation, they're counting on their fan base to bring as much noise and excitement as they can on Saturday.
In fact, senior linebacker Michael Rose-Ivey has a very simple message for the 90,000-plus fans who will be inside Memorial Stadium for the program's record 350th consecutive sellout.
"Be loud and be prepared to not sit," he said.
Oregon's program is certainly no stranger to playing in hostile road environments, but the fact remains that this will be the Ducks' first game away from Autzen Stadium this season and by far the biggest crowd they've seen yet in 2016.
On top of that, Oregon will come to Lincoln with a new starting quarterback in Dakota Prukop, a transfer from Montana State who has never played in front of a road crowd much bigger than 30,000 fans.
"I couldn't tell you," Prukop told Oregon reporters this week when asked what he expects on Saturday. "I've never been in front of 90,000."
Senior linebacker Josh Banderas said a raucous home crowd could be a huge asset for Nebraska's defense, especially if it can help slow down the Ducks' blistering offensive tempo if even by a few seconds each play.
"The fans are going to be huge," Banderas said. "Just because (the Ducks are) going so fast and they've got to get the signals, and if something goes wrong, they've got to talk to each other. So it's going to be a big deal for the fans to be a part of the game."
As much as anything, Rose-Ivey said the Huskers always seem to step up their play on the field when the fans in the stands take their energy to the next level.
"There were a couple times during the Wyoming game where we got the crowd going and just us moving around the defense," Rose-Ivey said. "It's just a mixture of those two things: the defense has to move around and the crowd has to get into it. Maybe someone is not hearing and missing a call. Third-and-5 can turn into third-and-10. Those are big momentum shifting plays."
- Robin Washut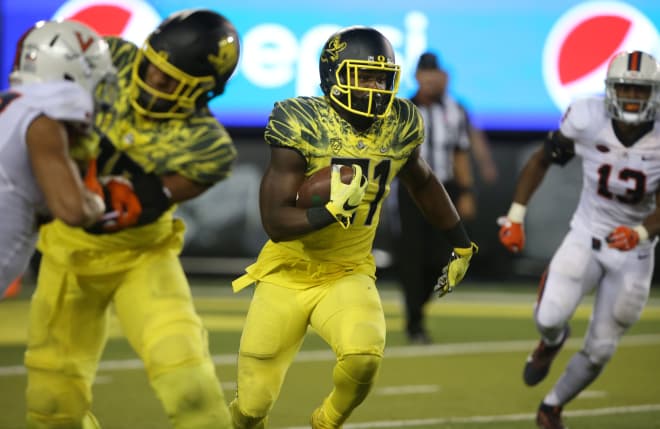 Freeman, Oregon running game a major concern
When most fans think about Oregon's offense, the immediate image is of an air-raid attack with passes flying all over the field to speedy wide receivers.
What many don't know, however, is that the Ducks bring an element of power football as well.
"Everybody might think about it like a spread offense, passing offense, but it's not," Riley said. "It is predicated on the run, and has been for a long time."
What makes UO's bunch this season even more dangerous in that regard is it features one of the top running backs in all of college football in junior Royce Freeman.
A preseason Heisman Trophy candidate, Freeman has definitely lived up to the hype early on by averaging 147.0 rushing yards with four rushing touchdowns through the first two games.
Freeman has now rushed for 3,495 yards dating back to the start of his freshman season in 2014, more than any other Power 5 player during that span.
"He's the workhorse," Rose-Ivey said. "He can do it all: catch the ball, block. For 5-11, 230, he moves around like a 5-10, 195 back. Not really a punisher as far as putting his head down and running through guys, but he's really really good at not taking those big hits and kind of just spinning off and bouncing off contact, so it's going to be important for linebackers and everyone on defense to tackle well and play in space.
"He's a great back and one of the better backs we will see all year. Just looking at his film, he's definitely a guy that can take those runs against Virginia last week and one missed assignment and one missed tackle and he's hitting his head on the goalpost."
Oregon has actually led the Pac-12 in rushing for 10 consecutive seasons, with at least one running back gaining 1,000 yards or more for the past nine seasons. Freeman racked up 1,836 yards last season and 1,365 as a freshman.
Having such a dangerous threat in Freeman forces defenses to have to prioritize stopping the run. In turn, that generally makes life easier for the quarterback and Oregon's fleet of track-speed wide receivers in the passing game.
"The Freeman kid's a great back and he's really good at being patient and waiting for a crease, and he hits it and he's a guy that's tough to bring down," NU linebackers coach Trent Bray said. "Once the run game starts working, all those deep balls and play-action pass stuff really come alive for them.
"That's really the biggest thing, is controlling the run game and getting them into situations where we can start doing some stuff and dictating what they do."
- Robin Washut
Quick hits
***Riley also confirmed that freshman cornerback Lamar Jackson (groin) are good to go for the Oregon game. Jackson has practiced all week.
***Riley said he's expecting a great crowd on Saturday, but doesn't think it will be the determining factor of the game by any means. He said Oregon is very used to playing in hostile road environments, and he's pretty sure Prukop and Co. will handle the crowd noise well.
***Riley said he plans to meet with the officials before the game to talk about the substitutions between plays with Oregon's fast offensive tempo. He said whenever the Ducks sub, the refs have to give Nebraska time to sub on defense. He'll make that as clear to the refs as possible.
***Riley said this would be a great opportunity for Nebraska and that the game could be "a benchmark game" for the season. He said you pretty much have to schedule games like this with the new college football playoff format, but he also likes getting big early tests like this.
***Riley said he wants his team to buy into the hype of this being a big time game, because it adds an element you can't otherwise simulate and prepares you for more high-profile games down the road. With the more big games you play, Riley said, the more confident you become in those types of settings.
***Riley said the idea of a "No-Sit Saturday" comes with the hype of a game like this and is a sign of how excited people are about the game. He didn't put much stock into it as far as his team is concerned.