Thursday notebook: QBs locked in after unusual week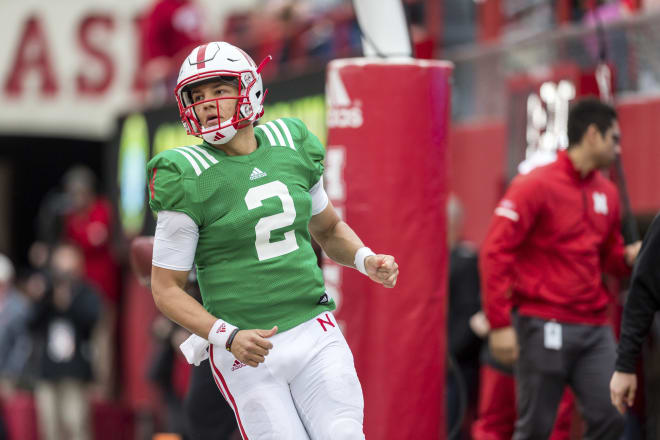 After a week of unexpected distraction for Nebraska's quarterbacks heading into the debut of the Scott Frost era, the unit looks to have locked in and moved on as Saturday's season opener vs. Akron draws near.
Frost said following Thursday's practice that he thought the entire team was about as prepared for its first game test as could be, but he was especially pleased with what he'd seen from his quarterbacks over the past four practices.
After naming Adrian Martinez the starter on Sunday, Frost said the true freshman had taken yet another noticeable step forward in his development this week.
"Anytime you're in a competition for a spot, you're confident, but you're a little anxious to find out if you're the guy or not," Frost said. "Since he's become the guy I've seen his confidence grow even more knowing it's his show. That's just going to be a continuing process.
"He's going to have to continue to gain confidence through good plays and decisions. There's going to be some bad ones too. We know it's going to happen; we're going to live with it. As time goes on, there's going to be more good ones than bad ones."
Frost was also complimentary of how well sophomore walk-on Andrew Bunch had adjusted to moving up to the No. 2 quarterback role following the transfer of redshirt freshman Tristan Gebbia on Monday.
While Frost said Bunch had never wavered in his focus and preparation throughout NU's quarterback competition, he noted that Bunch had hit the ground running at his new spot on the depth chart this week.
"Andrew's done a great job handling everything," Frost said. "I went to him yesterday during practice and said, 'This is the best day you've had in a long time.' And he said, 'Coach, that's because I'm getting reps again.' So I think that's the key for him, is making sure we're getting him enough reps to be ready. I've already seen the improvement."
With a full nine months of workouts, meetings, and practices now nearly in the books, Frost said the only thing the Huskers could do at this point was to translate all of that preparation into execution when the lights come on at Memorial Stadium on Saturday night.
"Our guys have done consistently what we've asked them to do," Frost said. "They've prepared well. They're still getting used to some of the things we want them to do, like the way we want them to prepare, how we're going to approach practices. So it's never going to be as clean the first time around as down the road.
"But this was probably the best first week I've seen coming in with a new team. They're trying to do everything we ask them to do, and I think they're ready."
- Robin Washut
Huskers to use weekly captains in 2018
One of the last remaining unanswered questions leading up to the season opener was what Frost and his assistants planned to do regarding assigning the roles of team captains.
The staff had gone back and forth between appointing a select number of full-time captains for the entire season or selecting a new group on a week-to-week basis for each game depending on which players were the most deserving.
Frost said Thursday that he had decided to go with the weekly-captains approach, but he would still have to meet with his coaches about which players would earn those titles on Saturday.
"My guess is we probably won't end up with captains for the whole year," Frost said. "It's probably going to be on a game-by-game basis."
- Robin Washut
Frost won't alter play-calling around QB depth
Nebraska's already inexperienced quarterback room got even greener following Gebbia's departure, and as a result, questions immediately arose about whether Martinez's role as a runner would be lessened for precautionary reasons.

Just like offensive coordinator Troy Walters stated on Wednesday, Frost said he had no intentions of changing his play calling just because there was now even less experience under center.
"No, I'm going to call a game based on what we need to do to win," Frost said. "If we're getting beat and the game's over or we're winning the game's over, then we'll re-think that. But when the game's hot and going we're going to call what we need to move the ball."
Last season at UCF, quarterback McKenzie Milton averaged just over eight rushing attempts per game. In 2016, Milton and fellow starter Justin Holman rushed for a combined average of 10.5 times per game.
- Robin Washut
Quick hits
***Frost said the next 48 hours would be very important in terms of preparing players mentally and physically for their first game. He said sleep, nutrition, and hydration were critical, and also keeping guys locked in with the game plan and their individual assignments through film and studying.

"That's first and foremost," Frost said. "I think our team has done about as much as they can in nine months to prepare without playing a game, but you never really know on some things until it's game day, there's hitting going on, you're playing another team. We've got to go out an execute and play a good game and take care of the football and create turnovers on the defensive side."
***Frost said adding players' hometown area codes to the front decal of their game helmets this season was something he's liked since they did it at Central Florida.
"As a player, all my teammates wanted to play for three things," Frost said. "The first was the team, if you had the right kind of team. The second was the name on the back of your jersey; your family, who you represent. And then kids are really proud of where they're from.
"I don't think that takes away from our team-first thing, but being able to represent your hometown matters to these kids too."