Thursday notebook: Injury or not, Gates ready for Wisconsin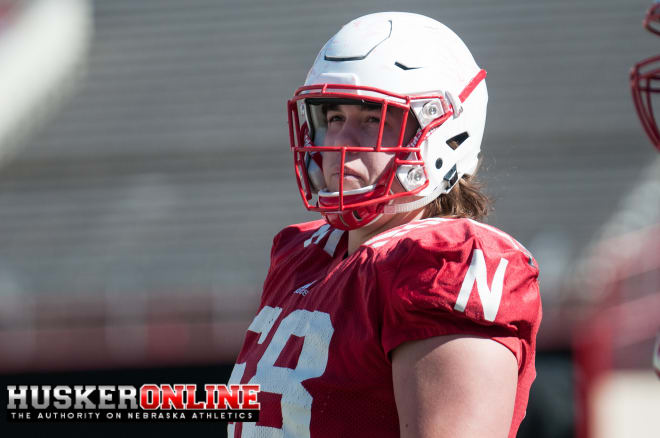 On the third play of Nebraska's road game at Indiana, Nick Gates' right ankle got rolled up on by another player, and the sophomore left tackle instantly knew something was wrong.
Gates ended up spraining his ankle on the play, but as painful as the injury was, he fought through it and finished the rest of the game. Gates then sat out all but one day of practice the following week, yet he was able to suit up again and play four full quarters in NU's win over Purdue.
So with the Huskers now preparing for their biggest test of the season this week at Wisconsin, there was never really a doubt in Gates' mind that he was going to be back on the field once again to take on the Badgers.
"It'll be real big for me just to prove what I can do against other NFL-type guys," Gates said. "It'll definitely be a big week for me, you know, I'm excited to go against other talent like that. It's been a while, since Illinois, where everybody gets first rounders, top-10 guys, so I'm excited.
"I wish I felt a little bit better, but you gotta do what you gotta do, right?"
While Gates' toughness to play through pain is certainly admirable, most who watched would agree the former Freshman All-Big Ten selection didn't quite look like his usual self last week against the Boilermakers.
Having gone back and watched the tape, Gates didn't think he played poorly, but admitted his ankle definitely hindered him as the game wore on.
"I couldn't move there as well at the end as well as I thought, but we were trying to run the score up a little bit, trying to get me out early, but that didn't really go to the plan," Gates said. "But I felt like I did fine. There was probably a couple plays in there I didn't look the greatest, and I read some things that everybody said I shouldn't have been playing, but what are you going to do?"
Offensive line coach Mike Cavanaugh said he's not worried about keeping Gates in the starting lineup in spite of his ankle, but added that whichever of his lineman were on the field, they better be ready to perform, injuries or not.
"No excuses," Cavanaugh said. "We need to block, whoever is in there. We gotta block pressure and we didn't handle it good (vs. Purdue). But that's last week and we got a hell of a lot more to worry about now."
For Gates, he said he'll continue to have his ankle heavily wrapped for support on Saturday night vs. the Badgers. But with such a big opportunity for both himself and his team, Gates thinks he'll hardly even notice his injury once the game is underway.
"Yeah, you definitely forget about everything going on," Gates said. "You just worry about blocking them, being physical, and trying to take it to them."
- Robin Washut
Westerkamp glad to be back
There was a point during practice earlier this week where Jordan Westerkamp, who had just returned from a back injury that sidelined him for nearly three weeks, had a pass thrown his way that was seemingly just out of reach.
Rather than make the cautious decision and let the ball go, the senior wide receiver did what he had always done in that situation - he dove full extension to make the catch.
Given that he was willing to take such a risk on a relatively meaningless practice play after suffering "tiny fractures" on the transverse process of his spine along with a deep muscle bruise from a hit he suffered against Illinois on Oct. 1, that was all the Huskers needed to see to know Westerkamp was back.
"Good. Really good," Westerkamp said when asked how he was feeling since coming back off the injury. "It's been a good week of practice, glad to be back. I hate watching, I hate sitting out, so it's great just to be back out here running around full speed."
While the fractured vertebras would seem to be the more significant aspect of Westerkamp's injury, he said it was actually the contusion to the muscles around the fractures that caused him the most problems in his recovery.
"I wouldn't say it's the most serious part, but it's the hardest part to get back to running," Westerkamp said. "It was just trying to get the muscles to relax, and it was in a spot where everything you're doing, you're going to be kind of feeling it.
"Rehabbed like crazy, huge credit to the training staff for getting me back. It's been tough, but I'm glad to be back."
- Robin Washut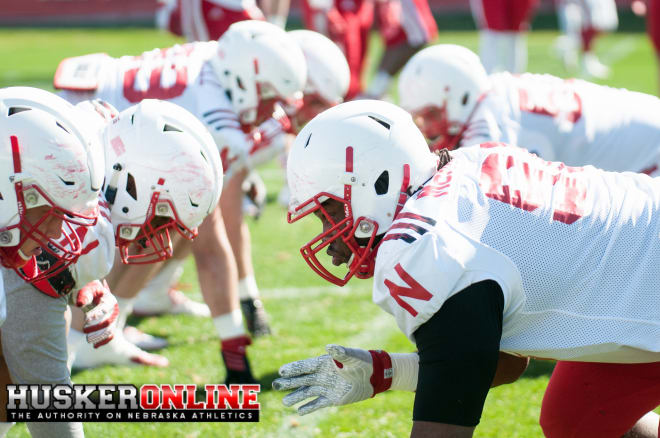 Badger o-line literally biggest challenge yet for Blackshirts
As one might expect, Wisconsin's offensive line will pound-for-pound be the biggest and likely most physical group Nebraska's defense will have faced yet this season.
The Badgers' starting front comes in at an average of 6 feet, 6 inches and 315 pounds, including two guards who top over 320 pounds in Michael Dieter (325) and Beau Benzschawel (321).
Nebraska's starting defensive line, on the other hand, averages right around 6-4, 276.
"They're big guys and they get movement," senior defensive tackle Kevin Maurice said. "Everybody is 6-6, 300 pounds, so they are going to generate their push and we've just got to counter.
"I don't think I've seen a lot of o-lines where everybody from tackle to tackle is 6-6. So yeah, they are some big guys."
Defensive coordinator Mark Banker said he's been well aware of the physical challenge UW's offensive line would present, mostly because you can basically count on that being the case year in and year out vs. the Badgers.
"It's Wisconsin," Banker said. "When you think of Wisconsin, that's the first thing I always think of. I always think of big offensive linemen that are just really well schooled in line fundamentals…
"It's a system. I'm sure somewhere behind the scenes ol' Coach (Barry) Alvarez is making sure that Wisconsin still looks like Wisconsin also."
- Robin Washut
Riley, staff no strangers to Camp Randall 
Early on in the 2011 season, Mike Riley and his Oregon State Beavers traveled out to Madison, Wis., for his first game coaching at Wisconsin's Camp Randall Stadium.
Riley left that day having been handed a 35-0 defeat by quarterback Russell Wilson and the No. 8 Badgers.
Riley has yet to return to Wisconsin since taking over as head coach at Nebraska, but he and several members of his staff who were with him for that game in 2011 have a pretty good idea of what to expect when the Huskers head to Camp Randall on Saturday night.
"Oh my gosh, it was horrible," Riley said. "Russell Wilson, it was like the coming out party for him. I remember it was a great atmosphere...
"This will be a tough crowd. This will be a noise factor. I don't think we will let this be the deciding factor in the game."
To try and combat the hostile atmosphere they're expecting on Saturday, the Huskers have been pumping artificial crowd noise during practice all week, including making sure to incorporate UW's self-appointed anthem "Jump Around" as well.
"We've been there before, unlike some of the other conference opponents," said offensive coordinator Danny Langsdorf, who was on Riley's OSU staff for the game in 2011.
"That third quarter 'Jump Around' deal, that is a real thing. So we've had that playing a little bit. I just think it's a little unsettling, so you have to make sure you practice for it."
- Robin Washut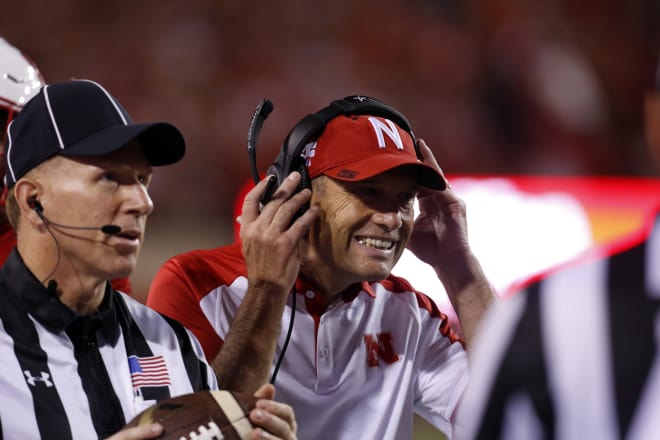 Quick hits
***Riley said tackles Gates and David Knevel, Westerkamp and guard Tanner Farmer were all healthy enough to play on Saturday. The only player who is out Cethan Carter.
***Speaking of Carter, Riley said the senior tight end has been running, doing some light lifting (mostly lower body) and blocking drills vs. bags, and catching passes this week. It still remains to be determined if Carter will be ready to return next week for Ohio State.
***Riley said safety Kieron Williams has been away from the team the past two days for personal reasons, presumably (based off his Twitter activity) to return home following the death of his grandmother. Riley said Williams would rejoin the team on Friday and make the trip to Wisconsin.
***Riley said field position would be huge in a game like this, and any time the Huskers got good starting field position they would have to make Wisconsin pay.
One way to do that is to get some good return opportunities set up for De'Mornay Pierson-El. Riley said they've made it a point this week to create better returns, but they won't know how those would play out until game day.
***Riley also hinted that Nebraska might take some shots offensively, saying the Huskers needed to be aggressive and try and create some big plays.
***Riley said there has been "a little more buzz" around the team in practice this week, but added that it was "nothing overly dramatic." Just like every week he said the players have been focused and practiced well in getting ready for the Badgers.
***Asked about the last time he coached a game in Camp Randall Stadium with Oregon State back in 2011 (a 35-0 loss for the Beavers), Riley recalled: "Oh my gosh, it was horrible." He called the game Russell Wilson's "coming out party" and said it was a great college football atmosphere.
***Riley said overall the Huskers have handled the use of crowd noise during practice well, but said they did struggle offensively with some procedural mistakes. In fact, Riley said the offense had problems with false starts in every practice besides Thursday.