Thursday notebook: Injuries setting in as fall camp rolls on
As the intensity of fall camp continues to pick up by the day, injuries are finally starting to rear their head around Nebraska's roster.
The most noteworthy of which concerns senior linebacker Michael Rose-Ivey, who suffered what appears to be a minor knee injury during Tuesday's practice and sat out of Thursday's session.
Rose-Ivey, who has missed significant playing time to injuries over the past two seasons, was seen walking off the practice field Thursday with only a slightly noticeable limp and a supportive sleeve on his right knee.
Defensive coordinator Mark Banker said he didn't want to go into detail on any player injuries, but did add that Rose-Ivey only suffered a "little tweak" in his knee that was "nothing major, I don't think."
Linebackers coach Trent Bray noted that the results from Rose-Ivey's MRI following Tuesday's practice came back with "good news", so it seems as if the former All-Big Ten selection will be back in action sooner than later.

A couple other Huskers watched Thursday's session from the sidelines. Tight end Cethan Carter was out with an unspecified injury, while defensive back Charles Jackson - another player with a long injury history - sat out with what Banker called a knee sprain.
Wide receiver Keyan Williams, who has to sit out this season per NCAA transfer rules, was also out with a hamstring injury.
Some good news on the injury front was that cornerback Chris Jones, who suffered a minor hamstring injury towards the end of Tuesday's practice, was back in pads and full-go on Tuesday.
Head coach Mike Riley will be available following Saturday's practice to give more detailed updates on all of the Huskers' injuries.
- Robin Washut
Banker not pleased with early bragging by defense
As Nebraska closed out its first week of fall camp, the general consensus has been that Nebraska's defense has gotten the better of the offense over the first seven practices.
In fact, junior cornerback Joshua Kalu went as far as to tell reports that the defense "kicked their ass today" following Thursday's practice.
Kalu quickly toned down his assessment, saying the defense should always have the upper-hand this early in camp.
"With the defensive side of the ball you are able to fly around on that side of the ball and the offense has to get the timing down right," Kalu said. "I think we are doing a good job that way."
Even so, Banker - who was only told a defensive player said the defense had been beating the offense - was not pleased to hear that his guys were boasting so bluntly about their performance.
"I think whoever that defensive player is should shut up and not say anything," Banker said. "He can say it in private if he wants to, but don't believe it. It's one of those things where if you put it in your mouth - if you taste it it's one thing, but if you swallow it you'll probably die from it.
"I'm glad you told me that, because I'm going to jot it down right after this… You can't worry about that stuff, because as soon as you're up, somebody's going to lay the wood to you and you're going to be down."
- Robin Washut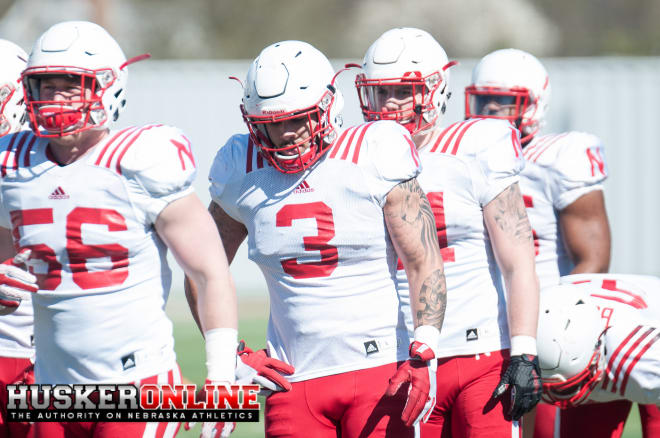 Now 10 pounds leaner, Newby feeling better than ever
When Nebraska's spring practices wrapped up back in April, junior linebacker Marcus Newby knew something had to change.
While he had always been an impressive athlete, he felt like he was just a step too slow out in coverage while trying to run with the Huskers' tight ends and running backs. So Newby set a goal to get himself into the best shape of his life over the course of the summer, and he accomplished just that.
After playing at around 238 pounds last season, Newby cut his weight down to a lean 228 by focusing on his nutrition and working harder than ever in the weight room and offseason conditioning.
"I just feel a lot lighter than I did last fall camp and in the spring," Newby said. "My goal was to lose about 10 pounds during the offseason so I could just be lighter and quicker playing man-to-man on tight ends.
"So I feel a lot smoother in my technique, and when I cover the backs and the tight ends I feel a lot quicker out there than I did in the spring."
Newby's hard work in his strength and conditioning certainly played a big role in his transformation, but he credited the bulk of it to being more conscious about how he was eating.
First and foremost, he cut out the late-night snacks that he admittedly indulged in too much in the past. Instead, Newby focused on eating right with more lean meats and also incorporated a strict meal schedule.
"I didn't feel too good in the spring and last fall camp," Newby said. "That was my big goal going into the offseason, was to work hard and just run, do extra stuff in the weight room and do extra stuff on the field so I can be lighter on my feet and quicker.
"I lost 10 pounds within two months, so I feel much better than I did."
- Robin Washut
Will Kalu play any nickel in 2016?
Over the course of Kalu's career at NU, one position he's really excelled at is the nickel corner.
However, going into 2016 he's considered the Huskers top lockdown corner, while several other younger players appear to be more likely fits at nickel.
When asked if he'd like to still play nickel Kalu didn't rule it out, but he gave the impression on Thursday his days at nickel could be done.
The most likely person to play the nickel appears to be sophomore Aaron Williams or one of the true freshmen.
"Right now I'm soaking up all I can at corner," Kalu said. "If they need me at nickel I can play that – I already have the experience at it. I'm letting the young guys get their experience and their reps."
-Sean Callahan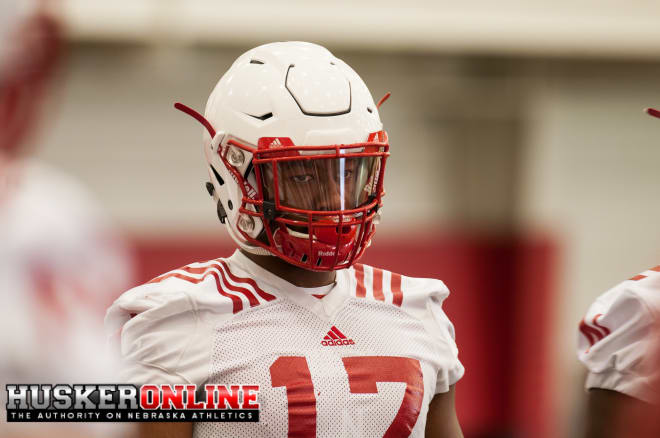 Door remains open for King to step into bigger role
The defensive end position is arguably the biggest question for Nebraska at this point in camp, and one player who's hoping to see time this fall is sophomore Sedrick King.
The Florida native has yet to play a down of significance in his time at NU, but is hoping that can change this fall.
"Man that's really my main goal right now and that's to get on the field," King said. "I'm as hungry as possible just to make some plays out there and help the team."
After starters Ross Dzuris and Freedom Akinmoladun, it remains wide open who that next man up will be.
"It's not even just me, even the younger guys are all looking for a chance to play," King said. "As long as we are all pushing for it we'll be all right and this team will benefit from it."
-Sean Callahan
Quick hits
***Akinmoladun said he's put on significant weight since last season, bulking up from 255 pounds to 270 this fall. He said he still has the same speed and quickness he had a year ago, but now he'll be able to hold up much better against the big, physical tackles of the Big Ten.
***Antonio Reed said he's been taken off a couple special teams units that he played on last year, which he thinks means he could be seeing a bigger role on defense this season. In particular, Reed thinks he could be in line for the top dime back role.
***Banker was told that one of his defensive backs told reporters that NU's defense got the better of the offense once again on Thursday. Banker was not pleased by the comment, saying that whoever the player was needed to "shut his mouth" and stay quiet.
***Banker said the overall knowledge and understanding the defense as a whole has shown this fall is night and day from where it was in the spring. Banker said the defense "looked like Mo, Larry, and Curly" during spring ball but now "actually looks pretty good."
***Banker said Nebraska will hold its first full scrimmage of the fall on Saturday.